With 2019 almost upon us, now is the time to look back at the year that was, and the video games we enjoyed most over the last 12 months…
God of War (PS4)
Despite being released much earlier in the year than most of the other video games on this list, God of War's sombre, brutal and bloody tale has never quite left our minds. Santa Monica Studio managed to do what appeared to be the impossible by transforming a protagonist gamers had long grown tired of into a captivating lead, navigating his way through a challenge nobody ever expected: fatherhood. Kratos' interplay with Atreus is something special indeed, as is their tale of growth. It's a beautiful, emotional and often draining experience that is equally exceptional in its craftsmanship and direction. It won't soon be forgotten.
Buy God of War here.
It might be the most recent addition to the list, but that doesn't make Super Smash Bros. Ultimate any less worthy. In fact, that fact that the fifth addition to the series has thrown in everything sans the kitchen sink, makes it the (ahem) ultimate version of the video game. Most of all, however, it's just so damn fun to play, and will have veterans and newbies alike screaming and shouting with joy. If you own a Switch, this is an absolute must-buy.
Buy Super Smash Bros. Ultimate here.
Simply put, Red Dead Redemption 2 is a technical marvel. The fact that Rockstar Games was able to jam so much content into its living and breathing world is simply astounding. And that's ignoring the completely engrossing narrative that steadily sends you on a 60-hour ride. It hasn't just easily bested its predecessor, but become one of the best games of this whole generation. Add thanks to the pure shenanigans that are now afoot courtesy of Red Dead Online and this is one game we're not likely to stop talking about anytime soon, either.
You can buy Red Dead Redemption 2 here. 
Love Gaming?
Get the latest Gaming news, features, updates and giveaways straight to your inbox Learn more
Spider-Man (PS4)
Peter Parker's heroic alter-ego has endured a relatively sketchy past in the video game world since his debut on the Atari 2600 in 1982, which is why we were only cautiously optimistic when Spider-Man leapt onto the PS4. The worry was all for naught, however, because Insomniac has firmly cemented the webslinger's place in the medium from here on out – easily matching the same quality as Batman's beloved Arkham series. Swinging around Manhattan always brings a smile to the face, while going toe-to-toe with some of Spidey's biggest foes was a total rush. Even better is that the gameplay is backed up by a classic comic book tale that hits all the right notes and already has us patiently waiting for a sequel.
You can buy Spider-Man here. 
Forza Horizon 4 (XBOX)
Forza's Horizon series has always been best in class in the all-important racing genre of video games, and this fourth outing onto the open road is no exception. Much of the game's enjoyment comes from its intelligent blend of realism and arcade-like sensibilities – never taking itself too seriously as you put pedal to the metal across a wealth of stunning British locations. Xbox might have been a l little lacking with its exclusives this year, but that doesn't make Forza Horizon 4 any less deserving of a place on your video game shelf.
You can buy Forza Horizon 4 here.
Tetris Effect (PS4)
We're not going to lie, we went into Tetris Effect a little weary at yet another iteration of the classic puzzler. Less than five minutes in, however, we learned the error of our ways and quickly became total converts to this magical experience. By taking the standard formula, then layering it with stunning visuals and incredible music, developers Monstars Inc. and Resonair have crafted an experience that is unexpectedly emotional and creative beyond belief. This is the best way to play Tetris going forward, and that's before you even throw on a VR headset.
You can buy Tetris Effect here.
Assassin's Creed Odyssey (PS4, XBOX, PC)
Many questioned Odyssey when it was scheduled to release just a year after Origins graced store shelves, but a trip to Greece seems to be just what the video game doctor ordered. A large part of this is thanks to the game's continued focus on its RPG mechanics, which in turn helps breathe some fresh life into the long-running series. It certainly seems to have done the trick, as Odyssey has already become the best-selling Assassin's Creed title this generation.
You can buy Assassin's Creed Odyssey here.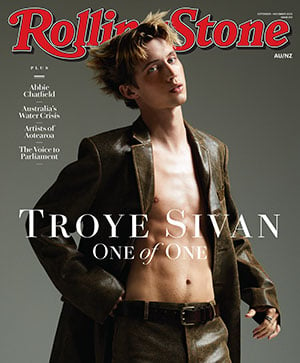 Get unlimited access to the coverage that shapes our culture.
Subscribe
to
Rolling Stone magazine
Subscribe
to
Rolling Stone magazine