Each month, we talk to one of our favourite Aussies about their personal libraries – the books they own, the books they love, the books they hate – and this time around, we were particularly excited to chew the fat with Erica Dunn of Mod Con. Mod Con's brilliant new record, Modern Convenience, is one of the most enthralling records of the year so far – a plastic bag packed with broken glass, full of damning lyrics, and uplifted by a heavy dose of gallows humour.
What is the most prized book that you own?
I don't think that I actually own any valuable books in the dollar sense, but the one that springs to mind as prized in my heart is The Woman Warrior: Memoirs Of A Girlhood Among Ghosts by Maxine Hong Kingston. A dear friend lent me their copy years ago and each word was like eating delicious candy! Hong Kingston mixes traditional Chinese folklore with hard autobiographical realism and journeys the reader through the generations of women in her family who moved from mainland China to the United States. After years of scouring I found a secondhand copy in the bookshop above Angry Mom records in Ithaca NY alongside the sibling book China Men. Double score!
What was the first book that you bought?
I remember having to go out and buy my year 12 literature class booklist which included Leo Tolstoy's Anna Karenina and Sylvia Plath's The Bell Jar. Both titles, which, at the time, were just weird words on perforated paper, became big love affairs for me. While they are worlds apart both stylistically and contextually, they both bring women's experience and critique of society to the fore and are forever linked in my mind.
A game changing teenage crush was Hunter S Thompson. Machismo and sociopathy aside, The Great Shark Hunt is a countercultural gem.
What's the last book that made you cry?
I cry all the time when reading! I think the most recent story that got me salty was Carolyn Burke's biography of Lee Miller, who led an incredible life as a Vogue model turned photographer, Man Ray's muse/collaborator and a World War Two photojournalist who was one of the only women documenting the front lines and the first to capture evidence of the atrocities at Dachau. At the end of her life, after having been so exceptional and truly experiencing monumental moments of the twentieth century, she died misunderstood and unloved by those close to her largely due to her PTSD and alcoholism. After her death, her son found hundreds of boxes of negatives and realised he had, due to their bad relationship, lost the opportunity to appreciate someone incredible.
What's the book you fell in love with when you were a teenager?
A game changing teenage crush was Hunter S Thompson. Machismo and sociopathy aside, The Great Shark Hunt is a countercultural gem that doggedly chases the ills of the mainstream and knifepoints them in the alleyways. Illuminating non-fiction as totally surreal, Thompson's abrasive stand-and-deliver account of social change in 1960s North America gave me a framework for resistance and off-kilter critical thinking. Remembering his campaign to run for Sherriff of Aspen still gives me a charge.
What books do you have on your bedside table?
Too many! A selection of the stack right now: The Day They Hanged The Sioux by C. Fayne Porter, Straight Life by Art & Laurie Pepper, Invisible Cities by Italo Calvino, The Spinoza Of Market Street by Isaac Bashevis Singer, The Garden Party by Katherine Mansfield, The Boy Who Bought Old Earth by Cordwainer Smith.
If you were trapped on a desert island, what's the one book that you would want to have with you?
Surely there's a manual out there about how to make your wee drinkable and how to make coconuts into sunglasses. I don't own it. But I'd take that.
I think if you're suffering through reading something for the sake of it, you're better off putting it down. It will work its way back to you at a better time.
What's the last book that you hated?
I'm not going to say that I hated it, because normally if I hate a book I just stop reading it, but Yukio Mishima's The Temple Of The Golden Pavilion was deeply disturbing and hard to finish because the protagonist is so incredibly sadistic. Set on a backdrop of monastic temple life, Mishima's portrayal of violence and self-destruction is so well juxtaposed that some passages really slap you in the face. I actually found it a weirdly addictive and a genius work of art but not pleasurable reading.
What's a "classic" book that you're ashamed you haven't read?
I haven't read heaps of classics! I don't think I've read a single Dickens or Austen or Faulkner. I didn't finish Ulysses or Don Quixote – I think I've even got a chapter left of The Idiot. I think if you're suffering through reading something for the sake of it, you're better off putting it down. It will work its way back to you at a better time. Not ashamed of none of it.
What's a book people might be surprised to learn that you love?
I surprised myself when I became obsessed with a non-fiction text on the most brutal of blood sports (which has never interested me otherwise). But On Boxing by Joyce Carol Oates totally consumed me. It presents a series of discursive essays that begin by examining the sport's larger-than-life protagonists and then simultaneously confronts broader narratives about class, race, gender, media, economy, philosophy, ego and human spirit with a mind-blowing nonchalance that only a true intellectual like Oates could pull off.
Who's the writer that changed your life?
It's obviously hard to pinpoint one, but recently, when I was going through a real stage of writer's block, Lucia Berlin's A Manual For Cleaning Women absolutely inspired me to get my shit together. Immediate and honest, she re-illustrated for me what good writing is. Parts of that incredible collection can bring you to tears just by how good she is at her craft.
Mod Con play the Red Rattler on Saturday, April 28. Header photo by Kalindy Williams.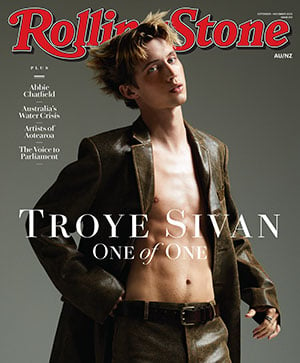 Get unlimited access to the coverage that shapes our culture.
Subscribe
to
Rolling Stone magazine
Subscribe
to
Rolling Stone magazine