Gabby Rasson, the 23-year-old who claims to invented 'cheugy', is selling the word as a 1/1 NFT.
On the off chance that you aren't completely indoctrinated in the TikTok metaverse and have no idea what 'cheugy' is, read on. A word to the wise: if you're a millennial that has any interest in maintaining a shred of self-esteem, close this tab.
'Cheugy' is a term adopted by Gen Z to describe a kind-of-but-not-overtly "basic" type of millennial. The essence of cheug is deeply ingrained in consumption, the identity we build with the things that we buy. As EJ Dickson, defines in Rolling Stone, it's "an aesthetic that is somewhere between basicness and cheesiness, or anything that seems hopelessly out-of-touch or trying too hard."
In the infinite ouroboros of the internet, even the word 'Cheugy' is Cheugy.
Cheuginess comes in many forms. There's the universal, easily recognisable 'cheug': luxury handbags (YSL envelope bags, or anything you'd see positioned next to an Instagram photo of the Scallop Tiradito from Nobu), "live, laugh, love" memorabilia, Rae Dunn ceramics, homewares from Urban Outfitters, Rupi Kaur poetry books, Disney adults, rosé, captioning your IG photos with lyrics from Ariana Grande's Sweetener, shows like Friends and The Office, the Gucci logo belt — you know the vibe.
There's also the cheug that haunts more idiosyncratic silos: Anything from Comme De Garçons 'Play', New Yorker totes, Supreme, Co-Star, Le Labo Santal 33 etc. Everyone has a little cheug in them, it's part of the never-ending quest to find an identity that sticks.
Personally, I think my brand of Cheug is A.P.C tote bag, sharing Phoebe Bridgers songs on my Instagram stories, owning a The North Face fleece, Monstera plant, Margiela Tabi's, The Sopranos, A24 movies.
According to the New York Times, the origin of 'cheugy' has been traced to Beverly Hills High School, circa 2013, when Gaby Rasson was searching for the perfect word to describe those who actively pursued outdated trends.
"It was a category that didn't exist," Rasson said. "There was a missing word that was on the edge of my tongue and nothing to describe it and 'cheugy' came to me. How it sounded fit the meaning."
Now, Rasson is capitalising on the 'Cheugy' momentum by selling the word as an NFT. "I created the word in 2013. At first, it was just me and my high school friends using it. Fast-forward to 2021 and cheugy has gone viral," Rasson wrote. "I thought it would be very cheugy to create The Cheugy NFT."
The 'Cheugy' NFT was initially listed for the price of one ETH, after receiving no bids, it was 90 percent to 0.10 ETH. Which speaks to the time-honoured cheug tradition of scrolling through FarFetch website, price ascending.
Decided to do the cheugiest thing possible and make an NFT out of the word cheugy. Place your bids cheugshttps://t.co/fpNFYJigV5

— cheug-a-roo (@gabyrasson) May 9, 2021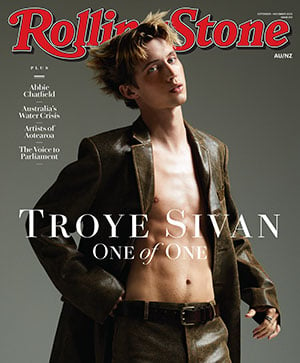 Get unlimited access to the coverage that shapes our culture.
Subscribe
to
Rolling Stone magazine
Subscribe
to
Rolling Stone magazine