Hell hath no fury like a teenager scorned, and to be fair, Claudia Conway – the daughter of former Trump advisor KellyAnne – has a pretty good reason to be pissed off. 
ICYMI, after Trump was diagnosed with COVID-19, Claudia made regular posts to her TikTok claiming her mother – KellyAnne Conway – had been "coughing all around the house" after being exposed to the controversial President of the United States.
Later, she dropped the bombshell that KellyAnne was, in fact, positive for COVID and that she had lied to her daughter about her positive diagnosis. Claudia later said that she, too, had now contracted the virus as a result.
"Update my mom has covid," Claudia Conway wrote not he post announcing KellyAnne had been diagnosed with the virus. "I'm furious. Wear your masks. don't listen to our idiot fucking president piece of shit. protect yourself and those around you," she posted on another.
Of course, seeing as this was all via TikTok and none of Trump's team have the faintest idea how to work with anything remotely related to Gen-Z, Claudia has gone to town with giving the world the goss – and her latest tidbit of info is that Trump is actually "doing badly", despite being released from hospital earlier today.
In response to Trump's tweet earlier today that he was "feeling really good" and leaving the hospital, Claudia commented on TikTok, "guys lmao he's not doing 'better.'"
Claudia left another comment that said, "he is so ridiculous. apparently he is doing badly lol and they are doing what they can to stabilise him."
Hold on… pic.twitter.com/L7wDoWISk3

— ??✨ (@SailorZZtar) October 5, 2020
At the time of writing, Claudia is refusing to cease her TikTok posts – even as KellyAnne can be seen yelling in the background of her latest video, where the former advisor says to her, "You've caused so much disruption!"
Meanwhile, Twitter users are enjoying the madness currently unfolding, with many theorising on what the defiant teen could expose next.
no one:
claudia conway: so this what the inside of Area 51 looks like

— Robert Schultz (@_RobertSchultz) October 6, 2020
claudia conway could break the watergate scandal but woodward and bernstein couldn't figure out tiktok

— Helen Holmes (@helenbholmes) October 5, 2020
We're going to find out he's dead from Claudia Conway aren't we?

— Zack Bornstein (@ZackBornstein) October 6, 2020
Claudia has long had a contentious relationship with her parents, with the teen saying in late August that she was seeking emancipation after "years of childhood abuse and trauma."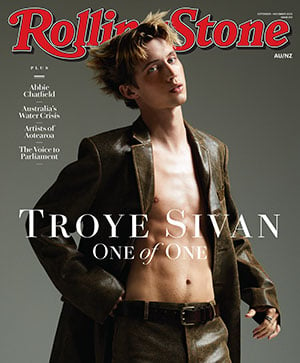 Get unlimited access to the coverage that shapes our culture.
Subscribe
to
Rolling Stone magazine
Subscribe
to
Rolling Stone magazine