A rock'n'roll band's growing up process typically involves getting well acquainted with the live stage and subsequently piquing people's interest, while gradually developing the songcraft. Early last month, buzz about Sydney three-piece DMA's started to spread online. But this was all before the trio had ever set foot on one of the city's dimly lit stages.
"We've been in bands before and we've slogged it out playing the early morning World Bars and all those kinds of little gigs around Sydney, and we just didn't want to do that anymore," guitarist/producer Johnny Took explains. "We thought that most of our energy should be focused on the songs. The way I think about it, it all revolves around the tunes. If there aren't good songs coming out, then there's nothing really."
Thanks to the heart-on-your-sleeve melodic appeal of their first single, 'Delete', a fair chunk of hype has quickly hit DMA's. In fact, even before the band's public launch, the track was enough to seal a deal with selective indie label I Oh You. Perhaps the group's immediate appeal is due to its studious creative preparation.
"We were writing for a few years before we released anything or played a gig," Took says. "Two years ago I had a goal that I didn't want to play any gigs and just wanted to focus on the tunes and keep writing music. I wanted to have over 100 songs and I wanted to do all the… not the 'hard work', because you never stop writing, but to give yourself a bit of a leg-up."
Took is joined in DMA's by vocalist Tommy O'Dell and guitarist Matt Mason, all of whom have been active in the local music scene for the past half-decade. Took and O'Dell first came together (playing bass and drums, respectively) in Sydney foursome Underlights, which is where the seed for the songwriting collaboration was planted.
"The first time I realised Tommy could sing was when we were in an Underlights rehearsal. Tommy was asking about the drum part and he was like, 'Oh you know in the chorus where it goes…' He started singing the part and I was just standing there in the rehearsal room going, 'Fuck, this guy's voice is crazy.'
"About three years ago now, when I moved into my place in Newtown, I used to spend lots of my Friday nights [getting] pissed and just record something. [Tommy] had written some lyrics and he was like, 'Man, can I put some vocals down for this track?' He put a vocal down and he'd never heard his voice back before. He was like, 'Wow, I actually sound like that?' It kind of flourished from there."
The self-titled DMA's EP, released this week, doesn't stick to the sparse acoustic quality of 'Delete'. 'Feels Like 37' takes cues from early Britpop and shoegaze, while 'Your Low' gives the mod revival some LSD. This conflation of sounds makes sense when you consider the band's leading influences.
"We're all pretty big Beatles fans," says Took. "Tommy's a big Stone Roses fan, Mason's really into Sonic Youth and Dinosaur Jr. I listen to lots of country music. I like listening to real deep bluegrass, like Bill Monroe. I grew up listening to lots of Dylan and Neil Young."
Despite the stylistic diversity, Took emphasises what's tying it all together. "You take away all the noisy guitars and take away all the production aspects and they're still good songs. They still connect with people – that's the main thing for me. If you can't do that with a song, you're kind of missing the point."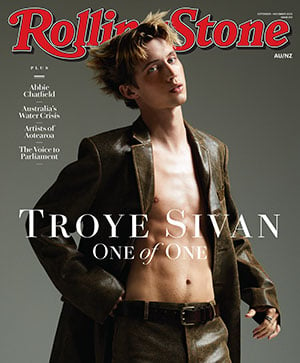 Get unlimited access to the coverage that shapes our culture.
Subscribe
to
Rolling Stone magazine
Subscribe
to
Rolling Stone magazine