So often in life, the places we've been and the people we've known shape who we become.
It's the hardships and adversity we face that trigger a creative reaction, and Dori Freeman's response to her past, her heritage and her heartbreaks is to channel them through music. She's dazzled country music lovers with her self-titled debut album, a sweetly honest and genuine work that has given rise to the singer- songwriter's well-earned position as America's new country music sweetheart.
Freeman is unabashedly humble when it comes to discussing the rate of her success, just as she is incredibly proud of her Appalachian roots from which her musical influences stem. "Appalachian is what I consider my heritage," she explains. "I'm from Virginia and got a lot of family from Tennessee, from Kentucky, so growing up in the mountains has been a big influence.
"My biggest [influence] was my family – my dad was a music teacher and plays pro on the side, my grandad does portraits for a living but plays, and I've listened to them play together, play old- time tunes, write new things. My grandfather is 84 and really sprite – I still play with him, I have since I was a teenager. They were the first people I ever played with."
Taking encouragement and inspiration from her family, Freeman has embarked on a musical journey all of her own.
The reception to her debut album has thrust the artist into an unexpectedly lofty position, one for which she feels both surprise and gratitude. "It's overwhelming and intimidating at the same time," she admits. "I don't wanna get my hopes up and expect something to happen, so I try to take everything as it comes and not look too far into the future and expect anything else."
That laid-back Southern attitude is reflected not only in Freeman's assessment of her own career, but also her approach to songwriting. "Maybe I'll go six months before I write anything," she says. "I think [the album] had to do with the big events in life. I think it has to do with whatever you're going through – you may not have a whole lot going on in life and then something will spark that creativity again."
At the heart of Freeman's songs lies her desire to keep things real and relatable for her listeners. "I hope [the music] translates the way I hope, that it doesn't seem like I'm trying to imitate anyone else and that I can represent Appalachian people – they often get given a typical hillbilly perspective," she says.
"I have found there's certain situations where people assume certain things. I feel like my accent is one thing and people hear and don't take it seriously – a lot of people say it's so sweet, but it can be little condescending sometimes."
Freeman's first trip to Australia brings her to Sydney Festival, an opportunity she sees as both exciting and nerve-wracking. "The first thing I have planned next year is Australia in January," she says. "It'll be my first time that far away from anywhere. I'm really excited to go to a country so far away and happy to share my music."
So relaxed is Freeman that her closing message about her music remains sincere to her character – bold and authentic. "I guess there's not really anything I want people to know particularly, but that I hope my songs come across as real and good."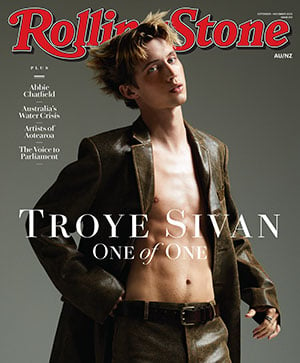 Get unlimited access to the coverage that shapes our culture.
Subscribe
to
Rolling Stone magazine
Subscribe
to
Rolling Stone magazine