The Bedroom Philosopher: Cat Show is coming to Sydney Comedy Festival. What can audiences expect?
Spoiler alert: it's me playing songs about cats while dressed as a cat. There are two PowerPoint presentations about lost cat posters and the 'history of cats' project I did in grade three. And a photo tour of cats I had growing up. Cat-specific songs include 'I Think My Cat Has Got Depression' where I run through all the mental illnesses and compare them to cat behaviour. There's an eight-and-a-half-minute ballad about a heroic mattress protector, a song about dodgy share houses and a dance routine to Beyoncé. Go on Sydney, take a chance on an undercat, you money-worshipping weirdos.
Just how many cat puns are in the show?
Hashtag 'Feline Good'. There are not only five to ten cat puns (per minute) but there are even cat pans. I have my own little tray onstage with me. There's nothing elegant about tripping over your own toilet. We've all been there, right?
In 2014, you wrote the book Funemployed: Life As An Artist In Australia. Have your funemployment conditions changed since then?
I recently held an annual general meeting in my mind and made a moving speech to myself. I vowed that all these years of self-employed work experience were paying off, and that it was more important than ever to think of my bedroom as an office, and to adopt more stringent nine-to-five hours to my creativity. We decided that the company motto of "sorry" had to go, and that we needed to hold our heads high and ignite a bonfire of pride in our hearts for the ideas farm we'd built from the ground up. The next morning I slept in, fired myself and came home drunk to find my locks changed and an ad up for my position. I reapplied, was promoted CEO and sold the company to pay back the Bank of Mum.
Is there something lacking about 'pure' stand-up comedy that pushes you in more creative directions?
It's not a matter of being 'better' than, say, most other stand-ups. It's just that I'm clearly more talented, so I have to branch out into other art forms the way, say, a river must burst its banks during a storm and ruin bogans' carpets. The bogans may try and rub my nose in it, but it's been so long since the initial 'act' that I am unlikely to remember why I'm being punished. The best approach for an artist like me is disciplining when I'm young, preferably at a nationally recognised training academy like NIDA. I am the original Cat Blanchett.
The Bedroom Philosopher: Cat Show is playing at Giant Dwarf on Saturday April 29 as part of Sydney Comedy Festival.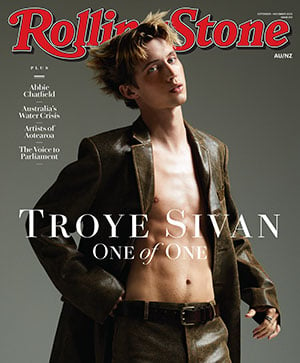 Get unlimited access to the coverage that shapes our culture.
Subscribe
to
Rolling Stone magazine
Subscribe
to
Rolling Stone magazine