Our band Key To The Highway is a band with an array of childhood musical influences and memories – you would be right to call us a group of modern day musical gypsies. Drey and sister Little B were fed a healthy dose of Chuck Berry, the Eagles and Fleetwood Mac. I think when you are exposed to different genres of music it makes you a healthy musician/performer.
2.Inspirations
There is a feast of artists we love such as Robert Johnson, Led Zeppelin, Waylon Jennings, Stevie Nicks, Emmylou Harris, Ben Harper, Bob Dylan and Willie Dixon, to name but a few. We love them for so many reasons, from the music to their stories and charisma.
3.Your Band
Our band is made up of five members: Drey Rollan on lead guitar and vocals, Bobbie Green on vocals and harmonica, Little B on rhythm guitar and vocals, Larry The Kid on bass and Skinny on drums. We formed in 2013 – being family we all decided to jam together and we found ourselves writing songs effortlessly, and that we all shared a big interest in Americana music. Then we teamed up with Larry The Kid, who played in a couple of local rockabilly bands, and Skinny, who is a busy session guy Drey played with for a couple of years prior.
4.The Music You Make
Heavy influences from the late '60s/early '70s roots rock bands like Creedence Clearwater Revival, The Band, Eric Clapton, Emmylou Harris and Ry Cooder. Last year we released our debut EP featuring single 'Wild Wild Wind' with producer Wade Keighran of Linear studios. The latest EP was recorded at Def Wolf Studios with producers Daniel Antix Malesev and Dave Hammer; we will be launching it at The Gasoline Pony in Marrickville on May 27. As for our live show you can expect a bit of everything, from full-flavoured country blues to tender ballads.
5.Music, Right Here, Right Now
For musos the challenge is to always battle it out with a DJ. It is great to see a move towards more roots-based music. A band to check out is El Pollo – look out for these guys in the next year, beautiful harmonies. In terms of hearing great live music, it is scattered all around. Frankie's Pizza and Shady Pines usually have some fine acts.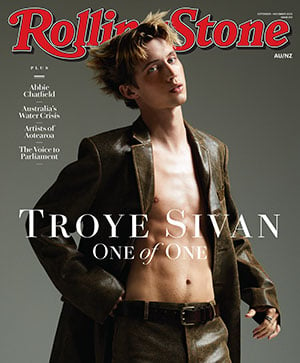 Get unlimited access to the coverage that shapes our culture.
Subscribe
to
Rolling Stone magazine
Subscribe
to
Rolling Stone magazine