I was born in Liverpool, England – Liverpool Irish. Everyone had a song. Your mother had a song. Your father had a song. Your brother, your sister had a song.
2. Inspirations
The very first popular song I can remember on Top Of The Pops was 'My Boy Lollipop' by Millie Small. I do a radio show on Eastside, so I am always listening for new stuff. Presently I'm listening to Anderson. Paak, The Frightnrs, D.R.A.M., Father John Misty and that Dog Trumpet album Medicated Spirits.
3. Your Band
I put the band together ten years ago after Glenn Wright from Vitamin Records rang me up to put together a reggae band to play Thursday roots night at the Beach Road Hotel in Bondi. I just rang up my mates from my old belly dance band days, Lindsay Page and Terepai Richmond and Robbie Wolf, and worked it up from there. I sent them some loops I had made, they came and played them live, and I made up songs around them. It was all very informal. Sean Collins, who I met at a jam down gig, would freestyle over them. That was until he was deported. The band's first album was called To Our Dearly Deported. At present we are working on our fourth album. It's been a difficult child. But she is behaving herself now.
4. The Music You Make
Our style is uptown jam down rocksteady reggae got soul. Jamaican music is our compass. What can peeps expect? "Infectious melody welded to sinuous rock-steady dance rhythms," according to Anthony O'Grady (The Australian).
5. Music, Right Here, Right Now
What do I think of the music scene at the moment? I don't think about it. Obstacles musos have to overcome include getting a legal park close to the gig.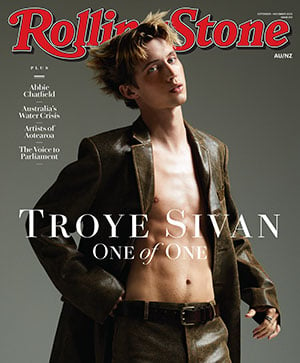 Get unlimited access to the coverage that shapes our culture.
Subscribe
to
Rolling Stone magazine
Subscribe
to
Rolling Stone magazine