Friendlyjordies is a true independent political watchdog and he's making genuine waves in Australian government, to the dismay of the right. 
Otherwise known as Jordan Shanks, he's part of this new generation – the comedians, the YouTubers, the TikTokers – holding power to account because the mainstream media simply aren't. With public confidence in our politicians perhaps never being at a lower point, their forthright voices are needed.
On TikTok, we've seen Claudia Conway, the 16-year-old daughter of former counsellor to President Donald Trump Kellyanne Conway, go against her mother and post videos about coronavirus and its dangers.
In Britain, we've seen Manchester United footballer Marcus Rashford show more maturity and decency than any Tory minister ever has by creating his grassroots movement to fight for free school meals for all schoolchildren. Rashford could do the effete Boris Johnson's job easily but Johnson couldn't score a cracker away against PSG.
At 31, Friendlyjordies might be a little older than those two but he's our own anti-establishment fighter. He's been on YouTube for many years now and his content has morphed from jovial and silly fare (rating box wine anyone?) into the loaded satire of its current iteration.
As the world's turned to utter shit, everything has to be political now, and Friendlyjordies knows it. The lines between comedian and political commentator have had to be blurred.
So he shares stories to his many subscribers (470K as it stands) that might otherwise not hear about them. He usually gets at least a quarter of a million views for his videos, often posting a few each week. It's why he's not exactly the mainstream media's favourite guy.
And it's working. Friendlyjordies recently told his followers to get #KoalaKiller trending on social media, a description he popularised to describe NSW Premier Gladys Berejiklian. It was part of his campaign against the NSW State Coalition Government, in favour of protecting the State's wildlife (he's extremely passionate about the environment). He then credited his fans with forcing the Berejiklian Government to introduce the controversial Koala Habitat Protection (SEPP) legislation.
His latest crusading video, 'Secret Dictatorship', was posted to his YouTube page on Wednesday, 21st October, and saw Friendlyjordies visit the small rural New South Wales town of Narrandera. Its tagline was "a case study on how the Nationals run a small country town…" which is quite the understatement.
In a pinned comment under the video, Friendlyjordies ominously wrote "there was a LOT of footage that we legally couldn't air. It's bad in Narrandera and the more people asking the questions the better."
Over to you, Helen Dalton MP. A member of the Shooters, Fishers and Farmers Party and a member of the New South Wales Legislative Assembly, she cited Friendlyjordies' doco in a speech to parliament which she posted on Twitter earlier today, October 25th. She doesn't hold back.
"The Nationals have created a "permanent recession" in rural NSW to enrich themselves," Dalton said. "That's the explosive claim by the Friendlyjordies who spent several days in Griffith and Narranderra filming documentaries on regional decline and national party corruption."
Dalton explains that Friendlyjordies thinks the party is operating like an independent mafia. They block new investment. They funnel funds to their corporate mates. They gag the councils and make them beg for funding. They essentially give it no chance of progressing.
She lists the NSW towns that used to be vibrant and healthy in the 1980s, since declining. "Now main streets look deserted, full of decrepit buildings and big 'for sale' signs," she sighs. "As water flows out of the town, so do the services, jobs, and opportunities."
She even provides a damning statistic to back up the claims: in 1996, people in the Murrumbidgee actually lived longer than those in Sydney on average (78.7 in Murrumbidgee to 78.2 Sydney); in 2016, people in the Murrumbidgee die more than three years earlier, according to the NSW health data (85.3 in Sydney to 80.7 in Murrumbidgee).
According to @friendlyjordies new doco on Narrandera, the Nationals have created a "permanent recession" in rural NSW to enrich themselves.

Sound far-fetched?

If so, what explains the rapid decline in service provision and living standards across so many small towns? pic.twitter.com/wvn9TGW7Y1

— Helen Dalton MP (@helendalton22) October 25, 2020
Dalton acknowledges in the tweet that some might call it far-fetched but asks rhetorically "what explains the rapid decline in service provision and living standards across so many small towns?"
Dalton is a rarity though. For a further idea of how threatening the establishment find Friendlyjordies, moderators of one of Australia's biggest online communities had been banning users who posted Friendlyjordies video, according to Pedestrian.tv.
Members of the r/Australia subreddit noticed that their submissions of Friendlyjordies' video were being deleted. Freelance journalist and researcher James Cutler posted screenshots of accounts being banned from the 560,000 community on Twitter.
In interests of objectivity, it is bizarre that moderators of the subreddit r/Australia are disabling posts containing the most recent video from @friendlyjordies (which alleges National Party corruption) and reportedly banning users who post the video from the subreddit. #auspol pic.twitter.com/8KAXDHDrII

— James Cutler (@t_cutlet) October 21, 2020
The establishment hate on a new media figure like Friendlyjordies so much precisely because of the impact he's having. The blend of humour and investigative journalism is bringing in the politically disengaged in a manner they can only envy. And as it stands, someone's got to try and keep normal Australians informed.
Check out Friendlyjordies' documentary 'Secret Dictatorship':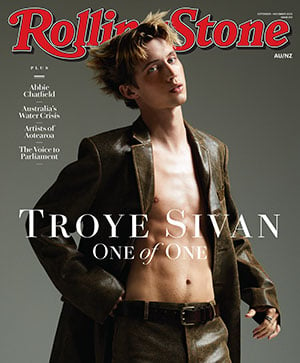 Get unlimited access to the coverage that shapes our culture.
Subscribe
to
Rolling Stone magazine
Subscribe
to
Rolling Stone magazine