The Met Gala has become an iconic event known for its unique and daring fashion. From the elaborate costumes to the shocking entrances, there have been countless memorable moments throughout the years. In this article, we'll take a look at some of the best Met Gala looks and moments of all time.
Cher's Sheer Bob Mackie Dress – 1974
The Met Gala as we know it today began with a single dress in 1974. Cher's sheer Bob Mackie dress adorned with crystals and white feathers on the sleeves and train set the standard for the event. This iconic look is credited with turning the Met Gala into a high-fashion event.
Rihanna's Guo Pei Dress – 2015
Rihanna's choice of dress for the 2015 Met Gala was a bold and daring move. The golden, fur-trimmed, and heavily embroidered gown was designed by Guo Pei, making Rihanna one of the few celebrities to wear a dress by a Chinese designer. The eight-foot train was a striking interpretation of the "China: Through the Looking Glass" theme.
Lady Gaga's Four-in-One Brandon Maxwell Ensemble – 2019
Love Fashion & Beauty?
Get the latest Fashion & Beauty news, features, updates and giveaways straight to your inbox Learn more
Lady Gaga made a memorable entrance at the 2019 Met Gala with a dramatic Brandon Maxwell ensemble. She started with a voluminous hot pink gown and proceeded to reveal three additional outfits – a strapless black number, a slinky hot pink slip, and finally, nothing but her underwear. Gaga proved that she is not only a fashion icon but also a master of performance art.
Beyoncé's Latex Givenchy Dress – 2016
Beyoncé's red carpet arrival at the 2016 Met Gala was iconic, not just for her fabulous latex Givenchy dress, but also because of the speculation surrounding her relationship with Jay-Z. The release of her visual album, "Lemonade," hinted at cheating scandals and questioned Jay-Z's faithfulness. Her skin-tight dress only added fuel to the rumours.
Zendaya's Tommy Hilfiger Cinderella Dress – 2019
Zendaya's light-up Tommy Hilfiger dress was a standout moment at the 2019 Met Gala. The grey-hued dress was reminiscent of Cinderella's baby blue gown, but when Zendaya waved her wand, the dress lit up from the ground up. The dress was a tribute to "Camp: Notes on Fashion" and showed off her stylist Law Roach's creativity.
Kim Kardashian's Full-Body Balenciaga Suit – 2021
In 2021, Kim Kardashian made a bold statement with her full-body Balenciaga suit. The look was a departure from the typically risqué outfits she is known for, and instead, it left not an inch of her exposed, including her face. It was a nod to the "In America: A Lexicon of Fashion" theme, and it was one of the most talked-about looks of the night.
Frank Ocean and His Green Robot Baby – 2021
Frank Ocean's green robot baby was one of the most puzzling moments in Met Gala history. The "movie magic" ensemble was a mystery to many, but it certainly made people talk.
The Met Gala has provided some of the most memorable moments in fashion history. From Cher's sheer dress to Rihanna's elaborate train, each year brings a new iconic moment. Whether it's a daring outfit or a shocking entrance, the Met Gala always provides entertainment.
PS: Frank was at the 2019 Gala too, this time, playing voyeur:
The writer used AI tools to publish part of this article. The Brag Media relies on journalists to fact check & edit all articles regardless of any AI tools used.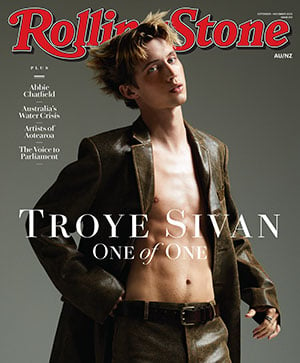 Get unlimited access to the coverage that shapes our culture.
Subscribe
to
Rolling Stone magazine
Subscribe
to
Rolling Stone magazine