New research has found that more than one in two Gen Z Australians are taking health advice from social media influencers, despite lacking qualifications.
The study by Heart Smart Australia showed that trust in influencers is established largely by their number of followers. Gen Z social media users, which is those aged between 11 and 26, are particularly influenced by social media influencers, with 53% using them as their main source of health advice over medical professionals or GPs. Millennials, which is those aged between 26 and 39, also prioritise influencers for health decisions, with 43% trusting them more than qualified professionals
The study was conducted by Heart Smart Australia, an online health and wellbeing program developed in consultation with leading cardiologist and preventative health expert, Dr Ross Walker, providing individualised health programs to Australians.  Surveying 1,000 Australian adults, the research aimed to better understand the sources of information they use for their health advice, and the role social media influencers play within this.
"According to the research findings, some Australians are cancelling (15%) or delaying (26%) medical appointments due to rising living costs – and this number only increases when we look at the behaviours of Millennials (34%) and Gen Zs (34%), the same group taking the advice of influencers regularly," said Dr Ross Walker, Chief Medical Officer at Heart Smart Australia. "It's not difficult to surmise that given the rising cost of living, Australians are looking elsewhere for quick and affordable ways to get their health questions answered."
And while looking for health advice online isn't new, Dr Walker notes that the problem occurs when this advice comes from someone without any health credentials.
"At best, the advice an influencer shares might improve your general health literacy, but it is likely to be generalised information based on their particular experience, and not tailored to your needs as an individual," explains Dr Walker. "At worst, you could be taking on information that is medically incorrect, the consequences of which could be dangerous," he said.
Dr Walker shared his tips for differentiating whose guidance is worth following when it comes to health advice on social media:
Love Health & Wellness?
Get the latest Health & Wellness news, features, updates and giveaways straight to your inbox Learn more
Check their credentials
"While there are lots of 'wellness' experts who spruik their lifestyles through perfectly filtered feeds, the reality is many of these individuals haven't actually got the qualifications or credentials to be handing out advice online," says Dr Walker.
According to Dr Walker, your best bet is to check their qualifications, both tertiary and with governing bodies, and whether they work in an in-person clinic or practice.
Understand the difference between health education and health advice
"There are plenty of influencers online who offer general health education or tips, like suggesting strawberries are good for heart health. This doesn't mean you go and eat a punnet of strawberries a day and forget about that niggle in your chest," says Dr Walker.
Recognise when you need to see a healthcare professional 
According to Dr Walker, while there are excellent health professionals offering quality advice on platforms like Facebook and Instagram, it's always important to arrange a personalised consultation if you're looking to address a specific health concern.
"Anyone who's selling quick fixes is definitely a red flag. The role of a medical expert is to understand your individual needs, and tailor the approach accordingly. If you have a genuine health concern, the best place to seek advice is your healthcare professional's office, be that a GP, dietitian, or specialist," Dr Walker concludes.
For more on this topic, follow the Health and Wellness Observer.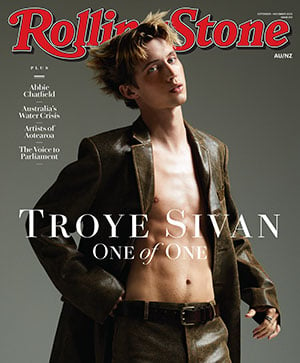 Get unlimited access to the coverage that shapes our culture.
Subscribe
to
Rolling Stone magazine
Subscribe
to
Rolling Stone magazine