Grant Morrison is a big enough name in comics to have had a documentary dedicated to his life and work. Called Talking With Gods, it begins with an introduction that calls him "the rock star of comics", a title he's earned because having a reputation as a drug-taking, world-travelling, cross-dressing fetishist dabbler in the occult isn't exactly normal in the world of comic books. He doesn't think it's really accurate, however. "I'm 53 now and the last thing I'd want to be is a rock star," he says in his excitable Scottish accent. "My career would have been over 20 years ago!"
Morrison's career in comics stretches further than 20 years. In the 1980s his work in anthologies like 2000AD brought him to the attention of DC Comics, and although he's done work for other publishers (DC's competitor Marvel gave him the reins of New X-Men from 2001 to 2004, for example), most of his work has been for DC. There, he started out on oddball B-list books like Animal Man and Doom Patrol, graduated to creating his own series like The Invisibles, and was eventually trusted with their flagship characters in books like Batman: Arkham Asylum and All-Star Superman.
Writing mainstream comics but injecting them with a significant dose of the strange is Morrison's trademark, and that's what brought him to the attention of the young Gerard Way. Although he'd go on to find fame as the lead singer of My Chemical Romance ("a proper rock star," Morrison says), as a teenager Way's ambition was to make comics, and it was Morrison's work that inspired him. "Writers like Grant made it very possible that comics could be so much more, and so much more different than the superhero stuff that was coming out," he says. "I remember reading Arkham Asylum and thinking that. Like, 'Wow, this is a Batman story but it's the craziest Batman story I've ever read, and it feels like something far more cinematic and interesting than him just beating up dudes.' It introduced thinking, real hard thinking to comics. There were a few things that drew me to it, that fired me up. Dark Knight Returns by Frank Miller was my gateway into grown-up comics and then Grant was my gateway into smart comics."
Way studied animation and as part of his degree landed an internship at DC Comics in the early 1990s, where he got to be around his heroes although he didn't get to spend much time with them. "I was in the back room," he says. "I handled photocopy duties a lot." One day he passed Morrison – who was effecting a full rubber outfit at the time – in the hallway and had a life-changing realisation. Here was a guy who obviously didn't care what anybody thought about how he looked or acted, and was perfectly comfortable in his skin. Having already inspired him to try his hand at comics, now Morrison influenced Way's approach to rock'n'roll.
It was ten years before their paths crossed again. Morrison was watching television when the video for My Chemical Romance's hit single 'Welcome To The Black Parade' came on, and it blew him away. "At the same time soldiers were dying, teenage boys were dying in Afghanistan and Iran, and I felt that 'The Black Parade' video had kind of combined those images of the suffering emo kid back in America, the middle-class kid cutting 'emselves, and the suffering boy in the Middle East. And it was also like, 'Sergeant Pepper's dead!' – the black band uniforms. It just hit me in a lot of different levels and I thought, 'I've got to speak to the guy who made this thing, this is amazing.' Neil Gaiman actually put us in touch because we're mutual friends, and I met Gerard a couple of months later I think at one of his gigs in Glasgow. We just hit it off straight away, as I might have expected. He's into so many of the things that I was. We've just been friends since then."
A year after they became friends, Way's comic The Umbrella Academy began being published. It tells the story of a superhero reunion, a group of characters who had adventures together as children – including battling against the Eiffel Tower, brought to life to attack Paris – and now have to work together again as dysfunctional adults. Morrison's comics were a direct inspiration. "When they reprinted Doom Patrol as a trade, that's when I decided to write Umbrella Academy," Way says.
"The influence is quite obvious but I think there's so much more than that," says Morrison, "and it's not so much a pastiche as influence can often become, it's its own thing. For me, particularly the second book, the one that's set in Vietnam, it's even head and shoulders above the first. It's more of Gerard's voice than even the first book."
While their lead singer was living out his dream of becoming a comic book writer, My Chemical Romance were working towards what would be their final album, Danger Days: The True Lives Of The Fabulous Killjoys. A loose concept album, it's about a post-apocalyptic version of California where the desert is inhabited by road warriors called Killjoys who fight against agents of a corporation called Better Living Industries. It's a particularly comic-book idea, made obvious by the brightly coloured and costumed characters in the videos for its singles, where the band plays Killjoys in masks and biker leathers. Morrison went from being a fan of their videos to appearing in them, playing the villain in 'Na Na Na (Na Na Na Na Na Na Na Na Na)' and 'Sing' and doing his own stunts. "Yeah, I got to be a baddie in the videos," he says with glee. "I thoroughly enjoyed that. Those were great days in the desert, sweltering and almost catching fire in the car!"
Now that My Chemical Romance have broken up, that story continues in Way's latest comic, The True Lives Of The Fabulous Killjoys. The videos' villain has carried over, meaning that Morrison has become a comic book character, but not for the first time. He wrote himself into Animal Man at the end of his run on that series, with its hero learning he was a fictional character and confronting the writer to take him to task for making his life horrible. The hero of The Invisibles, a globetrotting, conspiracy-busting magical spy named King Mob, had an appearance based on Morrison's own, and in the crossover Seven Soldiers he appears as one of the Seven Unknown Men who secretly manipulate reality. He can't help himself, really. "I do have this alternative life in the comics I hope will continue long after I'm gone in the flesh."
Way and Morrison will both be in Australia soon to appear at the GRAPHIC festival, where they'll be in conversation with each other. It's not the first time they've done this, appearing irregularly at conventions as a double act who both have plenty of mad stories of their overlapping careers and time together. Although Morrison is fascinated by talking about Australian superheroes they haven't really picked a topic for their appearance here. "He and I are fans of William S. Burroughs and the beat poets," says Way, "and so we both like to be less structured and more spontaneous. We don't rehearse. I've never been good at rehearsals."
BY JODY MACGREGOR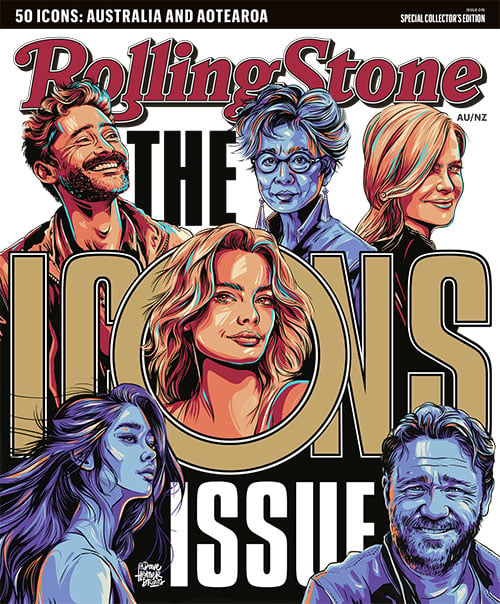 Get unlimited access to the coverage that shapes our culture.
Subscribe
to
Rolling Stone magazine
Subscribe
to
Rolling Stone magazine