Jep And Dep are Jessica Cassar and Darren Cross. The Sydneysiders write music in a style that is both contemporary and nostalgic, and this week release their debut albumWord Got Outahead of a lengthy launch tour. They've been performing around the traps for a while, including landing the support slot at The National's Sydney Opera House concerts this year, and the album has been some time coming.
"I met Jess through a mutual friend and her sister, and then we started going out," says Cross. "This was at the same time I was doing all this music at home, so we would be hanging out and I would just pick up a guitar and work out how to play a Townes Van Zandt song. Jess had never sung before but we decided to write a song about her sister getting married, and it was a kind of Kimya Dawson and Adam Green 'marriage is a waste of time' anti-folk song. Then I think Jess got a bug for it and we just started writing."
This "bug" resulted in Jep And Dep, and in a relatively short amount of time they were transformed from folk abstraction to performing act. It followed on from Cross' experience as a recording artist and producer for most of his adult life as one-third of electro-crossover act Gerling, who went on indefinite hiatus in 2007.
"After Gerling split up I started doing electronic music that was sample-based," says Cross. "[It] was really weird and technology-heavy [under the name] E.L.F and I was touring around with Muscles and played a few shows with Midnight Juggernauts. I found myself playing dance music to all these young 18-year-old kids on pingers and I thought to myself, 'I am 35, I don't want to do this anymore – so stuff it, I am just going to learn to play the guitar.'"
And learn it he did. There is a profound tenderness to the guitar tones and vocals of Jep And Dep that swings the duo's sound in the direction of alt-country artists Gillian Welch and David Rawlings. The two lead singles from Word Got Out were 'Babe Come Down' and 'Granted' – they're stylistically very different, although the main drivers of the songs are simply voice and guitar.
'Babe Come Down'is punchy, playful and aggressive, like 'Stagger Lee'by Nick Cave, while 'Granted'has all the poignancy and tenderness of something from Welch's Time (The Revelator). The clips for both songs are shot in a black-and-white film noir style. Cross explains that this cinematic style is something he is fond of.
"It's across the board for everything from our album artwork to our film clip. We really like film noir, especially Wim Wenders and Jim Jarmusch – we just love black and white and feel it suits our music."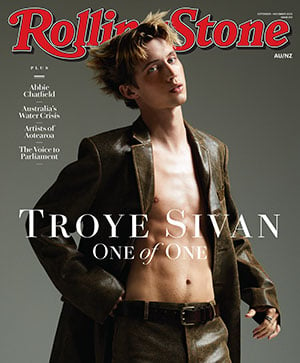 Get unlimited access to the coverage that shapes our culture.
Subscribe
to
Rolling Stone magazine
Subscribe
to
Rolling Stone magazine