Amid the release of the highly-anticipated Jackass Forever, perennial daredevil Johnny Knoxville has spilled on one particular stunt that didn't make the cut. 
"We did have something on this film that we wanted to do that we weren't allowed to do because it was going to be a $10 million deductible," Knoxville said in a recent interview with IndieWire.
While he didn't elaborate, he said he and his fellow Jackass castmates still "may do it one day" in the future.
"But it was a surgery that no one needs," Knoxville added.
Unsurprisingly, Knoxville once again copped a slew of physical injuries during Jackass Forever – including a broken wrist and broken ribs, plus a concussion that resulted in a brain hemorrhage.
"My cognitive abilities were in steep decline after that hit," Knoxville told Howard Stern on back in January.
"The bull hit was the worst hit I've ever taken from a bull or maybe period. I remember taking some tests. The neurosurgeon said, 'Do you have trouble paying attention right now?' I said, 'Yeah, why?' He goes, 'Because you scored a 17 on [your attention].' That's out of 100.
Love Film & TV?
Get the latest Film & TV news, features, updates and giveaways straight to your inbox Learn more
"I had to go under all these type of treatments, this transcranial magnetic stimulation, which they buzz your head with these magnets for about 30 minutes at a time for like, oh god, I would say 10 to 12 treatments over a series of two months and it's supposed to help with depression and help with my cognitive skills.
"It was a tough one to come back from. I was trying to edit the movie at the time, but I couldn't sit still."
He continued, "I did slip into a little bit of a depression with this last concussion. That hasn't happened before.
"My brain was just playing tricks on me. I got really depressed and over-focused on things. I did have to start medication for the first time in my life. It completely turned me around — that and doing therapy. It was a really hard recovery from this last injury, but I'm great now.
"I feel like I'm the healthiest I've ever been."
Knoxville also recently hinted to PEOPLE that his days as a human punching bag may be numbered.
"My doctor said I can't take another shot to the head, I've had so many concussions. I put my family through enough, quite honestly," he said.
"I don't think I have anything else to prove. Luckily, I'm not very in touch with my body, which has cost me, but we got some great footage because of it."
Jackass Forever stars original stars Knoxville, Steve-O, Chris Pontius, Dave England, Wee Man, as well as some fresh faces – Rachel Wolfson, Sean "Poopies" McInerny, Jasper, Zach Holmes and Eric Manaka.
And while the new generation of Jackasses didn't hold back on their stunts, their youth didn't mean that they were immune to copping a few battle wounds.
Following a stunt in which newcomer Zach Holmes jumped into a patch of cacti wearing a kite, he "ended up getting a staph infection."
"It took about like a month and a half, like two months to get all the needles out," he said. "I still think I might have a few in me."
Jackass Forever is in cinemas now.
For more on this topic, follow the Film & TV Observer.
Watch the trailer for Jackass Forever: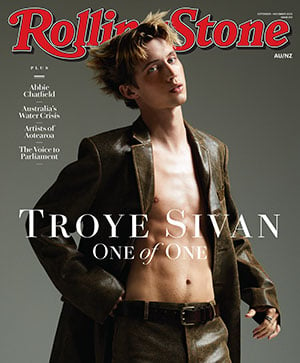 Get unlimited access to the coverage that shapes our culture.
Subscribe
to
Rolling Stone magazine
Subscribe
to
Rolling Stone magazine