Reviewed on Thursday December 12
The Standard quickly filled with people whose identity aspirations seem rooted in the form of slacking that tonight's two headliners assume with uncontrived allure. Given that this subcultural wave encourages janitor dress and unkempt faces, it's most fitting that a night of uninhibited fun ensued.
Melbourne four-piece Twerps took the stage first, offering a most un-rock'n'roll introduction – sheepishly questioning if the bass level was OK before breaking into the hazy 'Dreamin'. It has been a while since the release of Twerps' debut record but tonight's setlist largely showcased new material, a lot of which turned the vocal focus towards guitarist Jules McFarlane. Marty Frawley threw in a few new numbers too and throughout looked genuinely agog to be onstage. There's a lazy tendency to label Twerps (and many of their trend-transcending associates such as ECSR and Dick Diver) as having an 'Australian sound'. But dang it, there's something unnameable about this lovely jangly stuff that shimmers an impression of Australian living and thus inspires instant nostalgia. The crafty beats from new drummer Alex Macfarlane and Rick Milovanovic's melodic bass work added distinction to the sometimes unassuming arrangements. Last year's pro-activating single 'Work It Out' and the angular B-side 'He's In Stock' were sure highlights.
Mac DeMarco is an unpredictable character and tonight's show was a sometimes grotesque exercise in carefree hilarity. Most importantly, DeMarco is a very talented songwriter and, despite the fact he and his three band members appear to be a pack of spirited goofballs, they very capably reproduced the glimmering languor of his two records. The glam-faced 'Rock And Roll Night Club' and 'Freaking Out The Neighbourhood' drew people into Mac's radiating universe early on. Even interludes into Clapton's 'Tears In Heaven' and vulgar banter about who in the band had fornicated with whose family members couldn't hamper the overriding strength of DeMarco's tunes.
However, when 'She's Really All I Need' detoured into a medley of covers you'd likely get booed out of an RSL for playing, this meandering tact did tire somewhat. 'Taking Care Of Business', 'Stairway To Heaven', Limp Bizkit's 'Break Stuff' and both 'Back In Black' and 'Thunderstruck' were amusingly thrown around, but it extended a little too long, leaving time for just one more DeMarco original. The medley didn't seem to bother the majority of the audience though, certainly not as three band members separately took a turn at crowd-surfing. Show closer 'Still Together' indicated DeMarco can pull off heartfelt sentiment just as well as uncouth party play and revealed the resilience of his beer-swigging pipes.
BY AUGUSTUS WELBY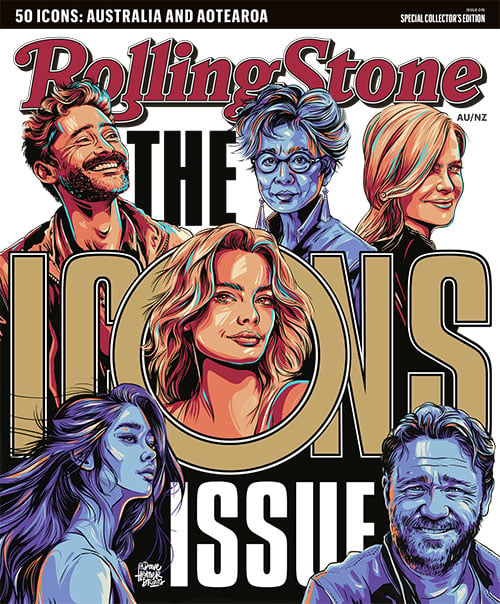 Get unlimited access to the coverage that shapes our culture.
Subscribe
to
Rolling Stone magazine
Subscribe
to
Rolling Stone magazine