Who's got the best chips? Maccas or KFC? We took to social media to find out who you think has the best chips – and we've got the results right here, right now!
Over 8,000 people voted online, with some hilarious feedback included in the comments. One commenter, Lachie Ross dubbed McDonald's' chips a "limp penis".
There were mixed opinions on both fast food restaurants' chips. But, the overwhelming majority agreed KFC has THE best chips.
Here's how our Maccas vs KFC Chips poll went:
We found out exactly why some people hate, or rate, each restaurant's signature chips.
People that loved KFC's chips said:
Willow Hastings: "Kfc got better chips. they're thicker, crispier, FRESHER and the potato quality is just incredible ok."
Ryan Dalton: "KFC chips are $2 in SA plus theres actually more chips than maccers has, plus the box is better quality, what else can you ask for???"
Olivia Street: "KFC, because they are much better salted, crispier and the bottom ones stay hot for longer. Also there's more bang for your buck."
Kye Adley: "Kfc taste better and stay hotter longer"
Tom Inman: "after last night's cardboard tasting chips I'm defs leaning towards KFC."
Mike Kotzé: "You cant even compete with KFC chips m8."
Chris Wright: "KFC seasoning is king."
People that hated KFC's chips said:
James Giuliani: "KFC chips are always soggy."
Sophya Mossman: "I am offended that people think Kfry is better!!"
Andrew Peters: "Fuck KFC chips and fuck you if you like them."
People that loved McDonald's chips said:
Korbyn Kirby: "Usually KFC but MacDonalds monopoly at the moment."
Ashlin Cosgrave: "Can I get some mac chips with KFC seasoning pls kfc texture is ass but flavour is dope"
Mitchell Heynen Maccas without a doubt
People that hated McDonald's chips said:
Lachie Ross: "Maccas chips are like a limp penis."
Jason Aplin: "'Yeah welcome to Maccas. Here's your mediocre meal with your cold, gross-ass chips with half of them carelessly strewn inside the bag.
Have a lovely day, go McFuck yourself.'"
Keen to keep an eye on the poll as more people vote? Check it out here:
Check out more epic Good morning to everyone except content here!
Love Food & Drink?
Get the latest Food & Drink news, features, updates and giveaways straight to your inbox Learn more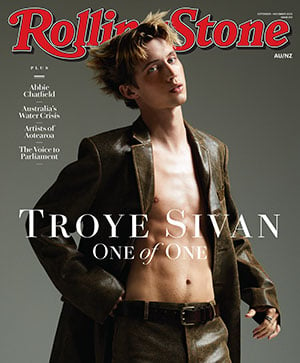 Get unlimited access to the coverage that shapes our culture.
Subscribe
to
Rolling Stone magazine
Subscribe
to
Rolling Stone magazine