Married at First Sight star Mishel Karen has shocked fans after she posted a video to her OnlyFans account which featured her in a sex act that involved 12 other people.
Taking to her social media to promote the saucy video, Mishe wrote: "I have been so so naughty."
The clip in question – too raunchy to detail here – involved 12 men and women partaking in the sex act.
The reality star has been upping the ante of late when it comes to hardcore acts on the subscription-only platform, where she reportedly rakes in about $20,000 a month.
Earlier this year, Mishel shared a video of herself engaged in a lesbian threesome with a middle-aged woman and an amateur porn star.
Mishell had previously revealed to the Daily Mail Australia that she turned to sharing racy content on the platform after she was made unemployed due to her refusal to get the Covid vaccine.
"I have earned a really nice amount of money to help us through this difficult time. Well, at least I can pay my new mortgage for a few months," Mishel told the publication.
Love Film & TV?
Get the latest Film & TV news, features, updates and giveaways straight to your inbox Learn more
The mother of two and grandmother of one isn't the only MAFS star to jump on the OnlyFans bandwagon after finding fame on the reality series – fellow stars Jessika Power, Domenica Calarco and Jackson Lonie and Olivia Frazer as also among the MAFS alum making a pretty penny on the website.
Recently, Olivia posted to her Instagram story showing her huge success on the platform, which showed that she is in the top 0.02% of all content creators on the platform.
Olivia conducted a(nother) Q&A session of her IG account, and a fan asked her about a public petition that was started to remove her from the photo-sharing platform.
"Thoughts on the petition to have you removed from OnlyFans?" one follower asked. Olivia told her followers that she was a "good investment" for the platform and that she was in the top 0.02% of creators on the platform.
Considering the phenomenally high statistic, which puts Olivia ahead of 99.98% of OF creators, a follower asked her for proof of her ranking.
"We want receipts that you're in the top 0.02% of OF," they wrote in a question box that Olivia published.
And, the MAFS star delivered, posting a screenshot of her account that does, in fact, state that she's in the top 0.02% of all creators.
Elsewhere in the Q&A, Olivia stated that she was never against OnlyFans, despite legions of MAFS fans believing she was after she outed co-star – and on-screen rival – Domenica's account to the cast during filming.
"What did I saw was wrong with OF on the show? Nothing. You can't quote it or find a clip of it because that's an insinuation NOT a fact. And NOT something that ever happened," she began.
"The issue was always D*m [co-star Domenica] having open social platforms (like Twitter, Reddit, Instagram, Pinterest, Youtube) when everyone else had to put their socials on private and hand over passwords."
"The issue was production's blatant favourites of d*m. NOTHING to do with that damn photo or even with D*m herself," Olivia concluded.
For more on this topic, follow the Film & TV Observer.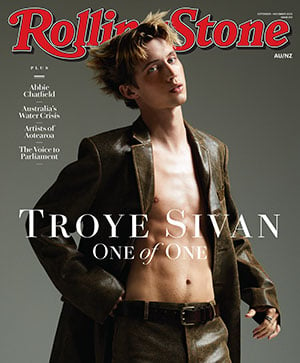 Get unlimited access to the coverage that shapes our culture.
Subscribe
to
Rolling Stone magazine
Subscribe
to
Rolling Stone magazine