We swing into a review of Marvel's Spider-Man 2 while chatting to some of the game's developers, then check out Ghostrunner 2, Metal Gear Solid Master Collection Vol. 1 and more.
There's little doubt that if you look back at the PS4 back catalogue, Spider-Man was one of the console's biggest hitters. It not only delivered the most enjoyable web-swinging in the medium so far, but proved that a single-player, story-focused superhero game would still resonate with fans.
Five years, a remaster and spin-off later we finally have the long-awaited follow-up, and it's every bit as special as you might hope.
Picking things up after the events of Miles Morales, both Peter and Miles are a more established duo this time around, yet both are face their own personal pressures and struggles. It's a less than ideal time for old friends and new enemies to rear their heads, but right from Spider-Man 2's epic opener, it's a great yarn that does well to continue expanding Insomniac's own Spidey universe, and being able to swap between both Miles and Peter is a smart way to have both of their emotional beats the time they need to shine.
But while it's hard to imagine hardcore fans not becoming immediately invested, after speaking with Insomniac Games' Narrative Director Ben Arfmann and advanced writer Brittney Morris, that doesn't mean the team didn't feel the pressure.
"It was definitely really important for us to deliver a story that is worthy of two Spider Men, and that it absolutely blows away expectations, and we're always putting pretty intense pressure on ourselves to strive for better," admits Morris.
"So building off of the first two games, which it was so exciting to be able to launch those, we definitely wanted to build a game that was as good if not better."
Love Gaming?
Get the latest Gaming news, features, updates and giveaways straight to your inbox Learn more
Luckily, the team has unquestionably achieved that goal, because everything in Spider-Man 2 feels bigger and better. The city is more expansive, the visuals are truly gorgeous (I played using the middle-ground Performance with VRR options) and the action scenes feel like you're in an MCU movie more than ever before.
Yet even though many setpieces are flashy and loud, it's to Insomniac's credit that even these moments are still able to deliver big character moments. When asking the team about them, it's clear that this was a very intentional decision.
"One example you saw in the gameplay trailer, the Lizard chase through the East Bay, there were a lot of huge, you know, bombastic moments, explosions, or helicopters, all sorts of chaos on the screen," admits Morris. "But we also used that chase to contrast between Miles and Pete after he has been somewhat acclimated to the symbiote. And he's kind of letting it take over.
And just that contrast in tone between swinging as miles and hearing the action-fuelled but still very like light-hearted Spider-Man lines and then switching over to Pete, who's like, hurling insults and being extremely aggressive and you know, spontaneous in the worst way. That was a way to show the difference in their characters and their kind of split in that moment."
When you're not deep in the middle of action, even navigating the city remains a blast. The new wing suit, for example, adds a whole new level of mobility and will avoid you using the shockingly speedy fast travel. Alternatively, there's plenty more side missions to do, which Arfmann recommends you don't skip.
"I would just say is everybody should do the friendly neighbourhood request when they come up. The friendly neighbourhood request are some of the coolest experiences in the game and players should do those."
It should be noted though, that while plenty of these quests do hit the spot, if you've been around the block with Spider-Man games before, you might encounter a slight feeling of déjà vu. No, Spider-Man 2 doesn't drastically reinvent the wheel, but at the same time it doesn't need to when the game is so impressively polished and refined. It's perfect popcorn entertainment the whole way through and one of the best games available on PS5.
Spider-Man 2 is the perfect blockbuster in time for summer, and here's hoping Insomniac get at least one more swing in before moving on to something else. And if our conversation was anything to go by, that could be very likely…
I don't want to spoil anything, but I will say that it's a Marvel game," hints Arfmann. You're gonna get to the end, especially to the credits, and there's gonna be some cool surprises. And we are certainly excited for hopefully this game to do well so we're able to do some more stories in this world."
Marvel's Spider-Man 2 is out now on PS5. You can buy it on Amazon here.
Also out now…
Metal Gear Solid Master Collection Vol. 1 (PS5, PS4, Xbox Series X/S, Switch, PS4, XBO, PC)
When it comes to video game franchises, Metal Gear Solid is one of the best and brightest, so this debut collection is a great opportunity for old fans to revisit the classic stories or introduce newcomers to the magic.
It's a seriously meaty package, encompassing a timeframe spanning from 1987 to 2004. That means while you'll obviously get the first three core Metal Gear Solid games, there's also the much older Metal Gear releases as well as graphic novels and soundtracks to tuck into. Yet despite the bevy of goods, it's unfortunate that Konami hasn't really presented it with much TLC, the games broken up into different apps no matter the platform. I'd have loved to have seen one universal hub to house all these delights, but that's sadly not the case here.
Thankfully though it's the games themselves that count and they all hold up remarkably well, even without a big glow-up. Yes, the controls will take some getting used to, but get over that hurdle and being able to take a nostalgic trip down memory lane is an utter delight. I especially loved the added portability of the Nintendo Switch port, although it does come at the cost of a reduced frame rate compared to the other platforms.
What concessions you're prepared to make is one thing, but regardless of platform, Metal Gear Solid Master Collection Vol. 1 is an essential collection worth a place on your shelf, especially if this is your first time to Shadow Moses.
Ghostrunner 2 (PS5, PS4, Xbox Series X/S, Switch, PS4, XBO, PC)
The original Ghostrunner was a fast and frantic action game that blended first-person parkour with the murderous joy of games like Hotline Miami and it absolutely blew me away back in 2020. Ghostrunner 2 does well to not only match those initial highs, but then surpass it furthermore with more flashy chaos.
That's never more evident than with the new motorcycle sequences, which can see you leaping off the vehicle mid-ride to avoid an obstacle, or deal with a number of enemies only to gracefully land back on it moments later. These sequences thankfully never overstay their welcome and are always some of the coolest moments Ghostrunner 2 has to offer.
Outside of that though, the tried-and-tested puzzle-like gameplay returns as you try to navigate all sorts of futuristic environments while dodging incoming fire and taking out various goons. The more permanent inclusion of the shuriken also spices things up, forcing you to not only utilise it to open up some platforming paths, but provides more flexibility with how to approach each combat encounter.
Ghostrunner 2, much like its predecessor, is an absolute delight in motion and can't be recommended enough. Play it.
Ghostbusters: Spirits Unleashed – Ecto Edition (Switch)
Ghostbusters might not have quite the cultural impact it did back in the '80s, but developers Illfonic are banking on the fact that bustin' ghosts never gets old, and if Ghostbusters: Spirits Unleashed is anything to go by, they're bang on the money.
Spirits Unleashed's asymmetric 4v1 format is a simple one: 4 people band together as a team of Ghostbusters, while one lone ranger takes over a ghost and tries to haunt their way to victory. It's a formula that adapts well to Ghostbusters lore, and being able to make use of iconic tools like ghost traps or the Proton Pack, even if the loop can get a bit repetitive over time.
This Ecto Edition comes a fair bit later than the game's original launch last year, but the benefit is that it comes bundled with all the previous DLC releases thus far, making it some good bang for your buck. As far as ports go, this this a pretty admirable job – although you will encounter the occasional hitch and naturally have to accept a bit of a visual downgrade from the more powerful consoles.
But while Spirits Unleashed is an enjoyable time, the biggest hurdle the game faces is its community and how lively that will remains in the months or years to come. There's a solid foundation at play here, so fingers crossed things don't become too much of a ghost town.
Lords of the Fallen (PS5, PS4, Xbox Series X/S, Switch, PS4, XBO, PC)
In case you haven't gotten the memo, Sous-like games are so hot right now, so with that in mind we now have Lords of the Fallen – a follow-up/reboot of the 2014 title that confusingly shares exactly the same name. But while this might be easily dismissed as a basic copycat, do so at your own disservice, because there Lords of the Fallen actually brings a few neat ideas to the table.
The most prominent is undoubtedly the use of the Umbral Lamp, which allows you to look into, or enter one of the game's two different worlds – Axiom (the realm of the living), and Umbral (the land of the dead. Jumping between the two won't just grant access to otherwise blocked paths, but also give you a second chance if you die. And die you will – almost to a fault sometimes with Lords of the Fallen's challenge not always feeling earned and a bit cheap by overloading you with enemies.
If you can handle that, there's still plenty to enjoy in this dark yet surprisingly gorgeous adventure.
For more on this topic, follow the Gaming Observer.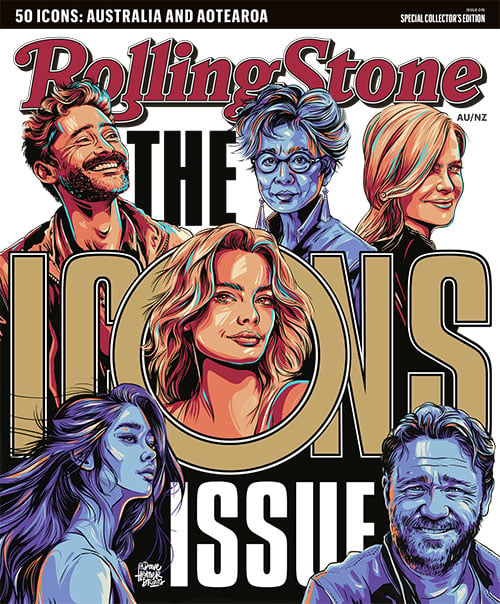 Get unlimited access to the coverage that shapes our culture.
Subscribe
to
Rolling Stone magazine
Subscribe
to
Rolling Stone magazine