From humble beginnings (a ramshackle crew attempting to break the world record for the number of musicians performing the skank – a number which no-one actually remembered to count at the time), the Melbourne Ska Orchestra has developed into one of the most unexpected and engaging acts of 2013. Now with two ARIA Award nominations, including one for Best Blues and Roots Album, and a national tour underway, frontman Nicky Bomba says the ska is here to stay.
Two things are immediately apparent when chatting with Bomba. First, the man talks a mile a minute; it is as though there are so many directions the conversation could take he needs to sample them all before the words become tangled in his mouth. The second is the unbridled passion he has for performing.
"The energy of any performance is doubled simply by connecting, or even just by trying to connect with an audience," he says. "It's something that not every band does, but I do know that it's something that the MSO does well. That's certainly part of the appeal. It's not just people looking for any excuse to dance, it's people really engaging with the sound."
That sound is ska, which by Bomba's own admission is a genre that many audiences – even his own – aren't entirely familiar with. Born in Jamaica in the late '50s, ska rose to prominence in 1964 with Millie Small's worldwide hit, 'My Boy Lollipop'. Reggae, Two Tone and rocksteady were all movements that drew from ska, and evidence of the genre remains everywhere today. Given Bomba describes it as his "spirit music", his is thrilled though unsurprised.
"I've always thought it was one of the more universal forms of music. I think the combination of the joy you get from the music itself and the activity that happens onstage – having 30 people performing is its own wonderful, uncontrollable mayhem – is quite a spectacle. I'd always believed that when people hear good music they're instantly converted, but I didn't quite realise just how quickly it would spread. After our first Bluesfest gig, for example, by the time the second performance came around word of mouth had taken off and the audience was just massive – people dancing as far as you could see. It was something new to a lot of that audience, our style of music, seeing so many people onstage having so much fun. The music takes you places … There's enough variation in our set to not just keep the audience interested, but to keep us engaged as well."
You get the impression that kind of engagement comes quite readily to Bomba – his enthusiasm for different projects, for other ways to showcase new sounds, is evidenced in almost all aspects of his life. "For me, a consummate musician is one who is constantly roaming, always looking to do better, to learn and improve," he says. I do wonder, however, just how sustainable this lifestyle is. Does the fear of failure grow greater when you're juggling multiple passions? Will one project begin to unknowingly suffer while another charges ahead? In August it was announced that Bomba would be leaving the John Butler Trio, and this overlap of momentum seems to be in part a reason for his decision.
"With the Trio, it just came down to where I wanted to focus my energy for the next ten years, and if you're trying to juggle everything at once, it's all going to suffer. So I felt, 'Why not take the time to nurture this thing of yours?' When you're playing in somebody else's band – and as much as I loved working with John and that amazing team, the places we'd play, the audiences, the whole circus of performing – there comes a point where you realise, there's something that I'm relinquishing here. It's possible I could have kept doing both, but, you know, things were starting to clash. In the end, John and I decided it together. It was bittersweet.
"Our last concert together was a beautiful outdoor setting. The moon was out, and I felt really relaxed. I was looking out across stage to the audience, and I knew that it was the right decision. We were really just two travellers who came together for a little while. It's like with any artist. You need to find your own style, your own voice, and I realised that I can just try to develop my own voice on the side, and stay in a very popular band and be financially comfortable – or, I can take that journey knowing I'll be able to look back in ten years and say, 'I'm glad I did that.' And you know, as I played that last night the overwhelming feeling was that I couldn't wait to do this with the MSO. To play these festivals, to really move an audience. I sat there and I felt a lot of hope."
Already that decision appears to be paying off. Between the ARIA nominations and a slew of sell-out gigs, the MSO is gaining a lot of ground. Seeing the band live is an experience in controlled chaos, where 30 musicians somehow manage to conduct an entire audience to its feet while clearly having the time of their lives. One of the most entertaining things about the MSO is the sense of narrative it presents. Each song sounds like a chapter or vignette, and when I put to Bomba that catching the orchestra is somehow akin to being told a story, he says this was exactly the intention.
"I went to a Salvador Dali exhibition," he explains, "[and saw how] he would paint 12 pictures on a theme. For me, they were like 12 songs. Each picture was related to the theme, but with its own uniqueness. That's what I wanted with the album, that each song would be unique but have that line of ska, or some hybrid, connecting them. Having the Orchestra there gives you so many elements to play with, so you can really focus on giving each song its own character."
Given the success the MSO is now experiencing, coupled with his own achievements with Bustamento and the John Butler Trio, I wrap up by asking Bomba if he feels as though he has at last found his own voice; if he has found the style that will carry him into the future. He's quiet for a moment.
"I think there has to be humility in what you do, but there still always has to be that belief in yourself. It's for when you think, 'I'm never going to achieve this', and you can look back on your work over a span of months or years and see a growing maturity; can see that you're writing better lyrics, [making] a better sound. What I realised was that it's really just about the art. All you're doing is making art, and the best you should hope for is to be able to do that and have it be your day job. You know, I'm writing my own songs, I'm playing in wonderful places where I'm invited back, and I'm able to maintain this lifestyle. That's what makes me happy. If I wasn't able to adapt, I wouldn't be here. Things change, you adapt. But the essence of your writing – your songs – it has to endure."
BY ADAM NORRIS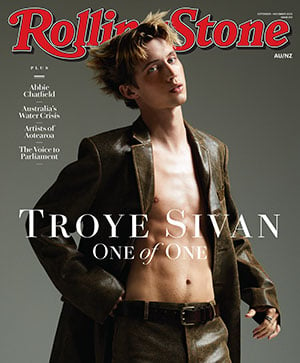 Get unlimited access to the coverage that shapes our culture.
Subscribe
to
Rolling Stone magazine
Subscribe
to
Rolling Stone magazine