The late '90s were a strange time for animated sitcoms. Much like at the start of the decade, when music labels were signing every grunge band they could get their hands on in the hope of discovering the next Nirvana, television studios were snapping up any prospective cartoon in the hopes that it would be the next The Simpsons. This is how we got Family Guy, along with an animated version of Kevin Smith's Clerks.
None of these series really stood a chance of toppling the yellow-skinned, four-fingered empire; most of them were lucky to last a single season. But there were a select few that, despite being unceremoniously cancelled, are worth digging up and giving your full attention to. Originally airing in 1999 on The WB (home to Buffy The Vampire Slayer and Dawson's Creek), Mission Hill is such a series.
Set in the fictional 'burbs of a city (an amalgamation of hip neighbourhoods like Williamsburg, Wicker Park, and Silver Lake), it follows the life of slacker Andy French, a wannabe cartoonist who works at a dingy waterbed store. His life is interrupted when his über-nerd younger brother, Kevin, is forced to move in with him and his roommates.
What makes Mission Hill worth your time is that, even with its cartoon wackiness, it's a clear and honest portrayal of what it feels like to be in your early to mid-twenties; learning responsibility, proper maturity and trying to figure out your place in the world. It just gets what that period of your life is like: dating, working shitty part-time jobs to keep the lights on, and aimlessly hanging around with your friends.
The short sell for Mission Hill is easy: it's the hipster version of The Simpsons, likely due to the fact that its creators Bill Oakley and Josh Weinstein were alumni of the long-running animated sitcom. Joining Simpson's writing staff in 1992, their credits include episodes like, 'Lisa Vs Malibu Stacy', 'Who Shot Mr. Burns', and 'Bart Vs Australia.' The Mission Hill staff also included other The Simpsons writers, such as Dominic Polcino, a talent who'd later go on to write for Rick And Morty.
On top of its strong writing and voice cast, Mission Hill also has an eye-catching animation style (designed by Lauren MacMullan) that was reminiscent of the independent comic books of the time – especially Daniel Clowes. Coupled with a striking neon colour palette, this gave the show a unique visual identity.
The short sell for Mission Hill is easy: it's the hipster version of The Simpsons.
Mission Hill took the smart social satire and quick-wit of The Simpsons, along with its sincerity and emotional depth, and refocused it to a demographic that had been excluded by the show. Think about it: everyone in The Simpsons is either in elementary school, in their mid-thirties or older. Apart from the Squeaky Voiced Teen and Otto, there are no characters that upholster the pivotal period of young adulthood – it was a demographic that most other animated comedies at the time ignored as well.
In one episode, Andy tries to get more cartoon work and suffers through the special type of hell devoted to trying to keep afloat while being hit by unrelenting job rejections. Kevin, obsessed with getting into Yale, drives himself to near insanity trying to get a perfect SAT score. After losing his job, Andy ends up dumpster diving behind the dollar store to keep himself and Kevin fed with a canned mystery meat called "Skunch", which contains eight essential forms of marrow.
The plan was to age the characters as the series progressed, with each season representing a different year in their lives. Through ten seasons we'd track Andy's rise from starving indie cartoonist to becoming the creator of a popular animated series – much like Matt Groening's own career.
There are a few anachronistic moments (one episode has a scene in a ska club and there's another that revolves around MTV's The Real World) but similar to The Simpsons, Mission Hill has a sense of timelessness to it. If it were set 20 years ago or even yesterday, one could still relate to Andy getting trapped in a conversation with a guy who calls himself The Republican Vampire ("I follow Marilyn Manson, but I obey Rush Limbaugh," he barks.)
With such inconsistent airtime, it's hard to expect any show to leave a mark.
There's a chance it even managed to be ahead of its time, with the series' pilot episode including an on-screen kiss by a gay, middle-aged couple, and making it one of the first shows to do so on network TV. Its episode dedicated to the couple's backstory managed to win a GLAAD award for its positive, non-stereotypical portrayal of the couple, and it truly proves to be one of the highlights of the show.
Mission Hill wasn't cancelled because of its writing, but because The WB severely mishandled its marketing and airtime. Seven episodes were aired sporadically on the network between September 1999 and July 2000, with the final six appearing on Adult Swim two years later. Mission Hill developed a small cult following after it was rerun on Swim, but by then it was too little, too late. With such inconsistent airtime, it's hard to expect any show to leave a mark and build an audience, with or without a Simpsons pedigree.
If you're looking for a cult classic, nostalgic for The Simpsons but don't want to rewatch the 'Steamed Hams' bit for the umpteenth time (also written by Oakley and Weinstein), or are just after something funny, you could do a lot worse. Unappreciated in its time, Mission Hill is one of the most genuine slice-of-life comedy series you'll ever watch, animated or otherwise.
You can stream Mission Hill on Stan now. For a completely unrelated article explaining how 'My Heart Will Go On' is a goddamn masterpiece, click here.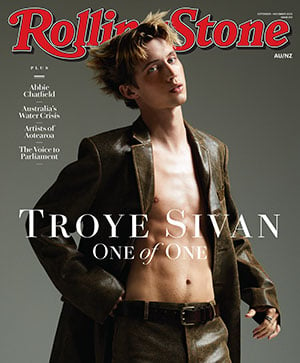 Get unlimited access to the coverage that shapes our culture.
Subscribe
to
Rolling Stone magazine
Subscribe
to
Rolling Stone magazine