This year, DC has outdone itself with an extraordinary line of spooky titles for October 2021. Here are some we are looking forward to most!
BATMAN: THE IMPOSTER #1
Writer: Mattson Tomlin
Artist: Andrea Sorrentino
Variant Covers: Lee Bermejo & Kaare Andrews
ON SALE 12/10/21
Bruce Wayne's mission as the Batman has only been underway for a year or so, but he can tell he's making a difference. Unfortunately, he's made some powerful enemies. All the traditional power brokers of Gotham resent the disruption the Batman has brought to town…and it seems one of them has a plan to neutralize him. There's a second Batman haunting Gotham's rooftops and alleys-and this one has no qualms about murdering criminals, live and on tape. With the entire might of the Gotham City Police Department and Gotham's rich and powerful coming down on his head, Batman must find this imposter and somehow clear his name…but how can you prove your innocence from behind a mask?
Director and screenwriter Mattson Tomlin (Project Power, Little Fish) has teamed up with Eisner-winning suspense and horror artist Andrea Sorrentino (Joker: Killer Smile, Gideon Falls) to create a wholly new version of Gotham City, informed by grim reality, where every punch leaves a broken bone and every action has consequences far, far beyond Batman's imagination!
Why we're excited: A flashback into the early days of the Dark Knight's journey, Tomlin brings us a tale of mystery and conflict. It will be really exciting to see more early day Batman content, and we're ready for this one!
DC HORROR PRESENTS: THE CONJURING: THE LOVER #5
Writers: David L Johnson-McGoldrick, Rex Ogle, Dominike "Domo" Stanton
Artists: Garry Brown, Dominike "Domo" Stanton, Dave Johnson
Cover: Bill Seinkiewicz
Variant Cover: Ryan Brown
ON SALE 5/10/21
The fear-soaked finale! Manipulated by the Occultist, Jessica has done the unthinkable and murdered her best friend, but her torments are far from over. Then, in our final terrifying trip into the haunted artifact room, Domo Stanton tells the heart-stopping tale of the Occultist's Chalice!
Why we're excited: A thrilling conclusion to an amazing 5-part series, this issue will be sure to leave you going to bed with a light on, perfect for the Halloween season! The team behind this series have poured so much love into this run.
ARKHAM CITY: THE ORDER OF THE WORLD #1
Writer: Dan Watters
Artists: Dani (pencils), Dave Stewart (inks)
Cover: Bill Sam Wolfe Connelly
Variant Covers: Francesco Mattina & Steve Beach
ON SALE 5/10/21
The Joker's attack on Arkham Asylum left the long-standing Gotham establishment in ruin, most of the patients killed or missing, and only a handful of surviving staff-a few nurses, a gravely injured security guard, and one doctor. In the chaos of the assault, it is believed that several of the asylum's patients escaped and scurried off into the dark nooks and crannies of Gotham City. Now, these Arkhamites walk among us, and it's up to the Asylum's one remaining doctor, Jocasta Joy, to round up her former patients.
Meet these Arkhamites: a woman with no face, a pyggy in search of perfection, a man who feels nothing and burns everything, a woman who must devour life to save herself, a man unfit for the waking world who looks instead for Wonderland, a body with more than one soul, a being unbound from time who lives in the present and the past, a boy who seeks the comfort of vermin, and the twisted man who sees them all for who they are.
And witness the avenging angel who stalks them.
This fall, join writer Dan Watters and artist Dani on an odyssey through the deepest depths and darkest shadows of Gotham City and find all-new reasons to fear the night.
Why we're excited: A tale from the POV of unknowns seeing some of the darkest paths of Gotham City will prove to be dark and fascinating for the readers. It will be chilling and spine-tingling, and we're excited to have the pants scared off us from Dan Watters.
TASK FORCE Z #1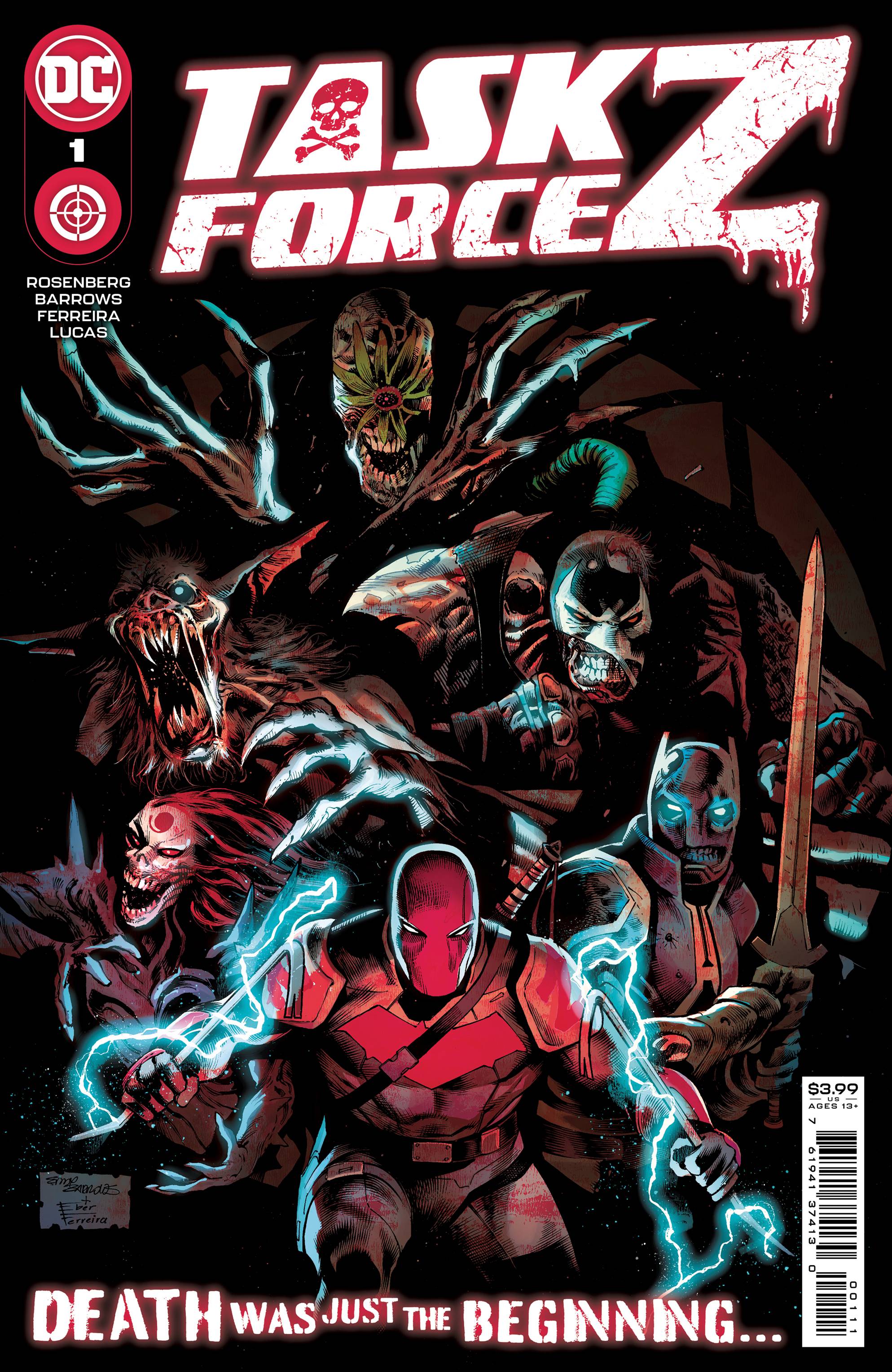 Writer: Matthew Rosenberg
Artists: Eddy Barrows (pencils), Eber Ferreira (inks)
Cover: Eddy Barrows
Variant Covers: Tyler Kirkham & Dan Mora & Rodolfo Migliari & Kyle Hotz
ON SALE 26/10/21
In life, they've terrorized the people of Gotham. Now, they are Gotham's last hope. Task Force X saw villains working their way to freedom. Task Force Z will see dead villains working for a new chance at life! On A-DAY, the attack on Arkham Asylum left hundreds of Gotham's most cunning and deranged criminals dead…now, a mysterious benefactor has activated the government's TASK FORCE clause to bring them back as the ultimate army of the night! To lead this team of the undead, only a person who knows exactly what it feels like to be brutally murdered and brought back to life can handle the job…enter: RED HOOD. But when Jason Todd unravels the mystery surrounding Task Force Z's creation, will he try to destroy it…or embrace it? BANE. MAN-BAT. THE ARKHAM KNIGHT. SUNDOWNER. MR. BLOOM. RED HOOD. THEY ARE TASK FORCE Z, AND DEATH WAS JUST THE BEGINNING…!
Why we're excited: Who wouldn't be excited for a Zombified Suicide Squad? With Red Hood leading a team of dead villains, we're sure they'll get into some hilarious shenanigans while still being downright terrifying. If the art we've seen so far is anything to give us an indication, Barrows won't be shying away from a gory and horrifying tale!
BATMAN: THE LONG HALLOWEEN SPECIAL
Writer: Jeph Loeb
Artist: Tim Sale
Cover: Tim Sale
Variant Covers: Tim Sale
ON SALE 12/10/21
Join the team for the return of the Batman Halloween specials and a mystery that could destroy Batman, Commissioner Gordon, Two-Face, and…well, that would be telling, wouldn't it?
Why we're excited: It's always exciting to see an old team get back together to provide more insight into a story they've told years ago. We've seen it with the likes of The Killing Joke and others. Having Loeb and Sale team back up to expand on a 25-year story is enough to make any DC fan shiver with excitement.
DC VS. VAMPIRES #1
Writers: James Tynion IV, Matthew Rosenberg
Artist: Otto Schmidt
Cover: Otto Schmidt
Variant Covers: Francesco Mattina & Jorge Molina & Ejikure
ON SALE 26/10/21
The Justice League has long protected Earth from all manner of foreign and alien invaders over the years, always keeping a vigilant eye to the skies for the next threat. But what if the threat was already walking the Earth…hiding in plain sight…watching…waiting for their moment to strike…
In the tradition of DCeased comes a terrifying new series from the twisted minds of James Tynion IV (Nice House on the Lake; Something is Killing the Children), Matthew Rosenberg (The Joker Presents: A Puzzlebox; 4 Kids Walk Into A Bank; Hawkeye), and Otto Schmidt that will tear the Justice League apart in their war with the undead!
Why we're excited: We've gotten DC and zombies with DCeased and even getting it with Task Force Z, but DC and vampires is a great new concept that we're excited to see the team of Tynion and Schmidt team up to do! We're excited to see where this 12-issue run leads.
REFRIGERATOR FULL OF HEADS #1
Writer: Rio Youers
Artist: Tom Fowler
Cover: Sam Wolfe Connelly
Variant Cover: Riko Murakami
ON SALE 19/10/21
Hill House Comics is back and heads are going to roll for making readers wait! The new wave of titles begins with a rancid return trip to bloody Brody Island. For a year now, the mysterious axe that unleashed pandemonium during the hurricane of '83 has waited at the bottom of the bay but nothing that powerful stays buried. Brody Island has new visitors, and a new sheriff in town, too-not to mention a dangerous great white shark spotted in its waters-and when vacationing couple Calvin Beringer and Arlene Fields find themselves on the wrong side of Brody's unsavory elements, their beachcombing will turn up something a lot sharper than sea glass… Crime novelist Rio Youers joins forces with artist Tom Fowler to unleash a gonzo grindhouse expansion on the lore of the original Basketful of Heads!
Why we're excited: We're stoked to see Hill House Comics coming back with a vengeance with this new story expanding on Brody Island. A team like Youers and Fowler is sure to give us some serious spooks with a compelling storyline guaranteed to keep us hooked until the final page!
DC HORROR PRESENTS: SOUL PLUMBER #1
Writers: Marcus Parks, Henry Zebrowski, Ben Kissel
Artist: John McCrea
Cover: John McCrea
Variant Covers: Tom Neeley & Riley Rossmo
ON SALE 5/10/21
From the creators of The Last Podcast On The Left, exorcism just got a whole lot easier. After attending a seminar hosted in a hotel conference room by a mysterious group called the Soul Plumbers, Edgar Wiggins, disgraced former seminary school student, discovers what he thinks is the secret to delivering souls from the thrall of Satan. But after stealing the blueprints and building the machine himself, out of whatever he can afford from his salary as a gas station attendant, Edgar misses the demon and instead pulls out an inter-dimensional alien with dire consequences for all of mankind.
Why we're excited: Soul Plumber looks hilarious and terrifying, sure to be a run full of laughs and spooks that will leave you clutching your side one page and your pearls the next! We're stoked to see what wacky adventures Edgar will get himself into, and where Parks takes us.
DC'S FEAR STATE EVENT
And let's not forget DC's new event bridging together Future State and Infinite Frontier. This marks DC's first event since Dark Nights: Death Metal and began in August, with issues coming out all the way until December. Fear State focuses on Gotham after the Scarecrow sends the city into what he calls the "fear state" in order to have them come out of this trauma a better city. This features appearances from Harley Quinn, Catwoman, Poison Ivy, Nightwing, and many more of our favourite superheroes. If you are not caught up, check out the checklist below: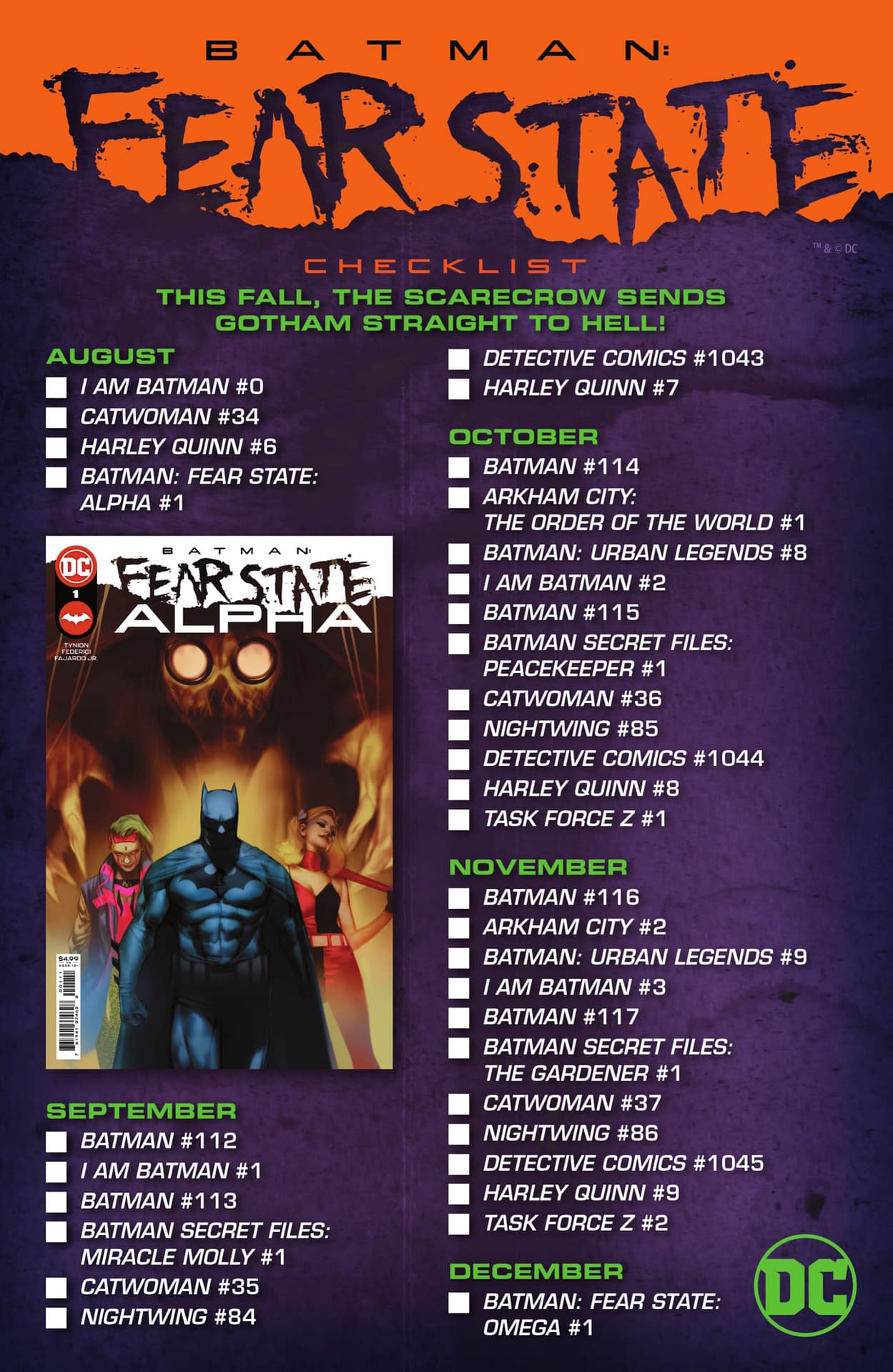 All of these issues can be found or preordered at your local comics store. Happy Halloween!