Scott Morrison has hit out against this Friday's #ClimateStrike, telling students to focus on learning instead of activism.
The prime minister urged children to stay in class, saying that climate change was an issue that could be dealt with "outside of school."
"Each day I send my kids to school and I know other members' kids should also go to school but we do not support our schools being turned into parliaments," said Mr Morrison yesterday.
"What we want is more learning in schools and less activism in schools," said Mr Morrison, shooting down the request of Greens' MP Adam Bandt to praise and meet with students taking part in the initiative.
Despite slapping down any praise of the children's initiative, Morrison was adamant that climate change was a "very real and serious issue."
Check out the PM's full rant here.
The rebuke comes as thousands of students are gearing up to leave school at midday on Friday in order to protest against lack of government action to combat climate change.
Dubbed the Great School Walk Out for Climate Action and adopting the #ClimateStrike hashtag used by students throughout Europe in similar protests, the initiative found its way to Australia through a group of Victorian students.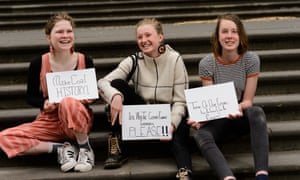 Milou Albrecht, 14, Harriet O'Shea Carre, 14, Nimowei Johnson, 13, started promoting the Victorian event
From there, events popped up all over the country, some of which have attracted massive interest through social media.
The Australian strike was inspired by 15-year-old Swedish student Greta Thunberg, who is currently striking every Friday until Sweden honours their commitment to the Paris Agreement.
                                                                Greta Thunberg striking in Sweden 
In the wake of Mr Morrison's reply, Mr Bandt labelled the PM  as "out of touch", saying that he had met with some of the students to encourage them ahead of the strike.
"These students want a leader to protect their future, but they got a hectoring, ungenerous and condescending rebuke from someone even worse than Tony Abbott," he said.
Australian Youth Climate Coalition spokesperson Laura Sykes was also critical of the PM, saying that "When young people try to have a voice in politics, Scott Morrison is shutting them down, yet he's happy to listen to the coal lobby and big corporations who continue to profit from making climate change worse."
Despite the top leader saying no, there are no plans for the strike to be cancelled.
Get unlimited access to the coverage that shapes our culture.
Subscribe
to
Rolling Stone magazine
Subscribe
to
Rolling Stone magazine