Rami Ykmour is the owner of Rashays Restaurants: a franchise in NSW and QLD that's made the decision to close their doors until people both unvaccinated and vaccinated from COVID-19 can dine there.
But, who exactly is he? Because of his controversial decision, masses of people across the nation have been labelling him as anti-vax. Despite the label that's been placed on him, Ykmour believes that he's not 'anti-vax', but rather, 'anti-division'.
Rashays is a self-proclaimed "family favourite" restaurant with thirty locations over NSW and QLD. While the restaurants are franchises, Rashay's is owned by Rami and his wife, Shannon.
Earlier this week Ykmour and Rashays hit the headlines when he proclaimed that the decision to exclude the unvaccinated "didn't feel right" to him.
"I have made a tough decision today, I will not open RASHAYS® for dine in until I can welcome EVERYONE. RASHAYS® will remain as pickup and delivery until the 1st of December.
"You are in hospitality to be hospitable and welcoming, the vaccination passport goes against my values as a restaurateur. I hope you all can understand," Ykmour revealed in a Facebook statement.
NSW's current roadmap out of COVID states that unvaccinated people will be allowed more freedom when vaccination rates reach 90%, which is expected to be December 1st.
With a little digging into Ykmour's background, we found that he is not only a restauranteur but also a motivational speaker. Ykmour performed his first live speech in June of this year titled 'The Unorthodox Entrepreneur'. Tickets were priced at $79 for general admission and $199 for VIP. The event covered "why Australians need to focus on building their business and their brand, which is the true path to financial freedom and homeownership".
Ykmour also has his own podcast called 'I am Rami', which has very strong political opinions.
Love Food & Drink?
Get the latest Food & Drink news, features, updates and giveaways straight to your inbox Learn more
Self dubbed "leader, motivator and mentor", Ykmour, has quite the allegiance of social media fans who strongly agree with his anti-vaccine-mandate stance.
"Legend… run for prime minister please," posted one follower on his page. "Rami, you have restored my faith in humanity. At last, someone who will not now down to pressure and greed. Someone who wants to create an inclusive environment where everyone feels welcome and safe. Love it," added another.
In his childhood, Ykmour worked in the family store with his father and opened his first Rashays store in western Sydney at 22 years old.
Ykmour first hit headlines two years ago when he withdrew from a multi-dollar sponsorship deal with the Canterbury-Bankstown Bulldogs NRL team when two of the team members were stood down for having consensual sex with two high school girls.
Ykmour was back in the news earlier this year when police stormed Rashays head office over a tip-off that workers weren't wearing face masks. Ykmour was caught on video arguing with at least eight officers over the incident.
"Who's gonna pay us for all this labour?" he can be heard saying.
"Who's gonna pay us for all these losses? Go and try and keep this business alive, mate."
Despite indications that point to the contrary, Ykmour is adamant that he is not anti-vax and is actually double vaccinated.
"The people that don't want to get vaccinated, they're people who are standing up for themselves. I'm double vaccinated, I've stated. They're allowed to choose what they are," Rami said in a video shared on his personal Facebook page.
"I am not anti-vax, I am anti-division. You will be safe if you are vaccinated, we lived together with cases and 0 vax for months. We all stayed in lockdown together and should come out as one," he added in a post.
For more on this topic, follow the Food & Drink Observer.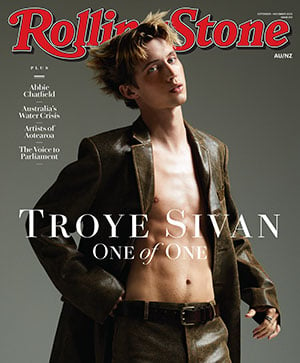 Get unlimited access to the coverage that shapes our culture.
Subscribe
to
Rolling Stone magazine
Subscribe
to
Rolling Stone magazine