1. The First Record I Bought
'Country House' – Blur.
I was very young and I probably got the money by pairing up socks and folding the washing. I think I was a little bit in awe of Britishness, as my dad's side of the family are all from the UK. So hearing a good-looking cockney guy with a floppy fringe singing about an aristocrat was just enough to get me to invest $1.50 at Brashs (it might have been less/more and not actually Brashs).
2. The Last Record I Bought
Quite boring really but I'm going about replacing all my old favourites that have either been tenuous digital files or misplaced CDs. So a few days ago I repurchased the Come To Daddy EP on vinyl. This was a bit of a favourite from back in the day. I was quite obsessed with Aphex Twin, although I have come to realise, with the release of Syro this year, that I am more into his easy listening stuff. Tracks like 'Flim' or the Selected Ambient Works I find quite lovely; not so much the chaotic chattery stuff. Is that like being into Paul McCartney and not John Lennon?
3. The First Thing I Recorded
As soon as we left school (literally the day of our last exam), Rhys [Richards] and I bunkered down at his mum's house with an iMac we borrowed from my older sister's boyfriend. We simply plugged in a cheap interface and recorded whatever came to mind. There was a daytime black-and-white movie on Channel 31 called Topper Returns and I remember sticking a microphone in front of the television and recording a 1930s argument, which we used in the intro for our Line Of Sight EP. It was a very strange-sounding collection of songs that I am actually quite proud of, in spite of its total obscurity and super dumb teenage moments.
4. The Last Thing I Recorded
Well, the Tall Stories EP actually. It was recorded over the last summer and I probably spent too much time indoors while the sun was out! I can remember the process actually beginning the week after Rainbow Serpent. I was quite physically drained from all that goes on there, but I returned home inspired to make my own new music. There are six tracks on this EP and they are mostly propelled by house rhythms, which may be the dance lingering on from the Market Stage.
5. The Record That Changed My Life
The Queen Is Dead. The Smiths. Looking back on my teenage years, I am very grateful I encountered Morrissey. I'd never felt so close to an individual pop identity before, and he really made an impression on me. I probably even took a second-hand interest in Oscar Wilde and James Dean for a while. I learnt from his wit, his cynicism, even his unashamed vanity, and I felt quite comfortable with the idea of art for a living. As it turns out, I think I prefer Johnny Marr now, who seems a bit more comfortable with himself and was a genius of a different variety.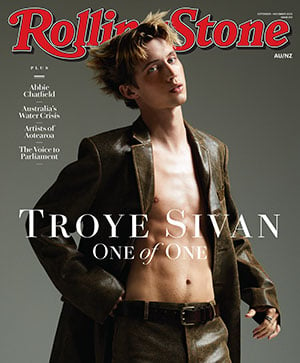 Get unlimited access to the coverage that shapes our culture.
Subscribe
to
Rolling Stone magazine
Subscribe
to
Rolling Stone magazine