With more than a handful of brilliant talents blooming across the scope of Australian electronic music at the moment, the community is really coming into a resurgent and resounding period of creative expression.
You only need look at the international exposure and recognition that such craftsmen as Harvey Sutherland and Mall Grab are getting to know there's something very special in the water.
Following on from last week's general retrospective, I'm taking a look at my favourite records from what's proven to
be an incredibly fruitful year for Australian producers, who seem to have a knack for expertly moulding their many influences into a musical melting pot that resists overt classification.
Among these releases you'll hear lush, encompassing ambience, disco edits, no-wave respect from proclaimed mutants No Zu, the satisfying squelch
of 303 and bubbling acid, shades of jungle, ghetto courtesy Luis CL and Pelvis, ethereal house from Dan Curtin and DJ Heure, and perhaps the most interesting of them all, the Midnite Spares compilation. Released on Aussie label Efficient Space, it's a welcome retrospective of Australian synthpop, new wave, spoken word and casual experimentation (check out the Sky Girl comp of folk and lo-fi/throwback pop on this label as well).
Bring on the New Year! Happy holidays, and see you on the dancefloor.
THE STANDOUT AUSTRALIAN RELEASES OF 2016:
Shedbug – Incipience EP
Fantastic Man – Galactic Ecstasy

Mic Mills and Furious Frank – The Three Palms 7"
Nicky Crane – Bent Waters / Bent Night

Various – Salt002

Luis CL – It's Getting Better
No Zu – Afterlife
Andy Hart – Mistress In Your Mind

Fantastic Man – Rhythm Algorithm
Bjorn This Way – Suco Edits Vol.2

Warren Raww – Ross

DJ Heure – First Hour
András Presents… H.O.D. – House Of Dad
Udmo – Open Water
Mall Grab – Menace II Society

Albrecht La'Brooy – Eventide
Harvey Sutherland and Bermuda – Priestess / Bravado

DJ Dogg & Furious Frank – Space Call / Flamen Galah
Mic Mills & Roy G – BD05
Luis CL – BD04
Cale Sexton – East Link
Mall Grab – Let U Kno
Various – Midnite Spares
Various – Domestic Documents Vol. 1
Pelvis – Dance Freak

Dan White – Digital Physics
Recommended:
FRIDAY DECEMBER 30
Simon Caldwell B2B Ben Fester
, Salad Society
FRIDAY JANUARY 13
Trus'me, Goodbar
SATURDAY JANUARY 14
Mood II Swing, Harpoon Harry
Linkwood, The Two Wolves: Community Cantina
THURSDAY JANUARY 19 – SUNDAY JANUARY 22
The Now Now Festival 2017
,107 Projects
WEDNESDAY JANUARY 25
Project Pablo: Adi Toohey
,Secret Location (revealed to ticketholders)
WEDNESDAY FEBRUARY 1
Nao, Kucka,Oxford Art Factory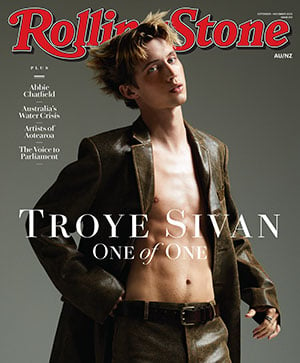 Get unlimited access to the coverage that shapes our culture.
Subscribe
to
Rolling Stone magazine
Subscribe
to
Rolling Stone magazine