Throughout his career, Ryan Adams has been hell-bent on following his muse wherever it's dragged him. It may not have always endeared him to fans, bandmates, critics or record labels, but it's made for a sizeable catalogue of work that his contemporaries could only wish to match.
Adams' 16th album Prisoner is one of his most personal and sonically diverse to date and provides the backbone of the 20 tracks performed by Adams and the four-man Unknown Band on the final night of their Australian tour.
Prisoner's 'Do You Still Love Me?' engulfs the Hordern in a thunderous wash of guitars, pounding drums and whirling keys. This track, as well as 'To Be Young (Is To Be Sad, Is To Be High)' from 2000 debut Heartbreaker and 'Gimme Something Good' from 2014's Ryan Adams showcase Adams' continued uncanny ability to produce formidable album openers.
'Stay With Me' and 'Two' bustle and swagger, while both 'Doomsday' and 'Prisoner' beam defiance in the face of despair.
Adams' voice is soulful and soaring. Its potency really comes to the fore in the slower songs like 'When The Stars Go Blue' and 'Tightrope', not to mention his definitive, incomparable cover of 'Wonderwall'.
In the second hour of the show, the band stretches things out on a few tracks, highlighting Adams' love for The Grateful Dead. The jam during 'Cold Roses' twists and turns in all directions, with smoke billowing from the stage to the point where none of the musicians are visible, before returning to Earth and the roots of the track.
It seems like there was more left, but someone decided to call it quits early.
Heartbreaker's 'Shakedown On 9th Street' has a guttural, snarling menace. With more smoke and fury, it closes the set; though it should be said that it doesn't feel like the natural end. It seems like there was more left, but someone decided to call it quits early. It's not clear what the situation is.
Though it ends abruptly, the show has done its job. It's a powerful reminder of the energising properties of a great live performance and how soaking up the sounds can make you feel more alive than before.
In a social media post the next day, Adams speaks about how travelling to this end of the Earth exacerbates the symptoms of his Meniere's disease to the point of "destroying" his body, his balance and his health. Thanking fans for the memories, the post could be taken as an announcement that Sydney's show was his final on Australian shores. If it was, a performance like this is a stunning way to make an exit.
Ryan Adams played the Hordern Pavilion on Saturday May 27.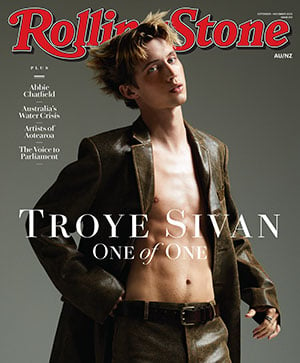 Get unlimited access to the coverage that shapes our culture.
Subscribe
to
Rolling Stone magazine
Subscribe
to
Rolling Stone magazine