Prime Minister Scott Morrison and Chief Health Officer Brendan Murphy held a press conference today that detailed Australia's three-step path out of coronavirus lockdown.
That's right – after nearly two months in coronavirus lockdown Australians may soon get a taste of freedom, with ScoMo introducing a three-step plan with an "aspirational" target of further relaxing coronavirus restrictions by July so Aussies can get "back up on their feet and moving ahead with confidence".
"Today, we move ahead with reopening our economy and our society, with a clear plan, and a clear framework, that shows Australians the road ahead," Morrison said of the plan.
They did warn, however, that it's likely the nation will see more COVID-19 cases occurring as the rules are eased.
"There will be outbreaks, there will be more cases, there will be setbacks. Not everything will go to plan … But we cannot allow our fear of going backwards from stopping us from going forwards," he said, adding, "You know, you can stay under the doona forever and you'll never face any danger, but we've gotta get out from under the doona at some time."
Between now and July we'll see a rollout of each of the three stages as detailed below, however, the PM said that it would ultimately be up to states and territories to decide to what degree the current restrictions are relaxed.
Here's what you need to know about the three-stage plan:
Phase one
National Cabinet has agreed restaurants and cafes will be allowed to reopen under the first stage of eased coronavirus restrictions, as well as community centres, libraries, playgrounds and boot camps.
Chief Medical Officer Brendan Murphy said the 10-person rule would still apply to cafes and restaurants if they chose to reopen for in-restaurant dining.
"We know that means many cafes and restaurants won't be able to open, but many that are doing takeaway may want to put up enough distant tables to start just gently serving 10 people at a time," he said.
We'll also begin to be allowed to invite friends over, with step one allowing up to five guests into your home at one time (as in your household plus five guests) as well as be in a group of 10 outdoors (that's you plus nine other people).
"[It's] 10 people training in a football field, it's 10 people getting together in a park," Professor Murphy clarified.
However, when it comes to weddings and funerals, people will now be allowed up to 13 participants — the couple, the celebrant and 10 guests — while funerals will allow 20 mourners indoors or 30 mourners outdoors.
People are still been encouraged to work from home "if it works for you and your employer".
Phase two
While pubs and casinos would likely remain closed during step two, non-work gatherings will be increased to 100 people, while cafes, restaurants are allowed to provide seating for that same number of diners. ScoMo also revealed that during this phase, authorities may consider opening bar areas and gaming rooms.
Depending on when your state or territory chooses to implement step two, we'll see gyms, cinemas, galleries and beauty therapists allowed to reopen for trade.
Gatherings of up to 20 people will also now be allowed in public, with Professor Murphy saying it would see "many more businesses and activities and venues opening again, but still with significant numbers controlled".
"We're looking at larger gatherings, of around 20, potentially in some states, they may look in some venues of really good COVID-safe plans to go more than that," Professor Murphy said.
Caravan parks and camping grounds will also reopen, while wedding guest limits will increase to 20 people. Funerals, however, will allow for up to 50 mourners.
There may be potential for interstate travel at this point, but it will depend on which states and territories lift border closures.
Phase three
With phase three aiming to be implemented by July, Morrison said this final stage will see us living life semi-normally, with travellers potentially able to head to New Zealand and Pacific islands during this time, while people will likely be able to travel interstate.
Speaking about travel limits for international students, Morrison added: "We are open to that, and we would be working with institutions to see how that could be achieved. But it has to be done according to those strict quarantine restrictions."
Gatherings of up to 100 people would be allowed in stage three, allowing for the reopening of food courts, nightclubs, saunas and more, while brothels and strip clubs will remain closed even during this final stage.
Gatherings of more than 100 people will also not be allowed.
Morrison added that while they hoped to implement all three steps by July, the pace would "be totally up to the states and territories" and "subject to the health advice".
Check out ScoMo's press conference below: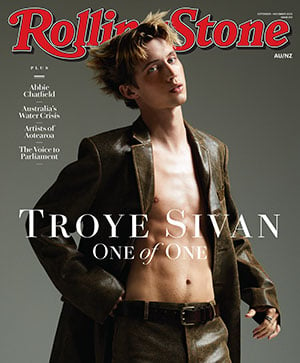 Get unlimited access to the coverage that shapes our culture.
Subscribe
to
Rolling Stone magazine
Subscribe
to
Rolling Stone magazine