If you, like me, are weirdly obsessed with the iconic '90s comedy that is Seinfeld, you may often find yourself awake at 3 am deep-diving into bizarre rabbit holes of trivia about the legendary sitcom.
More likely, though, you don't do that because you're a normal, functioning human being – so that's where I come in!
The hugely popular series created by comedy legend Larry David and Jerry Seinfeld has been credited for kick-starting the careers of several up-and-coming stars who would later go on to be successful in their own right, including Bryan Cranston, Courtney Cox and Denise Richards.
While the now-famous faces are pretty easy to spot, another bit of trivia for you Seinhards out there is that across the nine seasons, Seinfeld actually used a few of their guest stars more than once in various roles, and you may be surprised to find out exactly which ones…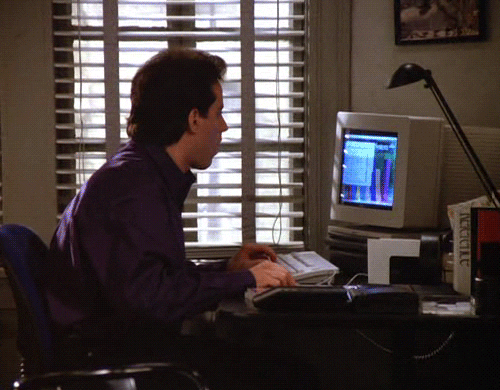 Marty Rackham
This one truly surprised us! Actor Marty Rackham first played one of the LA cops who pick up Jerry and George in season four episode The Trip (Part 2) and later was known as Jake Jarmel – laine's on and off boyfriend who dumps her for stopping to get Jujyfruits (and popcorn) on her way to the hospital.
Mark Christopher Lawrence
Mark Christopher Lawrence played the airport baggage handler that Jerry and Elaine that he gets tipped $5 a bag in The Airport, and later is seen as the mall security when a child accuses Kramer (who is dressed as Santa) of being "a commie".
Michael McDonald
Michael McDonald played one of the softball players who said George and Jerry "are going to pay" for injuring Bette Midler in The Understudy, as well as Jesse, George Hamilton's personal assistant, who flirts with the wig master in front of Jerry.
Carol Leifer
Carol Liefer, who was actually a writer for Seinfeld, appeared as both the receptionist at Wendy the physical therapist's office who informed George that he needs to cancel 24 hours in advance to avoid getting charged in The Kiss Hello" as well as one of the employees at the bank that greets Kramer with a "How you doing?"
Annie Korzen
Annie Korzen played Jack Klompus' wife Doris in season three episode The Pen, as well as The Raincoats and The Cadillac, but in season four's The Airport, she portrayed an old lady trying to educate Elaine on Kosher food on the plane.
David Dunar
David Dunard was initially security guard who catches Jerry urinating in public in season three's The Parking Garage, as well as the anger management teacher whom George calls "a pinhead" in The Apology.
Suzanne Snyder
Actress Suzanne Snyder played Eva the Nazi who is infatuated with George Costanza as he's impersonating Nazi author Donald O'Brien in season three's The Limo, as well as restauranteur Poppie's daughter Audrey who refuses to eat an apple pie from Monk's in season five's The Pie.
Christa Miller
She double-dipped! Christa Miller is known for roles on The Drew Carey Show, Scrubs and Cougar Town, as well as starring on Seinfeld as Ms De Granmont in The Sniffing Accountant and later, George's girlfriend Paula in The Doodle.
Phil Morris
Phil Morris – known best as the hilarious lawyer Jackie Chiles – was originally cast as David Dinkins' aide in case the NYC mayor won re-election in The Non-Fat Yogurt, but since Rudolph Giuliani was elected, Morris returned in a far more memorable role.
Thomas Dekker 
Child actor Thomas Dekker played the character Porter in the show All My Children – with Kramer's pal Mickey playing his stand-in in The Stand-In. He also plays Bobby, the boy in the hospital who makes a deal with Kramer to give him the framed Yankees autographs if Paul O'Neill hits two home runs in season seven episode The Wink.
Reuven Bar-Yotam played one of the passengers on Kramer's Reality Bus Tour in The Muffin Tops, as well as Shlomo, one of Kramer's hired help to transport the Frogger machine from Mario's Pizza in season nine's The Frogger.
Mario Joyner
Mario Joyner played a moviegoer who is seen discussing the film Firestorm with Jerry while George and Susan The Muted Heart in season seven episode The Engagement, as well as 'Maroon Golf', who Jerry gets into a tiff with in The Puerto Rican Day.
Christine Dunford
Christine Dunford first played Leslie, George's ex-girlfriend who he holds are grudge against for staining his jumper with chocolate sauce who Elaine throws a baby shower for in The Baby Shower, as well as the European saleswoman at the posh clothing store that owns a mannequin that looks just like Elaine.
Tracy Kolis

We first met Tracy Kolis as Marlene, George's ex-girlfriend who Jerry falls for, in season two's The Ex-Girlfriend. She later returns as Monk's waitress, Kelly,  who lies to George about having a boyfriend when he mentions how much he likes horse manure in The Soup.