We offer up our thoughts on the updated version of PlayStation Plus, As Dusk Falls and Gigabyte's M32U gaming monitor.
Speak to any Xbox gamer and they'll tell you that Xbox Game Pass is one of the best deals in gaming. So with that service only growing in momentum, Sony has gone ahead and revised its subscription model – introducing the all-new PlayStation Plus. We've been playing around with updated service for over a month now, so is it worth investing for the PlayStation faithful?
First off, it's best to understand the three tiers. Essential kicks things off at $11.95 a month and simply replaces the previous PlayStation Plus system. As a result, you'll get access to free monthly games, online multiplayer and discounts on the Store. So far, so simple. Extra takes things up a notch (at $18.95 a month) by providing access to the 'Game Catalogue' an assortment of PS4 and PS5 games available for download and play for however long you pay for a subscription. Finally, Deluxe is the real cream of the crop at $21.95 a month, and grants you access to everything thus far, but is your only way to try out the 'Classics Catalogue', including an assortment of beloved PlayStation hits.
Our time was spent with the Deluxe offering, and to say it's an impressive value proposition is a serious understatement. If you're a PS5 gamer, for example, having access to premium titles like Demon's Souls, Ghost of Tsushima Director's Cut and Returnal is a huge deal, especially considering some retailers will charge you over $100 a pop for each. Sure, that deal pales in comparison to Xbox's day-one Game Pass releases, but for PlayStation gamers it's still a bloody good deal.
Add on the boatload of PS4 titles and that value builds tenfold. From Horizon Zero Dawn to God of War to Red Dead Redemption 2 and countless more, the Game Catalogue is extensive and offers a bit of everything no matter what flavour you fancy.
We found the process of downloading and playing games in the catalogue to be a total breeze, although actually finding those titles using the service's updated layout and curation method could use some work. Some of category breakdowns felt more confusing than they needed to be, but it's admittedly early days and can easily be fixed over time.
Where the Deluxe tier becomes unstuck is with its classics offering. Remove the modern classics (like The Last of Us Remastered and the Uncharted Collection), and what you're left with is a barebones offering that leaves a lot to be desired.
Love Gaming?
Get the latest Gaming news, features, updates and giveaways straight to your inbox Learn more
Ape Escape, LocoRocco and Syphon Filter (to name a few) are a good start, but look back at the extensive libraries of the PS1, PS2 and PSP and you'll quickly realise the untapped potential at play here. It's an issue we're not entirely confident will be resolved anytime soon either, with Sony thus failing to provide much insight into how often new titles will be added – at least for now.
So what does this mean for the average punter? At the end of the day, the new PlayStation Plus is a banging good deal if you're on a budget and don't have a hankering to play the latest and greatest releases. That said, for the moment we'd suggest sticking with the Extra tier. It's perfectly valued and provides the best bang for your buck, at least until the Sony add a few more old school titles to its library.
You can read more about the new PlayStation Plus here.
Also out now…
As Dusk Falls (Xbox Series X/S, XBO, PC)
We'll admit we weren't entirely sure about this choose your own adventure-style drama, but we'll be damned if it didn't quickly suck us in. The actual plot is the real meat and potatoes of this one, so without going into spoiler territory you follow two families who cross paths under some pretty dramatic circumstances. At times it's a real wild ride, but all you need to know is that it's consistently engaging, and being able to alter the narrative based on your actions can literally spell life or death for many of the characters. We particularly enjoyed reading through the butterfly-effect breakdown at the end of each chapter – showcasing how your choices compare to other gamers.
The tale is also helped along by a rather unique motion graphic art style that might not be for everyone, but we grew quite fond of by the time the credits roll. Free for Game Pass subscribers, As Dusk Falls is a creative twist-filled adventure worth checking out.
Forza Horizon 5: Hot Wheels (Xbox Series X/S, XBO, PC)
Forza Horizon 5 blew us away last year, but although the game's been kept in the garage since then, this expansion did well to rev our engines once more. The orange highways of Hot Wheels present a childlike glee and offers the developers a few more creative liberties.
That's most obvious by its setting, with most races occurring in the skies, but smartly dipping and weaving into the existing map to keep things fresh and exciting. The fundamental polish of Horizon 5 also thankfully remains firmly intact, so if you've got a spare $30 on hand, this is great way to relive childhood dreams and take a few classic Hot Wheels cars for a spin.
Hands-on with the Gigabyte M32U gaming monitor
When it comes to gaming monitors, Gigabyte has been producing quality devices for some time now. The company's latest offering, the beefy Gigabyte M32U, seems poised to compete with the top dogs, so we decided to try it out for ourselves.
And beefed-up this powerhouse of a unit is. From the moment you take the Gigabyte M32U, it's clear that this monitor is an absolute beast. At 32 inches in size, it's got a surprising amount of heft to it, but once you attach the support arm and screw in the base plate it's incredibly sturdy. That's not at the expense of aesthetics either. The black frame and design of the 32U is simple and clean, while the base juts out just enough to allow you to set down a mouse or small keyboard. That said, we'd still suggest checking you have enough desk space to adequately fit the monitor and give your eyeballs sufficient distance.
But that's where the ergonomic capabilities of the M32U shine best, with the ability to swivel both horizontally and vertically, as well as adjust its height at any time. We placed ours, for example, on the edge of our desk and felt that our viewing angle never suffered as a result. It also allowed us to have easy access to the rear control nub that can adjust settings, source type and volume.
Visual fidelity is where the M32U shines brightest though and with both 4K capability as well as a 144Hz refresh rate, you're gaming needs will be well covered. We dabbled between both PC and PS5 during our tests and both performed admirably. From watching Disney+ content to a few hours with Stray, and everything in the M32U delivered great detail and rich colour. That's in addition to the high refresh rate which should suit hardcore shooter fans to ensure their optimum performance. Perhaps most surprising was that the black levels held up remarkably well, especially considering the screen is IPS and not OLED.
We'll admit that the M32U's sound doesn't fare quite as well, with internal speakers that lack a bit of punch in the bass department but do well enough if you're in a pinch or tight on space. It's hardly a deal-breaker though, and can be easily solved by picking up a PC soundbar like Razer's Leviathan V2.
The biggest hurdle the M32U faces is cost. With a price tag of around $1,179 this monitor is a bloody serious investment and certainly won't be for everybody. That said, if you want a cheaper alternative to upgrading your television, or have a console/PC hybrid gaming setup, the 32-inch form factor could be the perfect solution to having it all.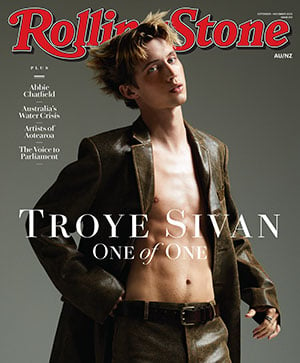 Get unlimited access to the coverage that shapes our culture.
Subscribe
to
Rolling Stone magazine
Subscribe
to
Rolling Stone magazine