British expat Adam Gresty is the frontman of the slow-burning, stoner-rock-infused three-piece Slow Chase; a band whose latest single 'Exorcism'instantly captures the ears and minds of listeners as it slays along with smoky guitar and Gresty's laidback vocals.
The project has been active for almost five years and previously released The Blind Spot EP in 2010, but now, with a lineup change – the addition of drummer Emily Shaw – Gresty feels as though Slow Chase have hit a sweet spot.
"Everything musically and otherwise is going so well at the moment, and we can't wait to play both old and new material," he says. "Emily has toured with Stonefield previously, including playing the Big Day Out and regional tours. And we have Alex Hingston on bass who we met through The Quarters, who he played drums for."
While the ominous tones elicited by the title and the corresponding lyrics in 'Exorcism' relate to darker personal times for Gresty, the title also acts as an allegory for Slow Chase's 12 months leading up to the release.
"The last 12 months have been pretty difficult with life just getting in the way a bit," Gresty says. "We found it hard to maintain the momentum and stay in the spotlight, but this new song was recorded with Jonathan Burnside in Mixmasters Adelaide, where we recorded The Blind Spot EP, and we all have really good feelings associated with this song and the process of writing and recording it.
"It was a difficult pregnancy because it took us a while to get our ducks lined up, and we had learnt a lot from our experience with The Blind Spot EP, so we just wanted to make sure that we had our live set ready to go for the release of any new material."
Production man Burnside is no stranger to deep-textured rock music, having previously produced Clutch, Fu Manchu and Grinspoon, but the CV gets even more intimidating when you consider his engineering work with the likes of Nirvana, Faith No More and Melvins. According to Gresty, collaborating with a certified expert in alternative rock came from a twist of fate.
"I was working in a recording studio in Melbourne and Jonathan was running Eastern Bloc Studios in Hawthorn," he recalls. "I was checking out studios to record in and he was in the process of selling the studio and moving back to San Francisco. But before he left I played him a couple of demos, and he said, 'I like it, you have either two options: you can come and track it before I leave, or you can record in San Francisco.' So that's how it came about. Looking at his history he has some great stories, like how Kurt Cobain still owes him pizza money."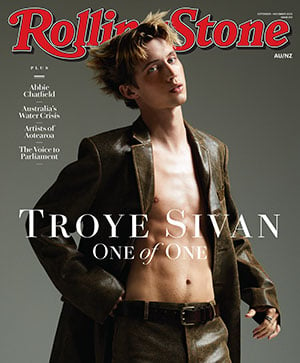 Get unlimited access to the coverage that shapes our culture.
Subscribe
to
Rolling Stone magazine
Subscribe
to
Rolling Stone magazine