If something is too good to be true in this reality, chances are it is. Cracks are beginning to show in the ever-popular share economy and while people have been heralding its demise for some time, it looks as though tipping point could be upon us. That is, if other restaurants follow in the footsteps of Sydney locale Almond Bar, who announced at the weekend that they would no longer be available via On-Demand Delivery Apps.
While the owners of Almond Bar acknowledge that Uber Eats provided them with otherwise unobtainable exposure, they're now eager to pull back their reach in favour of offering a more authentic and positive dining experience IRL.
Taking to Facebook, the Syrian restaurant announced that from August 1, it will no longer be available on Uber Eats or Deliveroo, despite having been previously available on both platforms for several years. They then go on to explain their decision, citing soul-crushing commissions, and a diminished quality of dining experience because of having to cater to more and more take away orders.
* The 33% commission (yes 33%) they take has eaten into our cashflow significantly and is no longer sustainable. It is way more than our profit.
* We are finding that people are not coming out as much anymore and experiencing the hospitality we offer, which is what makes us who we are. We pride ourselves on producing excellent food and hospitality. The hospitality side of it has been blocked completely through deliveries…
* The quality of our food is often compromised because of the time it takes for pickup and delivery. It is served in a container rather than presented nicely on a plate.
* We do not want at any point to have the dining-in customers feeling that their experience is compromised as a result of a delivery order being processed before theirs.
The decision wasn't all entirely business focused either. Almond Bar owners are eager to represent the change they want to see in the world, taking note of the rising levels of isolation and loneliness propagated by the increasing demand for services that require little to no human interaction.
"We are hoping to make change in our already lonely society. The more we encourage people to eat out with friends or even come in alone and eat with us, the more human interaction enhances the lives of those around us."
Uber Eats has so far signed up around 17,000 different partners in Australia. Last year, Uber indicated it made more than $935 million revenue in Australia alone and while they didn't carve out how much of that was from Uber Eats, that's no small chunk of cheese no matter how you split it. This makes Australia typical in the global picture as Uber continues to chomp up market share in multiple countries.
Love Food & Drink?
Get the latest Food & Drink news, features, updates and giveaways straight to your inbox Learn more
However, if Almond Bar's decision catches on, Australia could be one of the first countries to push back against the tech giant.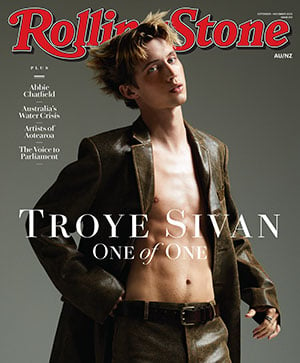 Get unlimited access to the coverage that shapes our culture.
Subscribe
to
Rolling Stone magazine
Subscribe
to
Rolling Stone magazine