The time-honoured debate on whether Sydney or Melbourne is the better city will probably outlive most of us.
Melburnians will argue that it's more liveable, the live music scene is stronger, there's a better nightlife culture, something about food trucks and laneway art, etc, etc. Yeah you guys might not be constantly on the precipice of burnout, but what do you do with your days? Go to St. Kilda Beach? Pathetic!
A thread of discourse that runs through the tapestry of this perennial debate is whether Melbourne or Sydney does coffee better. In an attempt to get to the bottom of it, we asked two industry professionals from both cities to weigh in. Jarrod Baimbridge from Contract Coffee Roasters and Dan Yee from Artificer Coffee.
Dan Yee, Artificer Coffee, Sydney: 
View this post on Instagram

Love Food & Drink?

Get the latest Food & Drink news, features, updates and giveaways straight to your inbox Learn more
"I reckon we both have equally great coffee as far as a quality scale goes, but Melbourne just has so much more… like a lot more," Yee shares.
"IMHO culturally as far as a scene goes, I believe they are further ahead in a way. The fact that their dining scene in general is meshed into the fabric of an individuals day to day lives and have a history of it communally. Ours isn't bad, it's just different."
Yee continues to make the profound (and bleak) argument that a lot of Sydney's dining culture is intrinsically linked in wealth, and the city has a habit of destroying its storied history in favour of profit. "It's tied into everything including the cost of living in Sydney and the city/town planning, where we just don't have it no matter how many "precincts" like Barangaroo's or Darling Square's we make. There is a more organic evolution of how their 'precincts' are made and shift over time.
"Culturally they have it steeped in history and story, and we seemingly have a record of knocking down our past and building/manufacturing soulless precincts killing off any history we had to work upon. You only have to look at how our CBD's are laid out in regards to restaurants and cafes to see this, which understandably, is also influenced by geography."
Yee went on to detail that he takes umbrage with the concept of "good" coffee. "My biggest gripe is that people often use the word 'good' or 'best' instead of the words, 'I like' or 'I prefer'," he muses.
"The reality is that lots of people simply like commercial-grade, inferior quality coffee that has been tainted with the smoke and mirror of appearing somewhat specialty grade. People hate hearing that as it's like a judgement on someone's soul. Just be cool with it. There's a time and place to eat a Maccas burger and a time and place for a burger at Rockpool."
Huge win for the community of women who love to indulge in a McDonald's caramel latte.
He continues, "I like working at Artificer because we went out with a set of ideals in regards to having control over what coffee we buy, how it's roasted and how it's made, while intentionally remaining small scale to maintain these ideals. After 6.5 years we still feel like we're 'getting away' with that."
"We don't try to be something we're not, we just do coffee that we like and if you like it too, that's good. Our hope is that people appreciate the product we do, not necessarily always having a preference for it. We aren't trying to be everything to everyone in that regard. That said, in the evolving community of Surry Hills we are in, it's nice to be a common ground where people have accessibility to good coffee whether they are sleeping rough or in a multimillion dollar terrace, are indigenous or a tourist.
Jarrod Baimbridge, Contract Coffee Roasters, Melbourne:
Jarrod echoed Dan's argument that Melbourne has a better coffee culture, though he gave kudos where kudos is due to those holding down the fort in Sydney, taking a moment to shoutout stalwarts Stitch Coffee, Single-O and Reuben Hills. Whilst also highlighting Same Cup: "Same Cup are championing for more diversity in positions of power in the coffee industry," he shared. "More opportunity for women, people of colour, indigenous people, LGBTIQ+ people, people with a mental or physical disability, this isn't an exhaustive list but you get the idea and I think it's really cool and worth celebrating and promoting something like that."
Jarrod acknowledges that it's really hard to "rip on" Sydney for its coffee, "but you really just can not replicate the Melbourne coffee community," he argues.
"There is a reason that we hold the Melbourne International Coffee Expo, why La Marzocco and Slayer plonk their Australian offices here, why our brands and our people are successful in all parts of the globe and why coffee professionals all around the world have us as a bucket list destination and covet what we have here as something of a holy grail. It can't be properly explained, although I have tried, but it is universally understood that Sydney's coffee scene will forever live in the shadows of Melbourne, the home of coffee… It's just the way it is."
Jarrod continued to elaborate on what makes the Melbourne coffee community so special, "the coffee scene is so rich and varied, yeah it's about the coffee and working with great product," he explains. "It's also about the science of coffee and working out how we can do things better, but for me it's about people first and foremost.
"The coffee scene is like a big family and that's what attracted me to the industry in the first place. I was in a strange place in my life and really searching for a sense of community, coffee gave me that. When a barista makes coffee for a customer in the morning that's their chance to impact someone's day for the better, they give them a coffee which is a great start but they can also offer a smile, a chat and really start someone's day off right."
"I honestly believe the best baristas out there are warm and friendly and making customers feel like part of a family when they enter the shop. It's all part of making the amazing coffee community we have here in Melbourne."
The verdict?
Sydney and Melbourne are on par when it comes to coffee quality, but Melbourne might edge a win with it's coffee culture.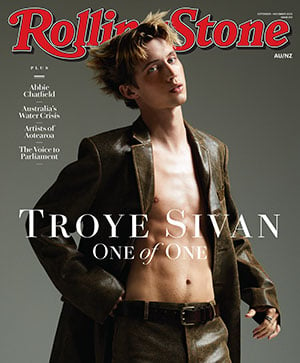 Get unlimited access to the coverage that shapes our culture.
Subscribe
to
Rolling Stone magazine
Subscribe
to
Rolling Stone magazine