We chat to the mind behind 'The Artful Escape' about why he left the music industry to make a spectacular rock opera video game.
Johnny Galvatron is a man not afraid to try something new. After all, the enthusiastic, sunglass-wearing creative pivoted from touring the country as part of glam rock band The Galvatrons, to becoming the creative director behind one of the biggest video games in Australian history. That game is The Artful Escape. In our review, we described it as a "truly whimsical and extravagant adventure game." It's also incredibly difficult to describe, so we asked Johnny to do it instead.
"My elevator pitch is usually that it's about a teenager's guitar prodigy who goes on a multi-dimensional journey to inspire his stage persona. And then if I only get one eyebrow raised after that, then I say, 'It's like if David Bowie went on a space journey and came back as Ziggy Stardust' and then people are usually like 'ah yeah that makes sense'.
The Artful Escape is an incredibly creative and ambitious title, but one that was born from unexpected beginnings.
"It wasn't like 'I'm gonna leave music for video games'," Johnny retells. "It was like 'I need to leave music, this is awful'. I hated touring and we were like just a mid-tier band. We played really humongous concerts because we'd get those big supports and stuff like that. But, you know, most the time we're touring regional Australia and RSLs and I just hated it. And so, I came home and like didn't leave the house for five years because I never wanted to go outside again. I wrote a novel, showed it to no one and then I kind of saw this route where I could get into gaming. And gaming had gotten to the point where people like me could jump into Unreal engine…
And I just wanted to make small iPad app. That was my idea. And, as usual with the stuff that I do, it just spirals out of control and now I have 10 people working for me, I'm doing press and hanging out with Carl Weathers."
Yes, he's talking about the real Carl Weathers there. The Artful Escape showcased so much promise from its humble beginnings that it was eventually picked up by Annapurna Interactive – an American video game publisher that specialises in smaller titles and might have a connection or two to Hollywood. As a result, The Artful Escape features not only the vocal talent of Carl Weathers, but Lena Headey, Jason Schwartzman and Mark Strong.
Love Gaming?
Get the latest Gaming news, features, updates and giveaways straight to your inbox Learn more
But while it's easy to get lost in the wonder of stardom, where The Artful Escape really shines is its soundtrack.
"I think it's kind of somewhere between like a Bill and Ted guitar solo and a traditional cinematic score – at least in the first half of the game. …And then, you know, there's like a lot of pink Floyd as well like, we switch out to this kind of less distorted more melodic sing songy kind of guitar and that's very David Gilmour. And then the last was very kind of like Paul Simon, Talking Heads – like a fifth activator. You know, on the guitar straight into the desk. So, it was like, that's a gutsy move in my opinion.
And then of course there's all the folk stuff which is exceedingly Dylan-ish."
And while folk music mightn't get much of the limelight in The Artful Escape, Johnny holds no ill will towards the genre. "I don't think we slam folk too much," he laughs. "It's just that it's not Francis [the game's lead].
"We do slam skiffle. We give skiffle a bad run. But I don't know if there are any skilful fans."
But when all is said and done, The Artful Escape will go down as a highlight for both music-centric video games and Australian games alike. But as Johnny sees it, this is only the beginning.
"I think music itself has changed in relation to all mediums. Music used to be the cultural torch bearer. I don't think it really is that anymore. It's falling back. We used to have kind of a mainstream and then an alternative mainstream, and because of the kind of bottleneck of media that you consume music through, you know, MTV, radio, and that was a huge kind of counter culture. And that doesn't exist really anymore because it's been frayed into a thousand different ends because people can find exactly what they want at any time. And this, this mainstream alternative has dissipated.
I also think that modern music suffers from this thing I call the 'theory of fathomability' which is where a medium loses significance within a culture when people, the general populace, can fathom how it's constructed. You see that with modern art and say 'I could do that'.
I think that because of this shift from these vastly expensive recording studios to the bedroom, to everyone being able to play music – it has obviously influenced the sound. And, you know, most of modern music is minimal electronic music. And even though people are wrong, they think that they could do it themselves.
I think there's some loss in that. There's some loss in music not having a physical medium and music seems to have become a multi-purpose thing. You need to be able to do various other mediums to carry it up. You have to be a fashion icon. You see a lot of people who make film clips getting into music and I think a lot of people who would be drawn to being pop stars and rock stars are finding themselves… These people are taking different routes into different mediums.
It's very easy to make films at home. It's very easy to get a small team together and make games. So I think as far as the way music relates to games, it's just gonna keep getting better because I know so many amazing musicians who are now composing for games and taking this different route than trying to be on stage. They want to be in game.
So I think it's a powerful movement into gaming from musicians. So I think it's gonna improve vastly."
The Artful Escape is out now on Xbox Series X/S, XBO and PC. It's also free to anybody with a GamePass subscription. We highly recommend it.
For more on this topic, follow the Gaming Observer.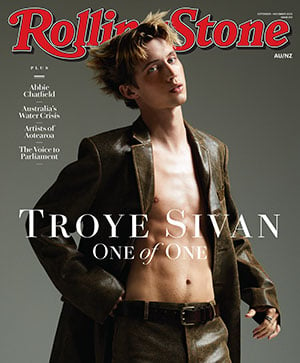 Get unlimited access to the coverage that shapes our culture.
Subscribe
to
Rolling Stone magazine
Subscribe
to
Rolling Stone magazine