The HBO series House of the Dragon is slowly building to its climax and with every episode there is a new twist, backstab and collection of new memes. 
The latest episode, 'The Lord of the Tides' saw the family reunite once more and seemingly resolve tensions in the wake of Lord Corlys Valareyon's assumed death. But, just when peace seemed assured, the biggest mix-up ever saw Queen Alicent mistake the King's wishes and in turn has meant war is almost inevitable.
I mean, I'm overwhelmed just thinking about it. Luckily, with every great episode there is an even greater plethora of memes and we've assembled the best collection here, just for you.
Me and Daemon at the same time: #HouseOfTheDragon pic.twitter.com/MpogDJGidb

Love Film & TV?

Get the latest Film & TV news, features, updates and giveaways straight to your inbox Learn more

— kasey (@BasketKasey) October 10, 2022
when daemon helped viserys to the throne and put his crown on#HouseOfTheDragon pic.twitter.com/OuKzRF6EeX

— #BLM yvngxrist ⁷ (@sweetkamii_) October 10, 2022
NO ALICENT THATS THE WRONG AEGON NOOOOOO #HouseOfTheDragon pic.twitter.com/e43cMnyh6P

— Jake Metz (@jake_metz) October 10, 2022
Me watching how the war that kills all the dragons is based on a fucking misunderstanding #HouseOfTheDragon pic.twitter.com/0PsRh9O6sV

— Savi – HOTD era (@black_pill_) October 10, 2022
STOP NAMING ALL YOUR GODDAMN KIDS AEGON LOOK AT THE TROUBLE YOURE CAUSING #HouseOfTheDragon pic.twitter.com/dHFVgj0ecp

— vanessa 🐼 (@v_dizzel) October 10, 2022
When Viserys walked into the throne room to defend Rhaenyra and her kids #HouseOfTheDragon #HOTD pic.twitter.com/ZBuCs5gO9J

— gandalf the purple (@gandalf_purple) October 10, 2022
daemon really said "keep my wife's name out of your fucking mouth."#HouseOfTheDragon#HOTD pic.twitter.com/LTJiTrbGiM

— πλήττω (@plittaina) October 10, 2022
HE REALLY BE SUPPORTING HIS DAUGHTER TIL HIS LAST BREATH AND SHE DIDNT EVEN KNOW #HouseoftheDragon pic.twitter.com/856fLqAOP6

— weird little elezen connoisseur (@lingeringsalt) October 10, 2022
Baela and Rhaena when they found out they get to marry Jace & Luke #HouseOfTheDragon pic.twitter.com/wKc8lc8tcJ

— Spam (@Spam75844324) October 10, 2022
The way this could have all been avoided if House Targaryen had more than 4 male names #HouseOfTheDragon #AegonTargaryen pic.twitter.com/PcxaD8fiUT

— theo (@theomorwel) October 10, 2022
Ah, yes. Now we feel better.
If you haven't checked out our recap for 'House of the Dragon' episode eight, do so here!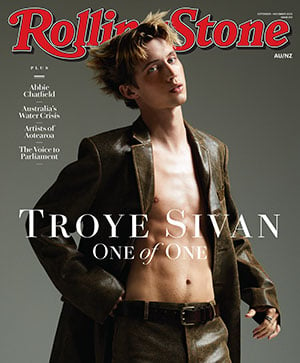 Get unlimited access to the coverage that shapes our culture.
Subscribe
to
Rolling Stone magazine
Subscribe
to
Rolling Stone magazine