Welcome to the BRAG's weekly rundown on what's hot in the coming seven days of cinematic releases. This week, we journey back in time to a world where heroine addicts were revolutionaries, Japanese schoolgirls were terrifying, and Ice Cube still had relevance.
As usual, on quieter release weeks, I'll put you on to a show that's been keeping me entertained and distracted from the drudgery of my glamorous, jewel-encrusted journalist lifestyle.
It's an exciting week, as one of my favourite directors returns to the material that launched his career. So, no more idle chit-chat!
RT: 77%
Fans of Danny Boyle's riotous breakout hitTrainspottingprobably had an aneurysm watching that trailer, hearing Ewan McGregor rehash the 'Choose Life' monologue he's 20 years past. But fear not – T2: Judgement Day is a different beast with a brand new addiction.
READ our full review of T2 Trainspotting here
As our surviving skagboys returning to their old stomping grounds, everything has changed – heroin is no longer their universe, just a constant niggling in their back of their heads. So, to stay straight, they turn to new obsessions: sex, scheming, vengeance, and indulging in the past.
This belated sequel never captures the same energy as that first hit, nor should it. This is more sombre and mature, a mellowing of the youthful exuberance that fuelled it so long ago. If Trainspotting was heroin, T2is the cleaned-up memory of it.
tl;drDive deep into your past.
–
RINGS
RT: 7% (holy shit)
In another throwback to yesteryear, we return to 2002, when the scariest thing anyone could imagine was a small Japanese girl in a wet dress crawling out of your friggin' TV. It spawned sequels, imitators, and an exciting short which expanded the story's world, prologued the underwhelming TheRing 2 and inspired this revisitation.
Samara sank into our collective psyche because of her actualisation of urban legend, and because of Gore Verbinksi's visually stunning approach to her story. Jonathan Liebersman's short made her into a cult, an obsession, a drug. From the sounds of things, F. Javier Gutiérrez has brought nothing of the sort to the franchise.
The memory of this total stinker will be dead in seven days. Even Vincent D'Onofrio can't salvage it. This franchise should have stayed in the well.
tl;dr why are we here
–
FIST FIGHT
RT: 32%
This entire film centres around one the build-up to one event – a fist fight between two high school teachers. I sincerely doubt it can sustain the gag for more than three rounds.
Fist Fight lazily pits go-to comic hardman Ice Cube against weeny white guy Charlie Day, after Day's English teacher Campbell dobs Cube's history teacher Strickland in for being a psycho, and Cube gets fired. Strickland's natural response is to organise a fight, with everyone at the school attending.
Tracy Morgan, Christina Hendricks, Dean Norris and Kumail Nanjianikeep the jokes flying, but critics say they just can't hit hard enough to knock the audience out.
tl;drKids'll watch anything these days.
–
FABRICATED CITY
This big, crazy, action crime thriller looks to be far more fun – and even more considered – than the other film I had considered discussing in its place, Bitter Harvest. Sometimes a film is too bad to even warrant a mention.
Fabricated Cityplays on modern Korean (and let's face it, global) fears of hackers controlling our lives, as respected pro gamer Kwon Yoo (Ji Chang-wook) is framed for a horrific crime by a large corporation. Enter shit getting real, and mad gamer skillz employed in the real world to uncover the truth, get the baddies, probably win a girl somehow.
I hope for two things: first, an exciting balls-crazy action flick to quiet my internal sadness, and second, an opportunity to dub the film over with a whole goddamn wagonful of airhorns.
tl;drwen da gamer memes 2 dank 5 u #420blazeitgameoftheyear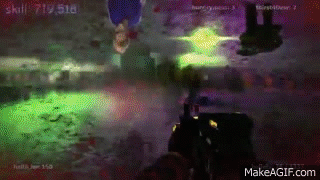 –
AMERICAN HORROR STORY: ROANOKE (TV special)
RT: 78%
NB: AHS is an anthology series with a new story every season. The producers kept quiet about Season 6's content by producing the above, a mixed bag of potential teasers and trailers.
Years ago, I tried watching Season 1 ofRyan Murphy and Brad Falchuk'sAmerican Horror Story… and I failed. The pilot was a total dogpile, and I quit. Last year, after goading from the internet, I revisited… and Seasons 2 through 6 made me glad I did.
Hit and miss as it is,American Horror Story: Roanoke is a showcase for all of the show's strengths, including great acting from a Tony Award winner (Lily Rabe), a freakin' Oscar winner (Cuba Gooding Jr.), a pop star (Lady Gaga), horror royalty (Kathy Bates) and the show's most awarded regular, the excellent Sarah Paulson.
Roanoke is exciting because of its play with formula – aping a true crime thriller, a paranormal investigator show and a reality show from hell all in one season, it's the most fun the writers have had since crafting James Patrick March in Hotel.
tl;dr Sittin' through Season 1 be like…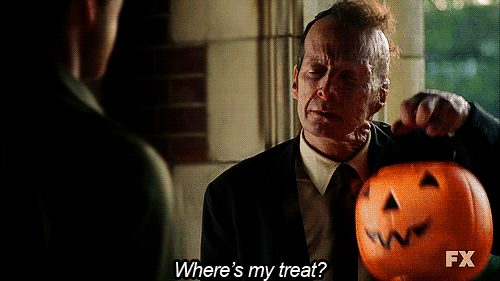 –
And now forTHE VERDICT– maybe you only get to see one of these flicks on the big screen, and you don't wanna waste that night out. So, drum roll please…
It's time to catch up with old friends. Not you, Samara. You used to be cool. Say hi to the skagboys on your trip back to Edinburgh's underworld in Danny Boyle's T2 Trainspotting.
Until next week!
Tell Us What You Think