As a founding member of legendary alt-rock pioneers the Replacements, Tommy Stinson has cemented his place in music history and folklore, and had a hand in influencing artists as diverse as Green Day, Wilco, the Hold Steady and Lorde.
Described variously as "best band of the '80s" (Musician magazine) and "the greatest band that never was" (Rolling Stone), the Replacements were critical darlings during their lifetime, yet achieved little commercial or mainstream success.
Following a much-lauded and somewhat tumultuous Replacements reunion, a new line-up of Bash & Pop, a full-band vehicle for Stinson's solo work, was formed last year. The group's first album in 24 years, Anything Could Happen, was released in January, and marked a return to the spontaneous recording methods that were a feature of early Replacements records. Now 51, the amiable and self-deprecating Stinson is enjoying making music as much as ever.
"We're going to keep fuelling [Bash & Pop] and moving forward," Stinson says. "When we started The Replacements, we would record in a particular way. Paul [Westerberg, Replacements' singer/guitarist/songwriter] would show us the basis of a song, either in our basement or in the studio. He would say, 'Hey, play the melody like this,' and we would record it, getting the best recording we could in as few takes as possible.
"I took that template and applied it to my new record. When you've got a whole band in the room, they're there for a weekend only, they're sleeping in your house with you, and you're getting all stinky together, you can maybe capture something great in that moment."
Amid much music industry fanfare, Stinson and Westerberg reunited for tours of the States and Europe from 2013-15. Fans couldn't buy tickets quickly enough and shows received rave reviews, but Westerberg, ever the contrarian, made sure that the merch he sold on tour revealed his true feelings: a not-so-coded message printed on shirts read, "I have always loved you. Now I must whore my past".
"I don't know if Paul wasn't having fun with it, but dude, if you're so not into it, then why the fuck did we do it?" Stinson says. "When we did the reunion, I thought it would make people happy, it would be super fun, and we'd maybe make some money. We did it, and I thought it was fun, but if it wasn't fun in [Westerberg's] head, then why the fuck did we do it? I don't know if that was directed at me, or who it was directed at, but he kind of made a statement with his shirts that meant the tour finished up with a negative purpose and we should have stopped when we were ahead. The t-shirt thing bummed me the fuck out."
For that reason, Stinson responds with bite when asked about the likelihood of playing with Westerberg again. "Not if he pulls out another T-shirt message – fuck that!" he says, takes a moment, then laughs, a little ruefully.
"No, I'm kidding a bit. I never say never – but it would have to happen only if the stars aligned in the perfect way, where we thought we could have fun with it and not get caught up in the bullshit."
When we did the reunion, I thought it would make people happy, it would be super fun, and we'd maybe make some money.
Despite continuing acrimony that has dogged the Replacements' existence, Stinson is clearly proud of the band's musical output – even if he is much more concerned with looking ahead than back.
"I can't listen to any of [the Replacements records], but if I were going to be straight-up honest with you, the one I can listen to the most is All Shook Down. It didn't sell as much as Don't Tell A Soul, but I think that's when the Replacements were appreciated in a greater realm because of the songwriting. Paul wrote some great songs on that record. It's dark as fuck, though. You don't know want to throw on your headphones on a sunny day and go for a walk in the park with that one on, because you'll want to fucking slit your throat."
After the band's 1991 implosion, Minneapolis native Stinson added an 18-year stint as bassist of Guns N' Roses to his rock and roll résumé, becoming a bonafide rock stalwart in the process. Stinson says he was happy to see the original line-up reform.
"They're all my friends and I'm glad they're all out there, working their butts off and having a good time," he says. "I've got nothing but good things to say about them. Unless Duff quits, and he was the last man standing the last time, there's a pretty good chance they're not going to need my fucking bass-playing skills any time soon. Just sayin'."
As a friend and co-writer on a track on Anything Could Happen, You Am I's Davey Lane could be the guy to open a door for an Australian visit.
"I've been talking to Davey about it a lot, and trying to get You Am I to be my backing band for a trip to Australia," he says. "Maybe I can go over myself, although I hate doing the solo acoustic thing by myself – I like to have someone I can spitball with, and make shit up or whatever. I've always had a good time in Australia, so never say never. I can do a whole bunch of things that'll either be completely fun or completely fucking disastrous."
Anything Could Happen is out now.
Read our in-depth look at The Replacements' Pleased To Meet Me here.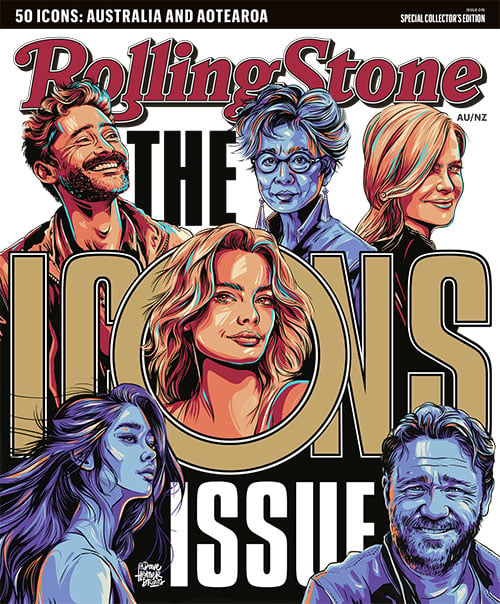 Get unlimited access to the coverage that shapes our culture.
Subscribe
to
Rolling Stone magazine
Subscribe
to
Rolling Stone magazine