The Try Guys have parted ways with member Ned Fulmer after the latter admitted to cheating on his wife of 10 years with an employee.
Viral internet sensations The Try Guys have decided to part ways with member Ned Fulmer after the latter admitted to cheating on his wife of 10 years, Ariel Fulmer, with an employee.
"Ned Fulmer is no longer working with The Try Guys. As a result of a thorough internal review, we do not see a path forward together. We thank you for your support as we navigate this change." a statement on Twitter read.
— The Try Guys (@tryguys) September 27, 2022
The Try Guys will now continue as three with Keith Habersberger, Zach Kornfeld and Eugene Lee Yang.
The announcements comes shortly after fans started noticing Fulmer's absence from the group's videos and promotional assets, followed by pictures of allegedly Fulmer and The Try Guys associate producer Alexandria Herring 'making out' with each other at a club in New York.
In a statement on his own social media, Fulmer admitted that the speculations of cheating were true.
"Family should have always been my priority, but I lost focus and had a consensual workplace relationship," he said. "I'm sorry for any pain that my actions may have caused to the guys and the fans, but most of all to Ariel. The only thing that matters right now is my marriage and my children, and that's where I am going to focus my attention."
— Ned Fulmer (@nedfulmer) September 27, 2022
In recent days, Reddit started noticing that Ned was missing from a lot of the group's uploads. He was absent from the three most recent videos and podcast episodes. Fulmer was also missing from the group's standard video introduction, which shows all the four members in their signature merch. 
Fans also noticed that Ned appeared to have been edited out in some recent videos, despite having proof on Instagram – usually through BTS and group pictures – that he was present for the shoots. In the midst of all this, The Try Guys announced that they would be switching their programming to only one video release a week throughout October. 
It wasn't until some supplied screenshots and videos that people started speculating that Ned's absence could be attributed to allegations that he cheated on his wife of 10 years, Ariel Fulmer. 
Shortly after, a user named hamilton390 shared screenshots of their conversation with an account they alleged was Will Thayer, fiancé to The Try Guys associate producer Alexandria Herring. In the conversation, hamilton390 is seen informing Thayer that they had spotted Ned and Herring "making out" at a club in NYC. Hamilton390 also sends Thayer videos and photos which allegedly show Fulmer and Herring together. 
8) Allegedly, a random person messaged Hamilton390 sending them a blurry video that they claim is Ned making out with a woman in a red dress at a bar. Hamilton390 says that he talked to Ariel about it for an hour. pic.twitter.com/m6pJxVfwGe

— Cami (@camitwomeyy) September 27, 2022
Not only did the timeline of the conversation line up with the dates The Try Guys team was supposed to be in New York, but it also resurfaced a now-deleted post on r/TheTryGuys sub, where a user had claimed that Ned had been spotted hooking up in NYC at the start of September. 
Further digging showed that Thayer had unfollowed both Herring and Ned on Instagram, and removed all photos of her from his profile. While Herring still had some pictures of her with Thayer, she'd removed their engagement pictures and limited comments.
Ariel Fulmer has removed "wife" from her instagram bio #tryguys #nedfulmer #nedfulmercheating pic.twitter.com/LfjmhD8PmF

— maggie (@themaggieofmax) September 27, 2022
Ned had also unfollowed both Herring and Thayer. A lot of former colleagues had done the same with Herring and Ned, though many of them are still following Thayer. 
While members of The Try Guys have yet to comment, Ariel Fulmer addressed the issue in a statement on her Instagram.
"Thanks to everyone who has reached out to me – it means a lot. Nothing is more important to me and Ned than our family, and all we request right now is that you respect our privacy for the sake of our kids." she said.
All three members – Keith, Zach, and Eugene – have unfollowed Ned Fulmer on social media.
Read more about recent developments at The Try Guys:
1) A thread on the Try Guys Drama for those who don't want to go to Reddit: (remember this is just speculation nothing is confirmed right now) #tryguys pic.twitter.com/0kYjNz7lx0

— Cami (@camitwomeyy) September 27, 2022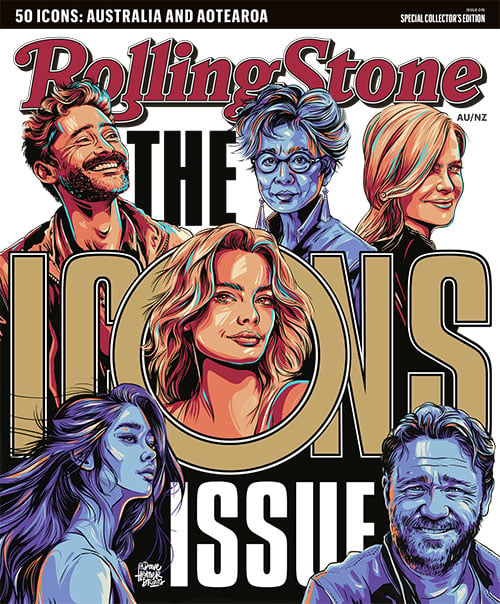 Get unlimited access to the coverage that shapes our culture.
Subscribe
to
Rolling Stone magazine
Subscribe
to
Rolling Stone magazine