It's March 23, it's a Thursday, things are happening in the world. The Rick and Morty cult leader has had his domestic violence case dismissed, Gwyneth Paltrow continues to be reliably nuts and does anyone care about John Wick 4?
Read on for thoughts, opinions and updates on today's big and small (and maybe occasionally old) stories.
Rick and Morty co-creator's domestic violence charges dropped
The domestic violence charges against Rick and Morty co-creator Justin Roiland, that triggered his public exit from the show, have been dropped.
He reappeared on Instagram for the first time since reports surfaced, issuing a lengthy statement proclaiming his innocence and insisting justice had been served.
"I'm thankful this case has been dismissed, but, at the same time, I'm deeply shaken by the horribly lies that were reported about me during this time."
The whole saga has been an interesting one, as is the case when a cultish fanbase gets rocked with the news that the person they based large portions of their identity on might be a bad dude. 
The day after claims first surfaced back in December. Adult Swim, the network that publishes Rick and Morty, announced that they'd cut ties with Roiland. They announced that the show would continue without Roiland, and that the characters of Rick and Morty, both of whom he voiced, would be recast. The whole thing caused a comments storm on their Instagram page that hasn't subsided to this day.
Many commended Adult Swim for cutting ties with Roiland, while others jumped to defend him, playing the "innocent before proven guilty" card, and a large portion of the audience seemed more concerned with fact-checking the debate, arguing that Roiland hadn't been involved in creative since 2017's Season 3.
To the divided fanbase, Roiland was held up as either a Martyr, or just another rich dude who got away with it. He mentioned "getting back to his creative projects," which also included a video game production company that he was forced to step down from.
The question is, will he return to these companies, or is he starting anew? I guess it brings to mind the disconnect between legal exoneration and societal exoneration. 
Gwn Paltrow's Crazy Person Diet
Gwyneth Paltrow, the world's collective "woo-woo Instagram aunt" aka "alternative wellness Kanye" aka "the vagina candle lady" has revealed her suitably wacky diet.
Gwyn, who runs Goop: A wacky wellness scam factory, or, a legitimate holistic health organisation that has improved many lives (depending on who you ask), revealed her diet this week on The Art Of Being Well, a podcast that sounds shit and boring.
The host of the podcast is a Dr. with an asterisk, technically calling himself a Functional Medical Practitioner. From what I gather, that means he can give you bone broth and acai but not Codeine or foot fungus cream. He might know where to find those diabetes meds that are making everyone skinny, but he can't legally diagnose you with diabetes.
"I do a nice intermittent fast. I usually eat something around twelve (midday). In the morning I'll have some things that won't spike my blood sugar like coffee. I really like soup for lunch. I have bone broth for lunch a lot of the days. And then for dinner I try to eat according to Paleo," Gwyneth told the guy in a viral TikTok clip.
I dunno, doesn't sound as wacky as all the other shit she's into. Gwyn is kind of like the gift that keeps on giving, a guaranteed clickable headline. That's why I'm talking about her now to be honest.
Brown Bag Lunch Ideas
Someone on Reddit was asking for brown bag lunch ideas because they've stopped the WFH life and are living in an office. That seemed pretty relatable so I thought I'd talk about it. I'm not offering any ideas here, this is more of just because I haven't eaten a full breakfast, I'm hungry, and I haven't packed lunch.
What's something I can make for lunch 5 days a week, that I'll never get tired of, that's cheap, super quick to make and won't make my cheeks fat? The only consumable thing that has achieved that daily-must-have status for me is water, and that's simply because my body goes all dry and crusty and my internal organs start screaming when I don't have that. 
Life's tough.
John Wick 4
John Wick 4 is out today, I've never seen a John Wick and I've never met anybody who speaks about John Wick but there's 4 of them so it must be popular. I started watching John Wick 1 on the weekend and it all seemed very slick and well made but I didn't care. I tend to like movies where the stakes are less life and death. The stakes have to be higher than say, Hotel for Dogs and Parent Trap, but not as high as Freaky Friday and every single superhero movie.
But I digress. John Wick 4 is out today. Keanu Reeves is shooting guns and driving cars in it probably. And he almost certainly looks badass doing it. They probably have it in 4DX in the cinemas, with the moving seats and water and fans. There's probably someone who is really excited about John Wick coming out today. They're going around saying "It's John Wick Day! It's John Wick Day" and everyone's happy for them. Not me!
Visit our home page for more quality content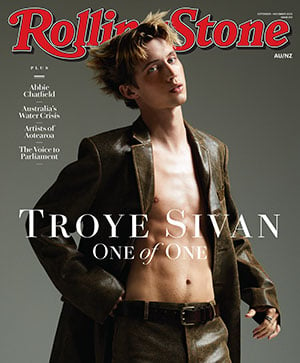 Get unlimited access to the coverage that shapes our culture.
Subscribe
to
Rolling Stone magazine
Subscribe
to
Rolling Stone magazine