19 years ago, Brisbane electro-punksRegurgitator releasedUnitand, contrary to their thoughts at the time, found a whole lot of people liked their new stuff better than their old stuff, rocketing to mainstream attention with five hit singles.
Skip forward to the eve of Unit's 20th anniversary, and the band isn't focused on celebrating the milestone. Instead, Regurgitator are doing something truly unexpected: coming to Sydney Festival with a reimagining (regurgitating?) of one of the most worshipped rock albums of all time, The Velvet Underground & Nico.
Fresh off the back of their 2016 tour, which he wryly describes as "pretty physically challenging at our old age", founding member and bassist Ben Ely reflects on his first belated encounter with the Velvet Underground record, at a time when he was far more focused on Prince, Metallica, Michael Jackson and Iron Maiden.
"It just sounded really completely alien, like it's kinda pop music but so completely alien to everything else around," he remembers. "I think that album and that band inspired so many musicians to think out of the box and have that DIY attitude. A lot of those punk acts like Jonathan Richman and Iggy Pop and all that New York scene is influenced by that sound. I think it's a pretty great record."
It's no surprise that the do-it- yourself vibe rings true for Ely, considering Regurgitator's penchant for creating on their
own terms. The approach suits their distaste for major label interference, their abrasive artistic impulses and a simple broad pragmatism.
"We've kinda always recorded very cheaply and bought our own gear and recorded it at home or in a garage – we've done most of our records that way," Ely says. "We're kinda control freaks and we don't wanna waste money as well. I guess the idea of going to a studio is quite nice? But we're just such tight-arses."
Their days of tight-arsery may be coming to an end, however, as they're considering booking a studio – "Heaven forbid," says Ely – to record their next album, currently in gestation.
"Or at least I think we're talking about going to a mate's studio," the bassist laughs.
The 'Gurge – Ely and partners-in- crime Quan Yeomans and Peter Kostic – showcased their lateral thinking in planning for the Velvet Underground gig, appropriating Chinese musical elements into their new vision as a means to pitch it to the National Gallery of Victoria for its Andy Warhol and Ai Weiwei exhibition.
"My wife's a contemporary dancer, and she just did a tour of China with some classical Chinese musicians," Ely explains. "We met this girl Mindy [Meng Wang] who was really lovely, and she plays the guzheng, which is very similar to the koto. That was kinda fresh in my mind, so I just said, 'Because it's Andy Warhol and Ai Weiwei it could be cool to do The Velvet Underground, but instead of violins and pianos you could use the guzheng to play those parts.'"
The performance proved the surprise hit of the exhibit, with critics lavishing praise on the band's last-minute decision to cover 'When Doves Cry' in tribute to the late Prince. "He passed away on the day we did the Velvet Underground show," says Ely. "I don't even know how to play the song – I mean, it's very simple, it's just repeating four chords, that kinda thing. I say that as I'm sitting in my backyard surrounded by purple flowers having fallen off the tree. Oh, it's so poetic!" he laughs.
Now 46 years old, Ely is prosaic about the loss of his heroes – a staple sensation for music lovers in 2016 – and optimistic about
the future. "I think it's one thing to respect the people that've existed and our elders who have made great music and they've made great music on major labels and had a massive commercial push behind them, but I think it's good to get out there and support younger independent artists who are really amazing," he says, citing bands and labels that have grabbed his attention recently including Bad//Dreems, Summer Flake, Bedroom Suck Records and Rice Is Nice.
"The exciting thing is that our heroes will go, but it's the circle of life, y'know? It's just like The Lion King: there's gonna be some new little cubs that'll come out and turn into strong lions and make really great music. That's what I'm getting excited about. Especially in Australia, there's a lot of great music in Australia and I'm trying to get into that a lot more."
As for anniversary celebrations, a tour for Unit could well be on the cards. At least, it could be now, as it hadn't occurred to Ely to celebrate in such a fashion.
"We'd love to do a little tour, that'd be super fun," he says. "Music is really funny like that; I think it's the closest thing you can come to in this world of owning a time machine of listening to that, or even if I physically pick up the bass and play and sing some of those songs, it really can teleport you back in time to where you were when you wrote it or recorded it or played it live – so for that reason it's quite a trippy experience."
Funnily enough, Regurgitator may already be channelling their adolescent selves into their new record, which is still but a twinkle in their eyes. "At the moment it's pretty rocky – it's like our mid-life crisis, instead of getting a Ferrari we're just playing like we're 18 again," Ely laughs. "But who knows, we might turn into MOR country by the time we go to play and record together. We'll see what happens."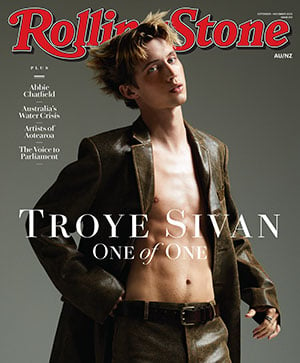 Get unlimited access to the coverage that shapes our culture.
Subscribe
to
Rolling Stone magazine
Subscribe
to
Rolling Stone magazine