Young Henrys have invited some massive names into the House Of Hazy as they launch the newest addition to their main fleet, the inimitable Hazy Pale Ale.
Having first established themselves on the back streets of Newtown back in 2012, Young Henrys have spent the last decade curating a reputation as some of the finest brewmeisters in the country. Why, one only needs to take a quick look back into the history books to see some iconic tinnies manufactured alongside the likes of Dune Rats, the Foo Fighters, and even Rolling Stone.
However, if there's one thing that Young Henrys don't know how to do, it's stop serving up the greatest hits from the world of brew, as evidenced by the latest entry into their roster, the Hazy Pale Ale.
Check out Young Henrys' Hazy Pale Ale:
As hazy as its name suggests, and bursting with with flavour, fragrant hops, pungent notes of tropical stone fruit, and hints of citrus throughout, the Hazy Pale Ale is arguably one of the most refreshing entries to the Young Henrys lineup, and is on track to serve as a new favourite of the seasoned beer-lover, or a tasty alternative for the newcomer.
However, a brew of this magnitude needs a solid introduction, and with a flavour as majestic and otherworldly as the Hazy Pale Ale, Young Henrys have recruited some top-shelf names to welcome you into the House Of Hazy.
Yes, staying true to their belief that the Hazy Pale Ale will be a constant figure in the collective hearts of the masses, the Newtown brewers are inviting punters to follow the true calling and be saved by a flavourful higher power.
Cementing its status as the true lord of the beers, Young Henrys has recruited the likes of comedic multi-hyphenate Nat's What I Reckon, entertainment industry all-rounder Flex Mami, pro skater Aimee Massie, Aussie rockers DZ Deathrays, and more to help summon the believers as they throw open the doors to their House of Hazy as they celebrate the new brew.
Love Food & Drink?
Get the latest Food & Drink news, features, updates and giveaways straight to your inbox Learn more
"I mean come on mate, this beer is fuckin' awesome and so are the legends at Young Henrys," Nat's What I Reckon was quoted as saying, all while situated firmly on the threshold of salvation. "Hell yeah I'm stoked to be a part of this launch!"
"Young Henrys have done a few hazy beers over the last couple of years, always to great success," explained Young Henrys Head Brewer Jesse Searls of the new brew. "Hazy beers are notoriously tricky to make, but we feel like we've really nailed the ones we've done, so thought it was time to make one that was a dedicated part of our core range.
"Despite going with a more approachable ABV, (Young Henrys Hazy Pale Ale is 5.2%) we certainly weren't going to compromise on aroma, flavour and body," he added. "The Hazy is hoppy, with lovely notes of tropical fruit, citrus, stone fruit and just a touch of pine. This is thanks to the combination of an all-American hop bill targeted at those flavours, using Mosaic, Idaho-7, and Calypso."
On track to be an instant favourite amongst all who give it a burl, the Hazy Pale Ale will join the Young Henrys core range alongside other classics such as the Newtowner, Natural Lager, Stayer, Cloudy Cider, IPA, and Motorcycle Oil.
The newest addition to the Young Henrys family, the Hazy Pale Ale, is pouring now nationally, and available in 4-packs and 16-packs from Dan Murphys and BWS. For a full range of locations where you can find it on tap, be sure to enter the House Of Hazy via the official website.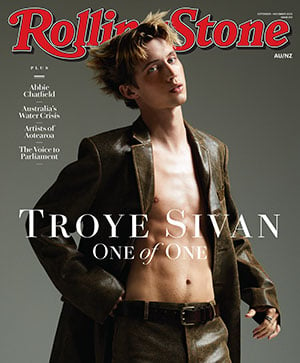 Get unlimited access to the coverage that shapes our culture.
Subscribe
to
Rolling Stone magazine
Subscribe
to
Rolling Stone magazine