Aussie comedian Jordan Shanks, who has a significant following on YouTube under the name FriendlyJordies, has been accused of racism in one of his videos.
In a recent clip, Shanks was responding to how mainstream media had cherrypicked a single quote from his chat with NSW Labor Leader Jodi McKay.
During the video, the comedian hit back at comments by NSW Deputy Premier John Barilaro, who criticised him for his ongoing labelling of Premier Gladys Berejiklian as "koala killer" over her handling of the summer bushfire crisis.
As is common in his videos, Shanks mocks both Barilaro and Berejiklian, using over-the-top versions of their accents. Barilaro has labelled the move 'very racist'.
Speaking to the Daily Telegraph, the Deputy Premier took offence on behalf of himself and Berejiklian. "'I don't mind taking the mickey out of myself, but this is actually very offensive. It's a low attempt at comedy and full of racist undertones."
As the Tele points out, Barilaro is of Italian heritage, while Berejiklian moved to Australia from Armenia when she was five.
"To imitate both myself and the Premier with such obvious distaste for our backgrounds is unacceptable," he said. "Our migrant story is actually the Australian success story, one this nation is proud of."
For the record, Shanks has previously revealed that his family heritage is both Bosnian and Croatian, as well as Scottish.
News Corp accuse Friendly Jordies of racism, immediately offer him a job on Sky News

— ??? ?????? (@chaser) June 22, 2020
He has built a large part of his 420,000-strong YouTube following by making comedy videos doing over-the-top impersonations of people from his own life, as well as public figures including politicians. He even turned his Malcolm Turnbull impression into a live show.
Shanks responded to the comments in the Tele by tweeting "I'M DONE. YOU'VE CANCELLED ME BARILARO!"
I'M DONE. YOU'VE CANCELLED ME BARILARO! https://t.co/SycY121wQS

— friendlyjordies (@friendlyjordies) June 22, 2020
Make up your own mind by checking out the original video below.
Check out '7NEWS Humiliates Me' by FriendlyJordies: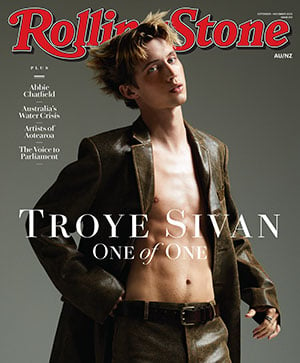 Get unlimited access to the coverage that shapes our culture.
Subscribe
to
Rolling Stone magazine
Subscribe
to
Rolling Stone magazine