We're celebrating some bogan Australian icons.
8. Honey Badger AKA Nick Cummins
Ex-Rugby player Nick Cummins, more commonly known as the 'Honey Badger', became famous for his lead-role in The Bachelor in 2018.
The 31-year-old Queenslander is known for his larger-than-life bogan Aussie accent, and has become an ambassador for beer companies, and even represented Australia's peak tourism body in their campaigns.
Cummins made several quotes that made literally no sense, throughout the series.
"Holy tomorra. How good? Bloody, you beauty."
"Just like that kid that fell outta the tree ya know, he just wasn't in it."
Good onya, Honey Badger.
Check out the Honey Badger in one of his finest Bachelor moments:
7. Jacqui Lambie
Tasmanian politician Jacqui Lambie serves as a right-wing, bogan hero.
Her infamous "ban the burqa" and other foreign policy ideas have led to her being far-from-favoured by many. She claims to be a Trump supporter, and favours the death penalty.
Away from politics, Lambie has starred in Have You Been Paying Attention?, Tonightly with Tom Ballard, I'm a Celebrity…Get Me Out of Here, and Hughesy, We Have a Problem.
6. Alf Stewart
Good ol' kind-natured Alf Stewart is a Home and Away favourite. The beloved TV drama's character of Alf Stewart, played by Ray Meagher, has coined many of Australia's iconic terms.
"Flamin galah."
"Stone the flamin' crows."
"Strike me roan".
Not only is he one of H&A's best, but, he's one of its oldest. He's been around since 1988. You beaut!
Check out this iconic Alf Stewart moment:
5. Russell Coight AKA Glenn Robbins
Russell Coight is undoubtably one of our best and most-loved personalities. The Melbourne actor, whose real name is Glenn Robbins, was made famous by his series: Russell Coight's All Aussie Adventures – a mockumentary survival series.
Robbins, in the series, has a serious farting issue. He's known for Coight having many issues while camping. From constant trips and falls, to his tents collapsing and cars rolling away, the hilarious show lit up our screens in the early 2000s.
Check out some of Russell Coight's best moments:
4. Warwick Capper
Famed Australian Rules footballer Warwick Capper played for Sydney and Brisbane between 1983-91. Capper was raised in Melbourne's Huntingdale.
Why is this guy so iconic? Well, he's actually rather infamous. He was ejected from Celebrity Big Brother after flashing his penis [wtf?], to a co-star during an argument.
He's admitted to using amphetamines during his AFL playing career, and even had a shot at a [failed] political career.
Check out Capper giving advice to Buddy:
3. Corey Worthington
Corey became, well, infamous, after a free-house, turned house-party gone-wrong.
Worthington received iconic status in 2008, when his Narre Warren home received a visit from police, and later, A Current Affair. His rather ignorant national television interview saw him become equally the most loved [by young people], and hated [by not young people] person in the country.
But what went so wrong? After his party, where countless amounts of property, belonging to nearby neighbours, was destroyed, patrons turned violent. Police were called, and the party was shutdown.
Check Out Worthington's A Current Affair interview with Leila McKinnon:
2. Daniel and Nathan
Now, now, there are mixed opinions on iconic Australian actor Chris Lilley, but one must admit, key Lilley characters Daniel and Nathan, from Angry Boys are very important Aussie bogans – the penultimate favourite Aussie icons.
Identical twins Daniel and Nathan Sims are from a Western Australian fictional town called Dunt. Nathan only has 10% of his hearing, which becomes the stem for most of Daniel's humour. Daniel stirs Nathan's pot, but there is a clear bond between the pair.
Daniel loves doing "Mainies" down Dunt's Main Street, where he and his mates cruise up and down for no good reason. In his spare time, he prepares their acres of farmland for he and Nathan's future 'Danthan Industries' farm.
Daniel and Nathan's Angry Boys highlights:
1. Kath & Kim
Undeniably Australia's favourite bogans, Kath & Kim took over our small screens throughout the early 2000s, and even made a big-screen feature in the early 2010s.
Famous catchphrases are aplenty throughout this iconic series. One mighty fine moment in K&K history was when Kim said to mother Kath, "Well if I'm not a dog, how come I've got a bitch for a mother?". But, the best thing Kath ever says, is "Look at me".
The series was big enough, it had a United States remake, and a film in 2012, titled Kath & Kimderella.
Check out all the times Kath said to Kim, "Look at moi":
Check out this bogan quotes countdown!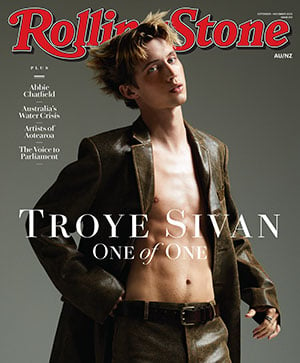 Get unlimited access to the coverage that shapes our culture.
Subscribe
to
Rolling Stone magazine
Subscribe
to
Rolling Stone magazine