Reviewed on Tuesday December 10
Following a set of nerdy and unfulfilling R&Bloat from locals Collarbones, as soon as the curtain drew open and the familiar processed beat of 'Earthquake' slunked out it was clear Deerhunter would wipe the remnants of any other music from memory.
Frontman Bradford Cox appeared in an Andy Warhol-blonde wig, asserting himself as a glamorous six-foot-infinty junkie with the voice of a lascivious outsider. The slow-burning 'Earthquake' set an eerie precedent for the earth-crumbling sound preparing to grip The Hi-Fi.
Quickly changing gear, the band stepped into a string of melodically penetrating tracks from 2010's Halcyon Digest and candidate for 2013 album of the year, Monomania. All six Deerhunter LPs were represented but the emphasis was on the more concise material from these most recent records.
Cox – the evening's undisputed focal point – is a man apart from his four comrades, who by contrast stood fairly stationary in non-descript attire. However, the five sources of input are essential to distinguishing the band's showering sonic display. The jaunty discord of 'Neon Junkyard' and the three-guitar doo-wop of 'Don't Cry' were early demonstrations of the five-piece's taskforce unity.
Guitarist Lockett Pundt took the mic for 'Desire Lines', which evolved from unassuming jangly indie-pop into a barrage of guitar interplay, backed by Josh McKay's compass-wielding bass playing.
Elsewhere, the band voyaged from the dreamy pop of 'Revival' to the noisy excess of 'Nothing Ever Happened' (which transformed into a cover of Patti Smith's 'Land') and the shrieking soul-punk of 'Monomania'. None of their records' tender cuts were included and as the show went on the wattage gradually tipped from a simmer to a boil. The encore suite of 'Cryptograms' and 'Operation' was seriously ear-grazing.
With each successive number Cox seemed to exist as the song, rather than being a vessel for its airing. His few bantering departures revealed further eccentricity – at one point requesting a 'gunner' from the bar (listing the ingredients of ginger ale, orange bitters and burned orange skin) before stepping right back into the immersive realm of the next song.
I don't think anyone could actually hear each other when they walked out, such was the decibel harassment. But this was no worry as plenty of sound persisted to whirl around on everyone's internal turntable.
BY AUGUSTUS WELBY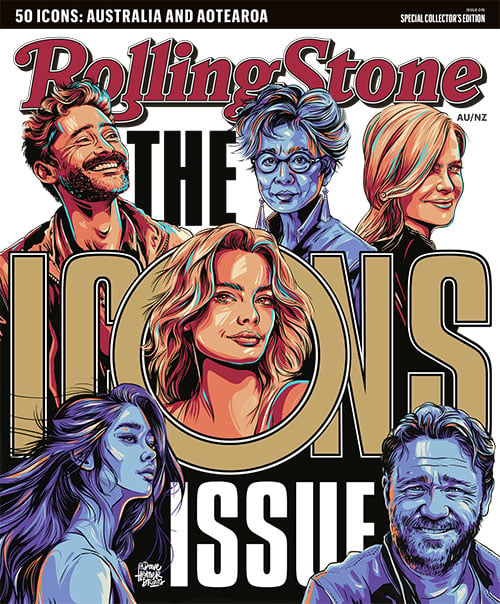 Get unlimited access to the coverage that shapes our culture.
Subscribe
to
Rolling Stone magazine
Subscribe
to
Rolling Stone magazine