I love Gwyneth Paltrow, I love that she never shies away from her wealth. There is simply nothing on this planet more infuriating then a celebrity with a substantial cash flow crying poor. Hahaha guys eating nothing but Mi Goreng I'm so desperate to relate to the youth!!!!!!!!
I spent my afternoon scrolling through the goop website for the first time in my life and it was nothing short of enlightening. As I was combing through the "Between The Sheets" section of her website and I came across perhaps the most gorgeous, Gwyneth Paltrow-esque item I've ever seen in my entire life. A 24k gold dildo, cost price $3,490.
A quick google search was enough to let me know that this was not Miss. Paltrow's first voyeur into the world of luxury sex toys. Back in 2016, the actress was flogging a $15,000 vibrating gold dildo. Excessive and out of touch with culture? I don't think so. I believe that her decision to endorse such an opulent, luxury item on her website is as stunning as it is brave.
Let's take a look at some of the other products featured on the goop site.
BENWA BALLS Ø2
I won't lie to you, I didn't think Benwa Balls actually existed. To me it was always a reference in a Blink-182 song I never understood. But the divine powers of goop have proved me wrong. A description on the website reads "Kill two birds (stronger kegels + better orgasms) with two stones: According to ancient wisdom, holding these marble-sized spheres inside the vagina strengthens the pelvic floor and intensifies pleasure all at once." These bad boys can be yours for a humble US$885.00.
MARABOU PLEASURE PUFF RING
This is without a doubt my favourite product goop has to offer. The product description reads as followed "Topped with delicate marabou feathers, this sterling-silver statement ring also works as a playful tickler in the bedroom. Slip it on and graze your hand over your (or your partner's) skin for a gentle jolt of pleasure." I am simply gobsmacked. I can't believe the splendour of it all. This fabulous accessory can be yours for $673.00.
MUSHROOM HOT CACAO MIX WITH CORDYCEPS
I don't understand so many things about this. Apparently the brand, Four Sigmatic are "a natural superfoods company that produces a delicious range of responsibly-sourced mushroom-powder supplements designed to support the body in everything from better sleep and clearer energy to overall balance and brain function." To be honest it sounds absolutely revolting but I've also done a charcoal lemonade stint so I have no authority to criticise superfood trends no matter how irritating they may be. I'm really concerned about the taste. What kind of mushrooms are we dealing with here? Button? Enoki? The vile Porcini? There is no clarity.
One day I hope to be wealthy enough to do my weekly grocery shopping on goop, but for now I'll sit back and observe all the wonderful creations designed to make sure you're living your best life.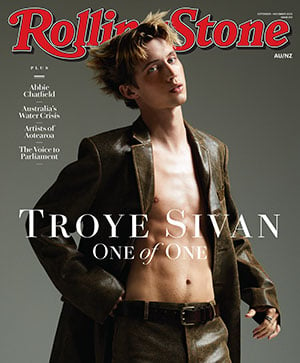 Get unlimited access to the coverage that shapes our culture.
Subscribe
to
Rolling Stone magazine
Subscribe
to
Rolling Stone magazine