With Xmas 2022 just a week away, we've rounded up some of the best gaming gear, gadgets and tech worth adding to your Christmas list.
So whether you're putting presents under your tree or somebody else's, here's a wide range of ideas worth looking into, or keeping an eye on come Boxing Day.
Let's get started…
PlayStation 5 & PlayStation VR2
Price: PS5 – $799, PlayStation VR2 – $879

It's hard to believe the PS5 has been out for more than two years now, but the powerhouse of a console has still been harder to find than a pot of gold at the end of a rainbow.
As luck would have it though, sources have told us that retailers will actually be well stocked this holiday period, so this Christmas might actually be your best shot at treating yourself to a cheeky gift or grabbing one for someone special. And with fresh blockbusters like God of War Ragnarok ready to play, there's never been a better time to join the PlayStation community.
And for those who already own the system, maybe it's time to do some last minute gift-pitching for a PlayStation VR2 pre-order. The successor to Sony's debut in the VR space, the PS VR2 promises some incredible upgrades from top to bottom. There's inside-out-tracking, a 4K HDR display and realistic-feeling haptic feedback. More importantly, the cable jungle that plagued the PSVR has been drastically reduced, Sony promising setup will be a much simpler affair which gets a big thumbs up from us.
Love Gaming?
Get the latest Gaming news, features, updates and giveaways straight to your inbox Learn more
If you can hold out until February, it might be worth pleading with Santa for this one.
Lavazza A Modo Mio Voicy
Price: $234.99

Yes, we know that including a coffee machine in this list might seem like an odd choice, but Levazza has seemingly done the impossible and combined two great loves in our life: coffee and technology. As a result the Lavazza A Modo Mio Voicy might just become your new favourite household gadget, or a perfect gift idea for any of your tech-challenged loved ones.
While the crux of the Voicy unit falls in line with many of Lavazza's other pod coffee machines, the big ticket addition here is its inclusion of an Amazon Alexa speaker. If you happen to be part of the Alexa ecosystem that's incredibly useful, allowing you to issue commands, play music or podcasts throughout your kitchen.
More interestingly, however, is that you can also ask your machine to actually make you a coffee via voice commands. Sure, you still need to load the pod into the machine and have a cup at the ready, but it does provide you with plenty of hands-free flexibility, especially if you're busy tending to brekkie and want a perfectly timed hot cup for when you finish. Gimmicky or not, we always got a kick out of enabling the feature and having an extra smart speaker in the kitchen was great, without having to take up any more valuable counter space.
Gifting this out for Xmas 2022 won't disappoint.

G-Tek Cyborg 1000 Gaming Keyboard & Replicator 400 Lightweight Gaming Mouse
Price: Cyborg 1000 – $249, Replicator 400 – $29

Has your Kris Kringle asked for a fancy new keyboard and you've got no bloody idea where to start? Allow us to direct your attention to G-Tek's latest offerings which provide plenty of bang for your buck. We've been messing around with the Cyborg 1000 and have been pretty impressed with the functionality for the price. You've got 87 keys with German Cherry MX Red Mechanical Switches and they just feel good to use with just the right amount of resistance.
That's not even mentioning the stylish RGB lighting, a pretty comfy wristpad for better ergonomics, a magnetic detachable shield and total freedom in how you choose to connection (including wired USB-C, 2.4GHz or Bluetooth).
Considering some competitors will set you back an extra $200, this is a bloody good deal that should satisfy the Christmas list. Oh, and while we tried out the black model, you should definitely check out the white as well.
It's also worth noting this is one of many products in the new G-Tek line-up. We also tried out the Replicator 400 gaming mouse and it's an absolute bargain. You've got a super lightweight feel, easy-to-click buttons and even some surprisingly bright RGB lighting at the base – all for 30 bucks.
SteelSeries Arctis Nova 7 Wireless Gaming Headset
Price: $399

SteelSeries unquestionably produced one of the best headsets of 2022 with its Arctis Nova Pro headset, and now the company has taken much of what made that unit great to produce a much more budget-friendly offering that'll satisfy gamers aplenty.
Using the overall shell and design of the Nova Pro line-up, you're getting a pretty comfy all-rounder with the Nova 7. It'll sit on most heads nicely and is incredibly sturdy yet sleek. Plus thanks to the included USB-C dongle, you'll be able to jump between PS5, PC and Switch games with ease – Xbox gamers requiring a 3.5mm cord (also in the box) for compatibility.
Most importantly, everything sounds great, with a rich soundstage and a decent amount of bass by default. The incredibly sneaky microphone that subtly hides away when not in use should help seal the deal as a great Xmas 2022 gift idea for any multi-platform gamer in your life.
Google Pixel 7 Pro and Pixel Watch
Price: Pixel Watch – From $549, Pixel 7 Pro – From $1049
Google has been steadily refining its mobile offering for years now, and the Pixel 7 Pro line-up is yet another impressive offering that's bound to be on many people's Xmas 2022 list. Utilising the Google Tensor G2 chip, the Pixel 7 Pro offers a stunning 6.7″ QHD+ display and triple rear camera system capable of producing truly spectacular shots. What's more, Google's post-processing software continues to excel – now with Photo Unblur that'll fix not just any dodgy photos you take, but aims to fix old snaps as well.
The Pixel Watch meanwhile is the company's first real foray into the smartwatch space and its an impressive first effort that follows a more traditional circular design that can be matched with over 20 different bands. It also integrates with the Fitbit fitness system, meaning you can keep track of your 2023 fitness goals with one of the best in the business.
Ultimate Ears WONDERBOOM 3
Ultimate Ears' WONDERBOOM has been a tiny powerhouse of a speaker for some time now, and this third iteration only continues to impress. Considering its quite tiny stature (it's only 104 mm x 95.3 mm) the WONDERBOOM 3 is able to blast sound out whether you're indoors or out and about. Grab two and you can even connect the duo to produce stereo sound for extra oomph.
Plus, the WONDERBOOM's easy Bluetooth connectively allows you to connect to a range of devices like your mobile or even your Nintendo Switch if you want to amp up your portable gaming setup.
Much like the previous WONDERBOOMs this tiny wonder is also IP67 dust and water resistant (allowing it to actually float in water) and can withstand 5-foot drops, making it a perfect stocking stuffer for any tech-obsessed people in your life.
Magic: The Gathering: The Brothers War
If you're after some more budget-friendly options this Christmas, Magic the Gathering has you sorted. The incredibly popular card game's latest release: The Brothers War. This stunning set is the second in Magic's 'Phyrexian' tale and sets up a pretty major conflict for fans well invested in the game's lore. It also introduces the Transformers into the mix with the addition of Optimus Prime, Megatron and Starscream as collectable cards. Speaking of which, like the the whole of the Brothers War set, the cards are incredibly detailed and make great collectables even if you don't know how to play. The other benefit is that you can grab a booster for as little as 8 bucks for a booster or up to 80 for a gift bundle.
 Kobo Clara 2E
If you're ready to put down the controller for a bit and pick up a good read instead, the Kobo Clara 2E is a great choice in our eyes. We've been playing around with this nifty e-reader for a little while and found the 6-inch display to be perfectly sized for reading while still allowing for easy portability.
But that's just scratching the surface of this unit's positives. First up it's fully waterproof, meaning you don't need to worry about taking it with you to the beach, the local pool or even into the tub with you. The Clara 2E is also Kobo's first e-reader to be made with over 85% recycled plastic, including 10% ocean-bound plastic. It also has solid battery life, audiobook capabilities and packs a screen that was always a dream to read on with a great amount of brightness utilising the E Ink Carta 1200 screen.
Oh, and if you do pick one up, we suggest nabbing a SleepCover case as well. It looks incredibly stylish (especially in orange) and has an in-built magnetic stand.
ECOVACS DEEBOT N8 Pro
What's the point of being tech-obsessed if you can't get it to help you with boring life chores? That's why we're big fans of ECOVACS and the DEEBOT N8 Pro strikes just the right balance between functionality and budget.
Speaking of functionality, the N8 Pro squeezes in TrueDetect 3D technology (helping it to detect and avoids obstacles) and laser-based mapping and navigation technology. That means once your little friend creates a basic map you just need to set and forget. What's more, thanks to the electronic water pump and reservoir, the N8 Pro can vaccum and mop at the same time, giving you, your friends or loved ones more time to enjoy life (or play more video games).
If you don't pick one up for Chrissy, it's worth keeping an eye on N8 over boxing day, because ECOVACs are no stranger to a bloody good sale.
Gigabyte M32QC Monitor

The perfect gaming setup isn't truly complete until you've got a quality gaming monitor to soak in and Gigabyte's M32QC is one of the best in its price range.
The 31.5″ curved panel features a 2560 x 1440 resolution, a 170Hz refresh rate, and a 1ms MPRT response time. That's all housed in the reliably sturdy frame that Gigabyte monitors have become known for. That mean the M32QC is bound to make any modern game pop with wonderful colours ready to pop and an easily readable screen in bright rooms.
An all-around solid performer that's worth looking into.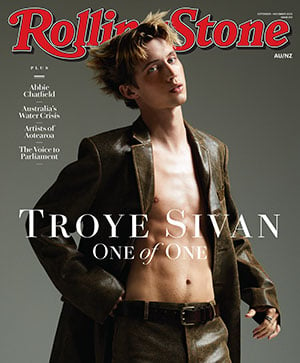 Get unlimited access to the coverage that shapes our culture.
Subscribe
to
Rolling Stone magazine
Subscribe
to
Rolling Stone magazine