Literary icon Joan Didion has passed away at 87 as a result of Parkinson's Disease on December 23rd.
The writer was a source of inspiration for many, and her work was constantly referred to when people talked of moments that changed their lives.
Considered one of the most prolific American authors of her generation, Joan was most famous for her journalistic essays on 60s and 70s culture in the U.S.
She continued publishing essays until February 2021, when her final collection Let Me Tell You What I Mean was released.
We're going to go through some of our favourite quotes.
"We tell ourselves stories in order to live."

The White Album (1979)

"Life changes in the instant. The ordinary instant."

The Year of Magical Thinking (2005)

Love Film & TV?

Get the latest Film & TV news, features, updates and giveaways straight to your inbox Learn more

"Grammar is a piano I play by ear."

Joan Didion: Essays and Conversations (1984)

"I am what I am. To look for reasons is beside the point."

Play It As It Is (1970)

"You have to pick the places you don't walk away from."

A Book of Common Prayer (1977)

"There's a point when you go with what you've got. Or you don't go."

A The Paris Review interview (1978)

"Life changes fast. Life changes in the instant. You sit down to dinner and life as you know it ends."

The Year of Magical Thinking (2005)

"Memory fades, memory adjusts, memory conforms to what we think we remember."

Blue Nights (2011)

"Character — the willingness to accept responsibility for one's own life — is the source from which self-respect springs."

Slouching Towards Bethlehem (1968)

"To free us from the expectations of others, to give back to ourselves — there lies the great, singular power of self-respect."

Self-respect: Its Source, Its Power (1979)

"I did not always think he was right nor did he always think I was right but we were each the person the other trusted."

The Year of Magical Thinking (2005)

"We forget all too soon the things we thought we could never forget. We forget the loves and the betrayals alike, forget what we whispered and what we screamed, forget who we were."

Slouching Towards Bethlehem (1968)

"Grief is different. Grief has no distance. Grief comes in waves, paroxysms, sudden apprehensions that weaken the knees and blind the eyes and obliterate the dailiness of life."

The Year of Magical Thinking (2005)

"I know what the fear is. The fear is not for what is lost. What is lost is already in the wall. What is lost is already behind the locked door. The fear is for what is still to be lost."

Blue Nights (2011)

"There is no real way to deal with everything we lose."

Where I was From (2003)

"I know why we try to keep the dead alive: we try to keep them alive in order to keep them with us. I also know that if we are to live ourselves there comes a point at which we must relinquish the dead, let them go, keep them dead."

The Year of Magical Thinking (2005)

"Grief turns out to be a place none of us know until we reach it."

The Year of Magical Thinking (2005)

"I am still committed to the idea that the ability to think for one's self depends on one's mastery of the language."

Slouching Towards Bethlehem (1968)

"A place belongs forever to whoever claims it hardest, remembers it most obsessively, wrenches it from itself, shapes it, renders it, loves it so radically that he remakes it in his image."

The White Album (1979)

"I'm not telling you to make the world better, because I don't think that progress is necessarily part of the package. I'm just telling you to live in it. Not just to endure it, not just to suffer it, not just to pass through it, but to live in it. To look at it. To try to get the picture. To live recklessly. To take chances. To make your own work and take pride in it. To seize the moment. And if you ask me why you should bother to do that, I could tell you that the grave's a fine and private place, but none I think do there embrace. Not do they sing there, or write, or argue, or see the tidal bore on the Amazon, or touch their children. And that's what there is to do and get it while you can and good luck at it."

UC Riverside commencement address (1975)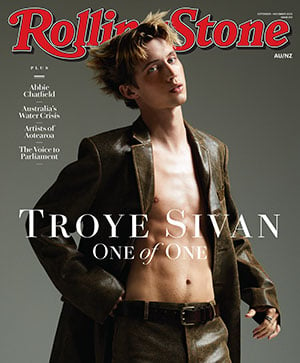 Get unlimited access to the coverage that shapes our culture.
Subscribe
to
Rolling Stone magazine
Subscribe
to
Rolling Stone magazine