The plot thickens yet again: Harrison Boon allegedly made Abby Miller lie about their relationship when they reunited after MAFS 2023.
As viewers might already have caught on, the curtain has yet to fall on the drama between Harrison, Bronte, and Abby Miller. Last week, leaked screenshots and voice notes revealed that despite what she claimed, Bronte allegedly knew about Abby and Harrison from the get-go.
Now, according to screenshots obtained by So Dramatic!, Harrison allegedly made Abby lie about their relationship when the two reconnected after MAFS.
In a previous screenshot obtained by So Dramatic!, Harrison is seen asking Abby to clarify the 'nature of our relationship' with him: "Hi. Sorry to keep bringing this up but to the best of your knowledge what was the nature of our 'relationship' before I left for MAFS?" Harrison is seen texting Abby.
Abby replies: "We were seeing each other for a couple of weeks. I knew you were leaving so we said our goodbyes. I wished you luck and haven't spoken to you again since recently."
As a source now alleges to So Dramatic!, however, Harrison reportedly staged this exchange and told Abby what to say. "Harrison was with Abby one night after filming when he made her text him a message that he read out," the insider claimed.
They added: "He said: 'I am going to message you and can you please send me a message back saying what I tell you?' Harrison was freaking out about everything so he convinced Abby to lie for him and give him the receipts he needed to prove his innocence, as he knew it would come out and be bought up in the media eventually."
Love Film & TV?
Get the latest Film & TV news, features, updates and giveaways straight to your inbox Learn more
The alleged insider also claimed that Harrison also made Abby delete messages between the two to 'cover his tracks', specifically those that proved they had been dating before and after the show.
"One night when they were together, Harrison made Abby delete incriminating messages sent between them in front of him because he knew it could ruin him later. He didn't trust her and wanted to cover his tracks." The source claimed.
Harrison's reasoning, reportedly, was that he was protecting Miller and their relationship. "He said that she needed to delete their messages to protect him and their relationship and that it was the best thing for them moving forward," the source alleged.
Reportedly among the messages he made her delete were things like 'I'll call you in a second' and texts where he asks her to delete his messages.
"He made her delete a message where he asked: 'can you please delete that because it doesn't sound good'," the source claimed. "And just cute messages he had sent to her that showed they were very much dating."
Wonder how things will implode next with these two!
For more on this topic, follow the Film and TV Observer and Reality TV Observer.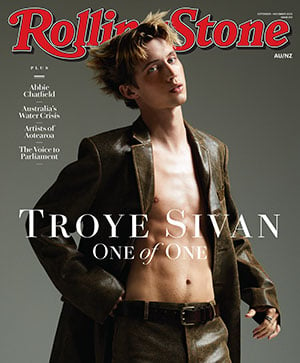 Get unlimited access to the coverage that shapes our culture.
Subscribe
to
Rolling Stone magazine
Subscribe
to
Rolling Stone magazine