McDonald's fries, with their signature crispy texture and distinct salty flavour, have been the indulgent treat of choice for millions globally.
However, a recent revelation by fast-food influencer Jordan Howlett on TikTok, coupled with a Fox Business report, has highlighted a surprising and little-known fact: McDonald's fries are not as vegetarian-friendly as they seem.
Luckily for Australians, the company has chosen not to use this ingredient locally. It's still caused quite a stir though, so read on.
Howlett's TikTok video, which quickly went viral and accumulated millions of views, let the cat out of the bag. He unveiled the secret ingredient responsible for the unique taste of McDonald's fries – beef flavoring combined with vegetable oil. "It's because McDonald's cooks their fries with beef flavoring mixed within their vegetable oil, right. So, that's why the fries taste so good but also so different from everybody else's," Howlett disclosed in his eye-opening video.
For vegetarians who have been delighting in the crispy goodness of McDonald's fries, this revelation could be a startling discovery. McDonald's USA has indeed confirmed the use of beef flavoring in their fries, as evident in their marketing materials and a statement released in 2021. The fast-food giant clarified, "When our suppliers partially fry our cut potatoes, they use an oil blend that contains beef flavoring. This ensures the great-tasting and recognizable flavor we all love from our World Famous Fries."
Interestingly, according to Howlett, not all McDonald's around the globe use beef flavoring. McDonald's Canada, McDonald's U.K., and McDonald's Australia have steered clear of this ingredient in their fries.
Howlett's TikTok video has since sparked a range of reactions. While some viewers claimed this information was already common knowledge, a significant number expressed their astonishment at this hitherto unknown ingredient.
Love Food & Drink?
Get the latest Food & Drink news, features, updates and giveaways straight to your inbox Learn more
As this surprising news continues to circulate, it may provoke vegetarians and individuals with beef allergies to reconsider their options when ordering fries at McDonald's. This unexpected disclosure underlines the importance of being thoroughly informed about the ingredients in our food, even when it involves something seemingly straightforward as fries.
The writer used AI tools to publish part of this article. The Brag Media relies on journalists to fact check & edit all articles regardless of any AI tools used.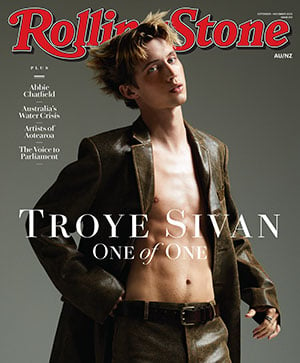 Get unlimited access to the coverage that shapes our culture.
Subscribe
to
Rolling Stone magazine
Subscribe
to
Rolling Stone magazine