We find out if Pokémon Scarlet and Violet will make you want to catch em' all, test out Philips' Hue Play Gradient Lightstrip for PC, Just Dance 2023, Let's Sing 2023 and more!
If you're a serious Pokémaniac, 2022 has been a wild year. Not only were we treated to Pokémon Legends: Arceus early in the year, now Pokémon Scarlet and Violet are in the wild and this latest entry does its very best to build and evolve the franchise's roots to a much larger and grander scope.
That means, much like Arceus, you've got quite the whole of Paldea to explore how you see fit. If you want to try and beat your way through Pokémon Scarlet and Violet's gyms from the outset you're more than welcome to – just prepared to get your teeth kicked in unless you've done a bit of prep work. Similarly, enemy trainers now no longer force you into battle, meaning it's now your choice to seek them out and improve your skills.
This focus freedom is refreshing for the series and allowed us to constantly mix things up into our own appealing loop. The story also does a pretty good job at drawing you in and is actually one of the best in recent memory.
The biggest issue with Pokémon Scarlet and Violet is its performance. Whether or not it's a sign of the Switch's aging internals or just a poorly optimised engine, the game seems to constantly struggle. The game's numerous bugs and glitches have already been widely documented, and though we didn't encounter anything excessively egregious, we did hit plenty of slowdown and general sluggishness.
The inherent quality and addictive nature within Pokémon Scarlet and Violet mean that many hardcore fans or newcomers will brush these woes aside to get lost in its world and focus on catching them all. We just hope our next adventure is a little more refined.
Pokémon Scarlet and Violet is out now for Nintendo Switch.
Love Gaming?
Get the latest Gaming news, features, updates and giveaways straight to your inbox Learn more
Also out Now…
Sackboy: A Big Adventure (PC)
As Sony continues to ingrain itself in the PC space, now it's Sackboy's turn to make the leap, and the results are expectedly excellent. Much of what made Sackboy: A Big Adventure a charming delight continue to exist in this port as well.
The collect-a-thon tendencies are very much in play, as is the surprisingly solid soundtrack that throws out a few bangers you might not expect. All-in-all it's a family friendly package that never gets too challenging and looks simply beautiful with a decent gaming rig. PC owners also get the option to enable DLSS, variable refresh rates and a frame rate up to 120 fps. We also managed to get it running on our AYANEO Air and while certainly not as pretty, was great to have the game on the go.
A great port for PC players wanting to delve into the PlayStation world once again.
Just Dance 2023 (PS5, Xbox Series X/S, Switch, PC)
According to research on Australian dancing habits, collated by Ubisoft Australia, 57% of Aussies would exercise more if there was a fun way to at home, while the younger generation is turning to dance for more than entertainment – 2 in 3 using it to help mental health and 2 in 5 for socialising. That goes some ways to explain Just Dance's incredible popularity and this 2023 iteration is bound to have fans moving and grooving thanks to some very welcome improvements.
Chief among these is a refreshed menu system. Navigating around Just Dance 2023 is a much cleaner, more streamlined affair which will allow you to find songs more easily and jump into the action faster. The song list is incredibly varied too. Sure there's the usual suspects like Taylor Swift and Lady Gaga, but they're joined by the much less conventional Evanescence and Linkin Park. Props to branching out on that one.
Long-time fans might be a little disappointed that the general gameplay remains largely unchanged, but the fresh coat of paint and the ability to remove those bloody annoying Just Dance+ ads will still make this an appealing deal.
At the end of the day, Just Dance 2023 still provides a great excuse to boogie.
Need for Speed Unbound (PS5, Xbox Series X/S, PC)
You'd be forgiven for assuming the worst in Need for Speed Unbound given EA's surprising total lack of marketing around the racer around release. But perhaps even more surprising is that it's actually pretty damn good!
The biggest change to the formula here is with its aesthetic, Unbound working anime cel-shaded-style special effects in your moment-to-moment racing. Drifts create big whiffs of smoke while hitting the NOS can generate little lightning bolts as you dramatically ramp up your speed. It's a style incredibly reminiscent of Spider-Man: Into the Spider-Verse and we love it. But this visual refresh is backed up by some wonderfully intense car customisation options and a hip-hop-focused soundtrack that constantly gets you amped up.
Police chases can drag on a little too long and the chit-chat of the story won't be for everyone but Need for Speed Unbound is still a hoot for anyone desperate for a good arcade racing hit.
 Let's Sing 2023 (PS5, Xbox Series X/S, PS4, XBO, Switch) 
If you're looking for a low-stakes, mood-setting party game, or just an opportunity for some late-night karaoke, Let's Sing 2023 has you covered. Just be prepared for the fact that outside of a song list update, this iteration is by and large similar to last year's release.
We don't think that's hugely problematic though, with the basic presentation and UI still doing well to help seamlessly guide you from track to track. Speaking of which, Let's Sing 2023 offers another absolute bounty of hits designed to please most mainstream listeners, ranging from Billie Eilish to Ed Sheeran and even we don't We Don't Talk About Bruno from Encanto.
The tunes might not be perfectly suited for everyone, but it's still a well-picked setlist that is perfectly fun to belt out with a few friends.
Speaking of which, while we were able to use Let's Sing's official microphone peripheral this time around, it's to the game's credit that you can also download an app to your smartphone. It works pretty darn well too, and is a great way to involve more friends while keeping your cost low.
Worth a look if you're looking to mix up your next games night.
Hands-on with Philips Hue Play Gradient Lightstrip for PC 
When it comes to gradient lightstrips, Philips have arguably cemented themselves as the best in the business, producing a quality offering that is simple to use and incredibly pretty to look at. And although the company has been a part of the TV space for some time, now gamers can join in on into the action with Philips Hue Play Gradient Lightstrip for PC. We've been testing the strip out for a little while now and it should come as no surprise that we've been thoroughly impressed from top to bottom.
Available in two different sizes (a 24/27-inch and 32/34-inch lightstrip for single-monitor setups, or a larger three pack for 24-27-inch screens), installation is a breeze either way. The lights themselves are made with a rubbery and flexible material which allow them to adapt to any monitor you might have, and the included guides easily help keep everything in place. Thankfully Philips has done just enough to keep the barrier to entry mercifully low.
Once you do get things plugged up, the Gradient Lightstrip will breathe new life into your gaming space thanks to its stunning range of colour options. That said, it is worth noting that you'll need to invest in Hue Bridge in order to facilitate that flexibility, but once you do you'll be able to set up scenes to match your favourite games or moods. Personally, we liked to jump between a nice warm yellow and neon purple. Both helped our office pop more than ever before.
CORSAIR and Razer fans can get even more functionality thanks to integration with both CORSAIR iCUE and Razer's Synapse – allowing you to match the RGB output of your gaming accessories (like mice and keyboards), further amping out the immersion level.
Starting at $299, the Philips Hue Play Gradient Lightstrip for PC is hardly a cheap investment, but if you're serious about kitting out your PC, it's a worthwhile one. These lights, much like the wider Hue family, are smartly minimalistic, sleek and beautiful to look at.
If you can afford the price tag, we absolutely recommend them.
For more on this topic, follow the Gaming Observer.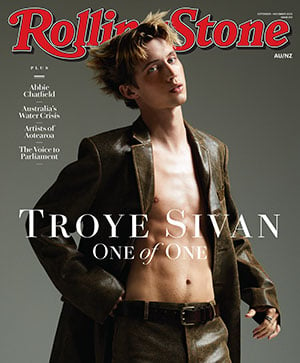 Get unlimited access to the coverage that shapes our culture.
Subscribe
to
Rolling Stone magazine
Subscribe
to
Rolling Stone magazine